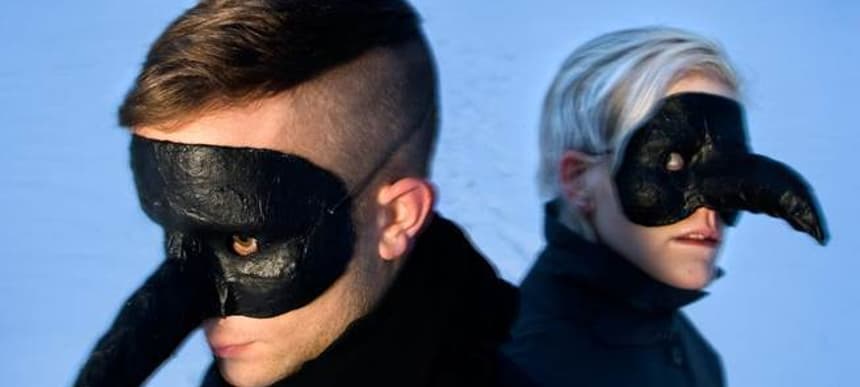 09.09.2016, Words by dummymag
Teki Latex's guide to the Paris vogue and ballroom scene
Is there anything Teki Latex can't turn his hand to? He's been a rapper with legendary French crew TTC, a Game Of Thrones commentator, host of Overdrive Infinity, a label owner, and one of the best DJs on the planet. With a new job as Boiler Room's most boisterous host, Latex is ready to take the entire world by storm.
Joining the dots between vogue's global spread of communities, Teki will align with the beating heart of New York's ballroom and vogue scene MikeQ, Trax Couture boss Rushmore, and Night Slugs co-founder L-Vis 1990 for a "ha crash" packed night at newly established North London club Camden Assembly – which quite frankly, is unmissable.
Gearing up for the event, Teki Latex has put together a track-by-track guide to the French vogue and ballroom scene, which includes tracks that are globally synonymous with the genre as well as a few Parisian curveballs.
In Teki's own words:
"I tried to include tracks that specifically hit the spot with French voguers. The French scene is attached to following worldwide trends and sticking to the true-school codes of the culture, but we also have our own vibe more and more, and some beats that would work in a French ball and nowhere else. Paris is burning and we have our own way of doing things now."
Read through Teki's guide below, and listen seamlessly via our YouTube playlist.
DJ Gregory & Sidney Samson feat. Dama S Dama S Salom Dub
Teki Latex: "We use a certain variation of this track during the first portion of every ball, the LSS (Legend Statements and Stars) and that's the role call, when all the most reputable dancers in attendance are called to the runway and do a little demonstration of their skill. This DJ Gregory beat is used because it's danceable using any of the styles represented in the major categories of most balls: Old Way, Runway, Vogue Fem, Face etc."
Byrell The Great Legendary Children
Teki Latex: "MikeQ is the king of ballroom beats and the 'Qweendom' compilation he recently put out on his label Qween Beats is massive. But in my opinion, if MikeQ is the king, then Byrell is the prince, and his beats always resonate a lot in the Paris Ballroom scene. Plus this is one of the only tracks from the compilation with not too many vocals, so it's great for battles!"
Maurice Joshua This Is Acid
Teki Latex: "This is a classic Old Way beat. I know whenever I play it that Stephane "Mother Steffie" Mizrahi is gonna jump on the runway and go nuts. Steffie is one of the pioneers of the French scene, so she gets a special treatment and sometimes during the LSS portion of the ball I'll sneak in This Is Acid during her part to make her extra happy."
Sudanim Seydou
Teki Latex: "I don't think Sudanim knew this was going to be big in the French vogue scene when he made it for one of our Sound Pellegrino compilations. But this is a good example of us French DJs of the ballroom scene pushing a track ball after ball, and making it grow organically into a beat MCs and dancers request for battles. The dancers would hear Betty and I playing it at parties, at first not necessarily vogue parties, then progressively during pre-ball sets and baby vogue battles…then one of the MCs Francis Zolanski started requesting it, referring to it as "le beat de la mort" ("the beat of death") and next thing you know the Kiki house of Dynamite are using it in their production, as evidenced in the second half of this video. It doesn't contain a "ha crash", it's not conventional, and I don't think a lot of voguers outside of France would consider it a ballroom beat, but the Paris ballroom scene does!"
Yuri Da Cunha feat. DJ Kadu & DJ Malvado Atchu Tchutcha
Teki Latex: "Commonly in the ballroom scene, beats get passed on from dancer to dancer and sometimes mp3s are re-tagged and information gets lost in the process. I have a file in my Rekordbox that's simply credited as "alex new" – I suppose the Alex in question is Alex Mugler, the New York choreographer known for his collaborations with Rihanna and FKA twigs, who regularly hosts balls in Paris and who is very close to the French scene. He probably gave it to Lasseindra Ninja, who in turn gave it to me. The song consists in some sort of lo-fi blend/remix of Yuri Da Cunha's Atchu Tchutcha with ha crashes and elements of big vogue beats (and some bits of Beyonce too). Lasseindra Ninja is the actual creator of the Paris ballroom scene and Mother of the Paris Chapter of the House of Ninja, which I am lucky to be a part of. Just like Mother Steffie Mizrahi has This Is Acid – Lasseindra Ninja has alex_new.mp3 – the beat that she wants to dance to all the time. It's literally "her" beat now, I tried to play it last week during a vogue fem battle not involving her and the MC Mattyouz Ladurée cut me off, telling me, "No, this one is exclusive to Lasseindra – she's a Pioneer, no one else can walk to this beat." So there you go."
GRRL Whoa
Teki Latex: "This is one of the recent tracks that have been working really well in battles. A lot of new club music producers make ballroom remixes and post them on SoundCloud, but most of them have lots of vocals or very busy production, which makes it impossible to play during balls, as the MC needs to have enough space on the beat to do his thing vocally. So this is a very welcome sparse/minimal-type ballroom beat, which is ideal for battles."
Vjuan Allure Anaconda Bump
Teki Latex: "This is a big vogue fem remix by the master of all masters, the legend Vjuan Allure, that always gets the dancers mad hype. I know Vjuan Allure follows the Paris ballroom scene closely and interacts with a lot of the dancers on Facebook groups, so he's like a godfather figure for our scene. He comes to play balls in Paris regularly and I was gonna bring him to one of our parties last year. It didn't work out but Vjuan if you're reading this I haven't given up! We'll make it happen very soon."
Robbie Rivera Blah Blah Blah
Teki Latex: "This is a big beat for the Runway category. It was given to me as an mp3 credited under the Russian name Дорожка 8, and it sounds like it's ripped from a DJ's mix. Lasseindra always tells the DJs "play that Russian runway beat!" I had to Shazam it today to find out it was by Robbie Rivera."
Art Of Noise Moments In Love (She Spells Doom Passion Fruit Mix)
Teki Latex: "There's a million remixes of Moments In Love but this recent one by She Spells Doom is ultra tight. I like playing it at balls and it gets a good reaction in the cunty category because of its romantic aspects paired with strong drums, which connect many of the Parisian vogue dancers to their African roots. I think the future lies in the connection between vogue beats and afro beats or coupé décalé."
Gage feat. Kevin Jz Prodigy
Teki Latex: "This is another case of a track being embraced by the French scene, which you probably wouldn't hear at a ball in America. We can't play it at battles that much because it already has so many lyrics and no space for the ball's commentator to do his thing, but whenever we play it before or after balls, all of the best Paris girls go crazy for it. It's basically a weird grime beat with iconic vogue MC Kevin Jz Prodigy rapping over it. It's so energetic and raw – I love it. I think it's good that these non-conventional beats are crossing over with the ballroom scene and pushing it forward."
And finally, a bonus from Teki that includes a whole host of figures from the Paris scene:
Kiddy Smile Let A B!tch Know
Teki Latex plays on Camden Assembly on September 17th alongside MikeQ, Rushmore, and L-Vis 1990 (tickets).