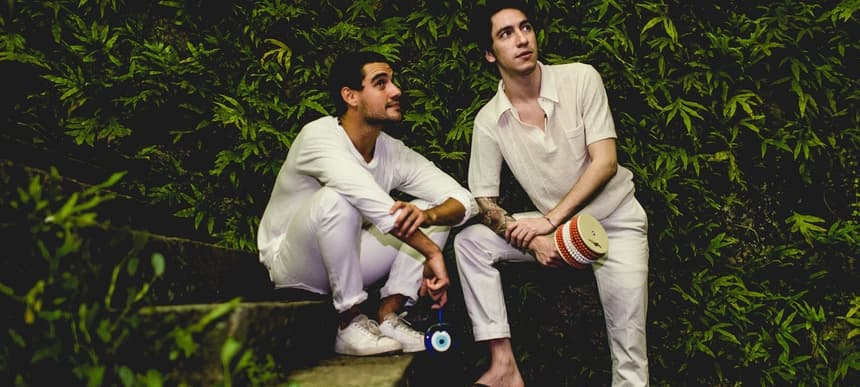 25.06.2018, Words by dummymag
The 10 Best Music Things Coming Out Of Brazil Right Now according to Balako
Brazilian duo Balako released their sublimely infectious debut EP 'Hora De Balako' this time last year and have just returned with 'Jungle Music' – a track that is once again made up of 100% live recordings and based on the magical urban jungle that is Rio de Janeiro.
"Rio is a city surrounded by chaos and social injustice, it's people often angered by the corruption and fragility of its make-up, but still we find a reason to smile and have fun… while still hustling" says Diogo. "As Tim Maia once joked: 'Here the pimps feel jealous, the drug dealers get coke addictions and poor people are right wing.' Contradictions like these create a lot of depth and inspire us to keep creating. Sometimes it feels like surrealism but it's actually magical realism."
Here Balako's Diogo Strausz and Rodrigo Peirao highlight the ten music things (new releases, artists, compilations, labels) that are coming out of Brazil (from north to south) right now.
Repetentes 2008
Balako: "Repetentes 2008 is one of the many aliases used by Rio producer Gabriel Guerra. Composed by a mix of dry beats set up on drum machines and dreamy melodies created on glossy syths, Guerrinha fuses a wide array of genres in a simplistic and beautiful way. The project's first album came out on Future Times Records and the last Repetentes EP is out now on the 40% Foda/Maneirrisimo imprint."
Iconili
"New discovery for us and we're listening to this on heavy rotation. Iconili is an instrumental band made up of 11 members, all from the city of Belo Horizonte. All their work is pretty amazing – very fresh and super original. Their last record 'Tupi Novo Mundo' is pretty psychedelic and the track 'Rei de Tupanga' which opens the album was previously launched on Amplificador Novíssima on Far Out Recordings."
Kassin
"Kassin's new album 'Relax' fresh from the oven was recently released on Luaka Bop, a super fun record featuring many of our friends. 'Relax' is a proper and solid homage to Brazilian legendary producer Lincoln Olivetti and the videos and visuals created for this video are insanely good!"
Luedji Luna
"Released last year from Luedji Luna, this song simply took over. It felt great to hear a Brazilian track with a linear structure, repetitive bassline, no complicated chords, just catchy melody and deep but unpretentious lyrics. It felt like she wasn`t 'trying to save our music' but she just did."
Duda Beat
"Duda Beat is from Recife and she just released her debut album. She's definitely one of the girls to keep an eye on here, since the record came out it has been getting some nice buzz and reviews. The album was produced by Tomas Troia and mixed by Diogo Strausz (half Balako)."
Emicida feat. Ibeyi
"It feels good to see local artists collaborating worldwide and showing that even when we make mainstream pop music we make it good. This was produced in Brazil and it makes us proud."
Manoel Cordeiro
"Manoel Cordeiro is a legendary guitar player from Pará on the north of Brazil. We had the chance of recording a new project in collaboration with him last year which shall be released towards the end of the second semester of 2018. His solo work is filled with beautiful guitar melodies surrounded by Manoel's warm sense of humor."
'Onda de Amor – Synthesized Brazilian Hits That Never Were (1984-94)' compilation by Milos Kaiser (Soundway Records)
"Samba, Boogie, Reggae, Axé, Balearic, Rap, Pop, Electro e Proto-House, this is 'Onda de Amor' – a selection compiled by Milos Kaiser (1/2 Selvagem) out now on Soundway Records. The release includes 16 tracks of never heard before obscure Brazilian jams recorded throughout the period of 1984-94."
Castello Branco
"One of the main upcoming names in the Brazilian indie scene, Castello mixed electronics, traditional rhythms and minimalism in a very unique way on his second album 'Sintoma'. Plus a very smooth and soft voice. It`s a record you can relax to even if you don't get the lyrics."
Letrux
"Letrux completely nailed it on her first record and took over the scene. This track is a personal favourite because of how she mixes spoken words, Italo Disco and a great unpredictable major chord before the melody strikes on the second verse. All that plus looking like Connan Mockassin in her video."
Check out the video for Balako 'Jungle Music' below: