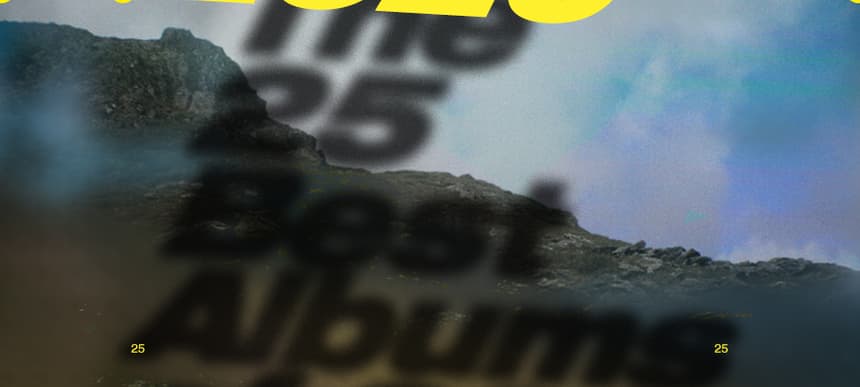 09.12.2020, Words by Felicity Martin
The 25 Best Albums of 2020
Here are the 25 records that have inspired us over the year...
Each year has its ups and downs, but 2020 was the one that'll go in the history books. In a year where music has arguably taken one of the hardest hits out of all of the industries from the pandemic, with artists struggling to earn money from shows, we've still seen a huge load of exciting music being released. Over the past 12 months, we've been working on our artist services company DMY Artists (we've purposely excluded anything we've released from this list, but you can find a playlist of everything we released here). We also launched a podcast, which you can listen to here, and a new filmed session series, which you can check out here. Below, get to know the 25 long-players, mixtapes and projects that got us through the longest year of our lives.
25. John Frusciante
Maya
Timesig
Whoever had the Red Hot Chili Peppers' guitarist writing a sonic love letter to the UK's hardcore and jungle scene as a tribute to his dead cat on their 2020 bingo card was in luck this year. Named after said cat, 'Maya' saw John Frusciante emerge from his electronic Trickfinger alias to deliver one of the year's most cinematic, multi-sensory dance LPs. There's a moment of pure dilation about halfway through 'Amethblowl' – when the drums go into overdrive and the bassline sends a tsunami rumbling through the floor – that evokes the scene in A Clockwork Orange when Alex DeLarge has his eyelids pinned back and all manner of horrors poured into his pupils. It feels like that, but in a good way. A really good way. Will Pritchard
24. Bad Boy Chiller Crew
Full Wack No Brakes
House Anxiety
The year's most unlikely breakout act – three Bradford lads who got their break rapping about chicken parmos and car washes – turned out one of 2020's most unbridled bundles of joy in 'Full Wack No Brakes'. There's balls-to-the-wall bassline, swung-as-fuck 2-step, pumping organ house, and even, on 'Thinking About You', a stab at heartfelt missives (though the opening gambit of "Yo listen up, bitch" undermines the message somewhat). Bad Boy Chiller Crew's Kane, Clive, and GK might not be the heroes that were asked for, but you can thank whichever god you like that they were the ones we got. Will Pritchard
Read our 'Cop or Drop' feature with BBCC.
23. Rico Nasty
Nightmare Vacation
Atlantic
Further narrowing the gap between rap and punk, Rico explored both sides of her hardcore v popstar persona on 'Nightmare Vacation'. The Washington DC rapper's hyper-aggressive maximalism is Marmite, sure. But many of the album's tracks court the hyperpop, candy-sweet side of her sound. Her choice of producers reads like a who's who of boundary-pushing beatmakers at the top of their game: Kenny Beats, 100gecs, Take A Daytrip, Buddah Bless. Music stan account Hip Hop By The Numbers found that across the 39-minute album, Rico makes 161 vocal tone changes – one every eleven seconds, and 104 flow changes, one every 17 seconds. With stats like these, it's no wonder that Rico Nasty has become such a juggernaut presence on the US rap scene. Felicity Martin
22. WizKid
Made In Lagos
Starboy Entertainment
The fourth studio album by the Nigerian star was – understandably – delayed due to the End SARS protests going on in his home country and in London, where he marched alongside his fans, vocalising his thoughts on social media too. A truly global outlook as well as a love letter to Lagos, it found WizKid uniting London (via Skepta and Ella Mai) with Nigeria on Tems. 'Essence' is a highlight, a shining example of WizKid's perfectly crafted Afropop. Felicity Martin
Read next: The 10 Best Songs To Come From Nigeria, according to Rema
21. Curren$y & Harry Fraud
The OutRunners
SRFSCHL
If we had one criticism of Curren$y & Harry Fraud, it's that both of them might be too versatile for their own good. As two of hip-hop's great chameleons, we think their ability to effortlessly switch styles may well have actually been a hinderance to them receiving the plaudits their works deserve. In that regard, 'The OutRunners' is a case in point. A fantastically hazy Miami-themed romp, it's no doubt the kind of album that made us wish we owned a convertible so to pump it out of as we navigated the Magic City's palm tree flanked street, but is it lane that we will see either artist return to in the near future? We fear not, which, considering this is in our opinion one of the most slept-on albums of the year, is a damn shame. Reiss De Bruin
20. Minor Science
Second Language
AD 93
Rifling through a '90s palette of breakbeat, jungle and IDM, Angus Finlayson's debut album still never feels overly nostalgic. Like the concept of a 'second language', there's something to be said about how musical references translate across words and borders – a music journalist as well as producer, Finlayson obviously knows his fair share of music history. As part of the album's rich, hi-tech sound design, he builds ideas up to a crescendo before stopping dead and changing course completely: the record plays with your sense of anticipation, inducing breathless excitement before taking it all away. It's hyper-detailed and fidgety in a way that feels mathematical in places, but also like it'd go off in the club (remember those?) Felicity Martin
19. Al Wootton
Witness
TRULE
Infused with tapedeck hiss and the crackle of decaying samples, 'Witness' is awash with nostalgia – a sensation that's felt more immediate than ever in a year when our nightclubs have been lain mostly bare. With precise drum work and an array of synth sounds seemingly plucked from the eaves of Sunday night Metalheadz sessions, Al Wootton (fka Deadboy) conjures euphoria from one of the dreariest years on record. Not so much a witness to the party as both the life and historian of it. Will Pritchard
Listen to Al Wootton's Dummy Mix.
18. Fontaines D.C.
A Hero's Death
Partisan Records
2019's phenomenal 'Dogrel' won Fontaines D.C. international acclaim, so it was a surprise to see them return only a year later sounding battered, bruised, chewed-up and spat-out on their follow-up 'A Hero's Death'. Sonically, it's a rebellious second album. It was recorded in LA, as a tribute to the Beach Boys, who frontman Grian Catten claims were a big influence this time round. It's more spacious and outward-looking than 'Dogrel', tinged with art-rock arrangements and jazzy basslines, but at the same time its riffs carry with them a cloud of anxiety and mania. If 'Dogrel' saw them triumphantly escaping the confines of Dublin, 'A Hero's Death' sees them reckoning with both the beauty and claustrophobia of their newfound liberation. Paul Gibbins
17. Unknown T
Rise Above Hate
Island Records
Channeling his disdain towards a society that had all but abandoned him and an incarceration system that had wrongfully locked him up, 'Rise Above Hate' saw Unknown T etch out new creative horizons for the drill scene. Beneath the project's catchy sound, T injected the record with deeply embedded societal messages and introspective reflections on his past, present and future prospects. Flexing features from fellow Homerton stars V9 and KO, as well as AJ Tracey, M Huncho, Young Adz, and Young T & Bugsey, the 21 year-old cemented his position as one of the UK's hottest talents. Billy Ward
16. Sega Bodega
Salvador
NUXXE
Stretching his solo wings following 2018 project 'self*care' and after work with Cosima and Brooke Candy in 2020, 'Salvador' represented London producer Sega Bodega's quest for self-discovery. Jittery, claustrophobic soundscapes encompassing pop, techno, rock and R&B, channel his misunderstood disposition as he strives, through soft yet tortured vocals, to be loved, on his own terms. 'U Suck' perfectly surmises the destructive tendencies of modern human interaction, while 'U Got The Fever's' unpredictable beat switch is an apt symbol of Sega's own shifting trains of thought throughout. But the album's relatability was its most enduring facet, as 'Salvador' beautifully soundtracked a seemingly endless struggle for identity. Yemi Abiade
15. Eartheater
Phoenix: Flames Are Dew Upon My Skin
PAN
The celestial soundtrack to a renewed creative vision, Eartheater's record stripped back the pensive techno-fuzz of her previous albums to unveil a streamlined sound baked in minimalism and allure. It's fitting that the project's title is dedicated to the mythical creature of rebirth, as the 31 year-old rises from the ashes of a challenging period in her life to fuse her past identities into a harmonious whole. Her haunting vocal presence is the record's primary weapon of choice; stirring acoustic guitar progressions and ethereal synths are fleshed out with poetic nods to her deepest thoughts and truths. It's a personal experience from start to finish and one that sees Eartheater explore new dimensions of her artistry. Billy Ward
14. Sevdaliza
Shabrang
Twisted Elegance
Shabrang's title translates, from the Farsi, to 'night-coloured', and it's inky shades that Sevdaliza draws for on her sophomore album: all existential pondering and smoky weight. The Iranian-Dutch artist's ghostly, quivering vocals and rhythmic heft have previously seen her lumped lazily with a trip-hop genre tag; but on 'Shabrang' she flexes beyond those confines and plays with tempo, tone, and texture to beguiling effect: 'Darkest Hour' is a pulsing '80s synth chugger; 'Oh My God' a skippy trap earworm. Sevdaliza is on a rich run of form that puts her way out ahead of her peers. Will Pritchard
13. Zora Jones
Ten Billion Angels
Fractal Fantasy
Zora Jones is committed to her craft, so much so that for a recent (excellent) mix, which she recorded despite suffering a back injury, she lay on her back and displayed her software onto the ceiling with a projector. Jones' debut album, 'Ten Billion Angels', is further proof of this commitment, made over a four-year period while on the road with Sinjin Hawke, co-creator of Fractal Fantasy. Using her voice as an otherworldly instrument by chopping and splicing it over and over, 'Ten Billion Angels' is futuristic and ethereal, inspired as much by disparate corners of club music as by sci-fi and human emotion; glossy and intricate electronica for cyborgs with a heart. Katie Thomas
12. Nines
Crabs In A Bucket
Zino Records
While the pressures of 2020 saw a number of his contemporaries spinning their wheels as they tried to make sense of everything going on in an increasingly uncertain world, London's Nines continued to enhance his reputation as UK rap's great constant, serving up a timely reminder of his talent on his third album, 'Crabs In A Bucket'. An aggressively authentic autobiographical collection, 'Crabs..' sees the multiple MOBO-nominee continue to tell his story with the same refreshing candour that defined his early works, blending trap sensibilities with old school hip-hop influences for a brooding set of tracks that improve with each listen – which if you're anything like us, will be a lot in the coming years. Reiss De Bruin
11. Phoebe Bridgers
Punisher
Dead Oceans
Since 2015 Phoebe Bridgers has – through prolific releases, features, collabs and side-projects – invited us to spend a little time in her woozy, sun-kissed world of chemical highs, late-night boredom and millennial ironic detachment. Her sophomore album, 'Punisher', is punctuated with familiarity, with appearances from Julien Baker, Lucy Dacus and Conor Oberst, but overall has a darker and more abstract sound, tinged with psychedelia. Phoebe Bridgers spends ten-and-a-half songs painting you a picture with all the care, tenderness and detail of a Bob Ross landscape, before tearing it to shreds in the chaotic final act of 'I Know The End'. Paul Gibbins
Phoebe Bridgers' 'Moon Song' features in our 'The 10 Best Tracks To Cry To, according to Arlo Parks podcast.
10. Oklou
Galore
True Panther/TaP Records
Pop outsider Marylou Maniel grew up in the French countryside playing the cello and piano. She'd later go on to fall in love with Oneohtrix Point Never, DJing and become affiliated with subversive club label Nuxxe. Even though she denies any direct influence, there's a classical element to Oklou's composition, which is pop stripped of its bombast, otherworldly and glowing. 'Galore', her debut project, was written with Club Quarantine co-founder Casey MQ in remote Spain, sampling crickets, trees in the wind and dogs howling. All sparse, plinky pop and slow-burning hymns, it proved that pop is sometimes most beautiful and essential when it's restrained. Felicity Martin
Listen to Casey MQ's Dummy Mix.
9. J Hus
Big Conspiracy
Black Butter
If J Hus' return home from prison in early 2019 marked a personal shift for the East Londoner, sophomore album 'Big Conspiracy' was the mission statement detailing his new reality. This was a new Hus, almost unrecognisable from 2017 debut album 'Common Sense', for he is radicalised and striving for purpose. There are calls to revolution ('Reckless,' 'Fight For Your Right') and knowledge of self ('Deeper Than Rap') but the old Hus remains, leaving room for the body shakers ('Play Play,' 'Fortune Teller'). Growth, both personal and artistic, has guided his journey in the last year and 'Big Conspiracy' marked a pivotal new road for him to walk, unabashed and full of flavour. Yemi Abiade
Listen to our podcast with longtime J Hus producer Jae5.
8. Charli XCX
how i'm feeling now
Atlantic/Asylum
Charli XCX put herself under immense pressure as lockdown began, setting herself a goal of delivering an entire album in just six weeks. She worked at breakneck speed and in tandem with her fans, including them in every step of the album's conception by exposing her creative process online. The result was 'how i'm feeling now', an expression of a collective moment, and of love in close quarters (much of the album sees Charli singing about her relationship with Huck Kwong, all while he was in the next room). Amid the catchy bops, weirdo pop, glitchy noise and thrill seeking bangers, Charli tapped into our tender, rave-yearning hearts most on 'anthems', singing: "I just wanna go to parties / Wanna feel the heat from all the bodies." Katie Thomas
7. Off The Meds
Off The Meds
Studio Barnhus
What do you get when you cross one South African vocalist with three Swedish producers? Answer: a techno supergroup called Off The Meds. Operating out of Stockholm, Carli Löf and Måns Glaeser are otherwise known as Savage Skulls, while Adrian Lux was responsible for proto-EDM slammer 'Teenage Crime'. Across eleven tracks, the quartet's self-titled debut album (released via Kornél Kovács, Petter Nordkvist and Axel Boman's Studio Barnhus) was a mind-melting mix of acid, foggy techno, house and dancehall, layered with Jo'burg's Kamohelo Khoaripe providing vocals in his Zulu-Tsotsitaal-English flow. It sounded destined for dark basements and afterparties – the latter being the setting, appropriately, that the group recorded their first track at. It's just a shame we haven't been able to experience any of the OTM tracks on the speakers stacks they deserve. Felicity Martin
Read our feature with Off The Meds.
6. Moses Boyd
Dark Matter
Exodus Records
Lots has been made in recent years of the sonic overlaps between south London's unrivalled jazz scene and the mid-noughties grime sound that's since made itself a mainstay of the major labels; Moses Boyd's debut solo LP took this cross-pollination of styles to giddy new levels. Between the punchy horns and whip smart snares on 'Stranger Than Fiction' and the trap trills on extended closer 'What Now?' there are shades of garage, UK funky, and even darkside jungle, all wrapped up in the most impeccable instrumentation and painstakingly detailed arrangements. And in the Obongjayar-featuring 'Dancing In The Dark' there's a hint at what pop music could look like if it were allowed a little more bite. Will Pritchard
Read our interview with Moses Boyd: The Art of Jazz.
5. Headie One x Fred Again..
GANG
Relentless Records
It's hard to think of a more divisive record this year than 'GANG' was among drill fans. When the surprise project dropped on the day of Headie One's release from prison, some genre purists weren't sure about his pitched-up vocal on Fred Again..'s stuttering, cavernous beats, assisted by Jamie xx, FKA twigs and Sampha. Headie's debut album 'EDNA', which arrived later in the year, was also a contender for this list, finding Headie arguably more eased into the sound he'd helped popularise. On 'GANG', though, it was refreshing to hear a drill artist eagerly embrace more experimental sounds – even tracks that could ring out in a club. The spaciousness, too, suited introspective lyrics like: "Hugs? No hugs, I had to hug my thoughts. Nobody come to court". On 'GANG', Headie took a risk, and it paid off. Felicity Martin
Read next: Headie One and Fred Again.. boldly defy convention on the star-studded 'GANG'
4. Kelly Lee Owens
Inner Song
Smalltown Supersound
In support of record stores impacted by the pandemic, Kelly Lee Owens delayed the release of her sophomore album 'Inner Song' from early May to late August. Speaking about the record in a recent interview, she said, "music will find the people that need it." It's a statement that rang especially true this year, as moments of respite, connection and comfort became more vital than ever. 'Inner Song' is a beguiling document of Owens' own journey of self-discovery that adds a couple club bangers ('Melt!', 'Jeanette') and more pop leaning-lyricism ('L.I.N.E') to an already-established and distinctive blueprint, her mesmerising fusion of spectral pop, ambient techno and shimmering pads. Katie Thomas
Listen to our podcast with Kelly Lee Owens where she talks through her all-time favourite vinyl releases.
3. Dua Lipa
Future Nostalgia
Warner Records
When Dua Lipa dropped her second album on 27th March, a week earlier than its intended release date, she recorded a teary video for her fans saying: "I hope it brings you some happiness, I hope it makes you smile and I hope it makes you dance." Inspired as much by Madonna in leg warmers as Nile Rodger's funky guitar licks, 'Future Nostalgia' brought us joy as we bopped around our living rooms. From the INXS sample on early single 'Break My Heart' to the intergalactic headrush of 'Hallucinate', Dua gifted us with b2b bops; 'Future Nostalgia' is an artful and polished marriage of glistening disco and contemporary pop. Katie Thomas
Read next: Dua Lipa's Studio 2054 disco party upped the game for virtual live shows.
2. SAULT
Untitled (Rise)
Forever Living Originals
In the last couple of years, SAULT have torn through the music world like a tornado, despite the British collective remaining almost completely anonymous (bar a few credits gleaned here and there, like that of Little Simz producer Inflo). This could seem like a tired promotional technique, and it could be annoying if the music wasn't so indisputably great. One of two albums they released this year, 'Untitled (Rise)' took shimmering disco, golden age '70s funk and soul and R&B to new heights, meticulously produced. Against the backdrop of the Black Lives Matter movement, the record was especially powerful, forcing the listener to confront uneasy truths. 'Uncomfortable' asked: "Why do you keep shooting us?" while the vocal on 'Little Boy' addresses a child with: "When you get older … I'll tell you the truth about the boys in blue." Felicity Martin
1. Pa Salieu
Send Them To Coventry
Warner
Having survived an attempt on his life in 2019 and built a strong case for newcomer of 2020, Pa Salieu has kept the UK scene in his grip throughout this year. Debut single 'Frontline,' released in January, stands as one of the strongest from a new UK artist in years, while follow-ups 'Betty,' 'Bang Out' and 'My Family' expanded his effortless charisma as he lyrically discarded the opps and repped his Coventry ends with his compelling Gambian twang, the connection between homeland and new home made with his every word.
Debut project 'Send Them To Coventry' is a flawless effort, showcasing the 22-year-old's insanely addictive flair and subtly nuanced worldview. Utilising UK rap, drill and dancehall, Pa projects the dynamism of UK black music with ease, wrapping it in a tight bow with a titanic lyrical presence. From unadulterated pro-blackness ('B***K') to lose-your-mind bangers that will light up the post-lockdown dance ('Frontline,' 'My Family,' 'Block Boy,') Pa's commanding, shape-shifting vocals stop you in your tracks without fail. He leaves no room for waffle; every bar counts, right from intro 'Block Boy's' bleak opening: "Look, my name is Pa and I'm from Hillset / Bust gun, dodge slugs, got touched, skipped death." In his murky milieu of trapping, violence and cheating premature death, he keeps himself strong, reading his environment with razor-sharp foresight. "Friend of an opp then I'm onto ya," he spits on the Millionz-assisted 'Informa,' the trust-nobody mentality that signals his reality.
By the project's end, Pa preaches self-preservation amongst the wilderness on 'Energy,' keeping his sanity in check. 'Send Them To Coventry', vivid and varied, is as much a statement of his powers as much as it is a deep dive into the psyche of a new star, how it ticks and how, ultimately, it endures. The sky's the limit for the young Gambian brudda. Yemi Abiade
Read our interview with Pa Salieu.
Listen to our playlist of the 25 Best Albums of 2020:
Words: Yemi Abiade, Reiss De Bruin, Paul Gibbins, Felicity Martin, Will Pritchard, Katie Thomas, Billy Ward
Artwork: Luke Griffiths