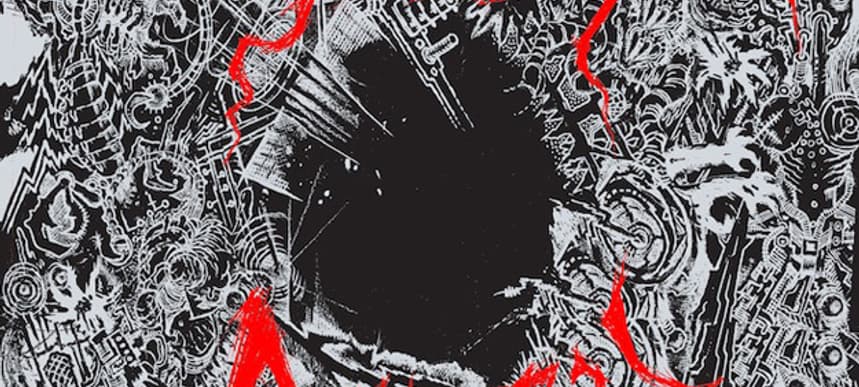 13.08.2013, Words by dummymag
The Bug - 'Filthy' EP
It would be safe to say a lot's happened since The Bug's 'London Zoo' in 2008: especially when considering the transformations of dubstep – that original London-centred scene that Kevin Martin's main project always felt closely tied to, before words like "brostep" entered the vernacular. Along with the first pair of Burial albums and 'Memories of the Future', 'London Zoo' appears in any list of classic London noughties LPs; it always had a lot more going for it than falling under that umbrella notion of dubstep. Tracks like Skeng and Poison Dart are now unquestionable classics in the history of UK dancehall, dub and soundsystem cultures. It's this fact above all others that aids 'Filthy' – perhaps with the exception of the presence of a certain rapper from Detroit – in picking up right where 'London Zoo' left off, and in does so in a fresh and fiery fashion.
With long-anticipated album 'Angels and Devils' surely due to drop some time later in the year, what is delivered with 'Filthy' makes absolute sense from a man who recently launched a record label devoted to the increasingly demoted seven-inch single format. The four tracks on 'Filthy' channel the Jamaican dub notion of the "version" – a kind of "variation on a theme", or passing around of a hot riddim to various MCs or vocalists, a method whose prevalence Martin has noted in grime, while less used in other contemporary scenes.
This rhythm is introduced on Freakshow – all whirring, warbling horns and a rattling 140 bpm stomp – and features familiar partner Kiki Hitomi from King Midas Sound, and the unfamiliar presence of Danny Brown of Detroit. The rapper's appreciation for UK sounds have been documented before – and the impact of Freakshow may have been greater if it had come prior to last year's incendiary collaboration with Darq E Freaker – but Brown's still on hand to drop some familiarly graphic sex/food/sport combos, a couple of which are almost freaky by his (admittedly high) standards. Next up Flowdan makes his first appearance on the thicker reverberations of Dirty, before dancehall royalty Daddy Freddy pops up for Kill Them – with the dubbier rhythm here cleverly referencing back to Skeng. Killa P and Flowdan are back on for closer Louder, which builds the strongest hook, making it the likely pick of the bunch.
While Kevin Martin may not have envisaged it taking this long for the next full Bug release, there's a way of reading it as having come at interesting moment. In a sense, dubstep's through its commercial Americanization moment, while instrumental grime finds itself in a strikingly healthy state – and some of the work coming out of Keysound Recordings seems to hint at a returning to dark garage/2-step/pre-dubstep sounds. Some may bemoan a lack of progress, but like the best of Kahn's material – or the mindset that carries Deep Medi Musik – it's not something worth getting caught up in when the results swagger like this. Hopefully 'Filthy' will work as a nice bridge between albums – adding speculation to just how on earth those match-ups with the likes of Death Grips (!) and Grouper (!!) will pan out. Roll on those Angels and Devils.
7/10
Ninja Tune released 'Filthy' on August 12th, 2013.