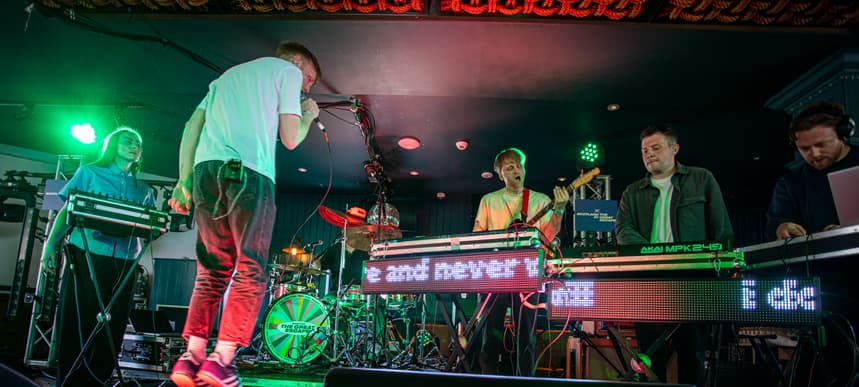 18.05.2023, Words by Ben Jolley
The Great Escape 2023: Electronic experimentalism, all-out raving and viral sensations
The UK's best and biggest showcase for new music returned with a bang...
Waving a dildo in the air at 3pm is quite the way to make a statement – and that's exactly what Brighton's long-standing showcase festival The Great Escape is all about (not wafting sexual objects, of course, but leaving lasting impressions). Therefore, you could say Australia's confidently-explicit BIG WETT knew the assignment. Her overtly-sexual, tongue-in-cheek club-pop tracks - inducing 'NUMBER 1 PUSSY' and 'EAT MY ASS' - raised many eyebrows from perplexed industry types at AmazonMusic's marquee-style beachside stage on Saturday afternoon (thankfully, her midnight show the previous night was met with a far more raucous crowd), but there's no denying her's was one of the most talked about performances of the weekend.
And when you're jostling for attention on a stacked line-up of more than 300 artists across virtually every possible genre, who can blame her for wanting people to remember her name. Equally captivating was harp-playing US hyperpop star Alice Llongyu Gao - aka the self-proclaimed "Asian Taylor Swift" - whose humourous yet humble performance art was unforgettable. Sporting a glittery veil, apocalyptic national anthem 'Let's Hope Heteroes Fail, Learn & Retire' stopped everyone in their tracks, especially those who hadn't previously heard the intro to her new EP. She spread a motivational message, too, having ended the set crying after proclaiming "they think we've had enough LGBT rights, fuck no! I want more". Spotting someone on the front row who knew all her songs, the pair held hands while screaming the lyrics of the speaker-shattering 'Believe the Hype' together.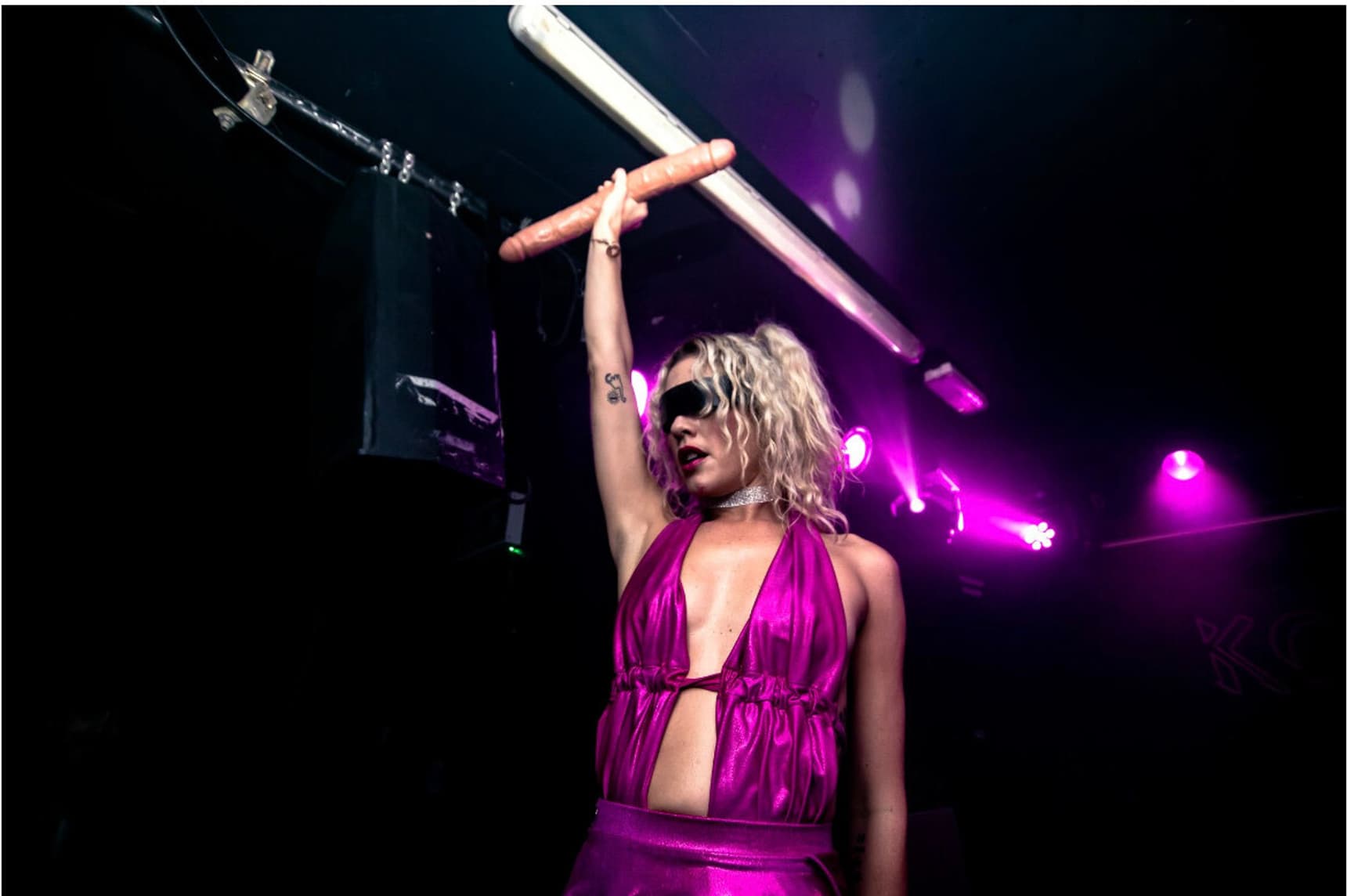 Another beautiful moment of intimate connection came from French-Brazilian trio PPJ, whose debut UK show, in the basement of Patterns at gone midnight, was a suitably sweaty and heady affair. Fusing the singer's live vocals with techno, gabber, acid and electro beats, it was all extremely full-throttle. 'Bisha' and 'Primavera' were brought to life with a beaming smile as she stared directly into the audience's eyes and blew kisses to the crowd. Interactive and immersive, this gym workout of a set recalled Marie Davidson and ela minus. By the end of the show, the audience was chanting PPJ – and deservedly so.
Their set wasn't the only signifier that, possibly more than any previous year, the eagerness to let loose and party was stronger than ever before. In line with the recent (and ongoing) rave revival, the festival team delivered a line-up packed with club-oriented acts to satisfy that appetite. One-woman-band Memphis LK's heartbroken d'n'b-pop seamlessly weaved between breakbeat, jungle, hardstyle, techno, and even a clarinet solo; you'd never know it was her first UK show, especially considering the packed tent.
Meanwhile, two British artists demonstrated why the next generation of UK drum 'n' bass is in such a strong position. Performing a mix of earworm hits and unreleased bangers-in-waiting at Patterns, venbee stormed through 'messy in heaven', 'low down' and 'gutter' as well as an upcoming Rudimental collaboration, 'Die Young', and a d'n'b cover of M.I.A's 'Paper Planes' that breathed new life into the original. Joined by a live drummer and bassist, her set elevated the genre to new heights. Sporting white shades and a green sports jacket, her personal lyrics, which focus on mental health and "the world being fucked", felt hugely relatable. She even dedicated the unrealised 'Hold On' to a late friend as hundreds of iPhone torches lit up the club. Several hours later, and with venbee raving at the front barrier, Charlotte Plank closed Patterns with a 2am session that traversed dance genres, spanning d'n'b, house and garage. "How we feeling?" Everyone still awake out there?" the BBC Introducing favourite teased, ensuring the energy levels were high, before thanking the crowd for hanging on for her "graveyard shift". She needn't have worried, though. Her recent Rudimental collaboration 'Dancing Is Healing' went off while 'Rave Out' (released this week) is destined for crossover success.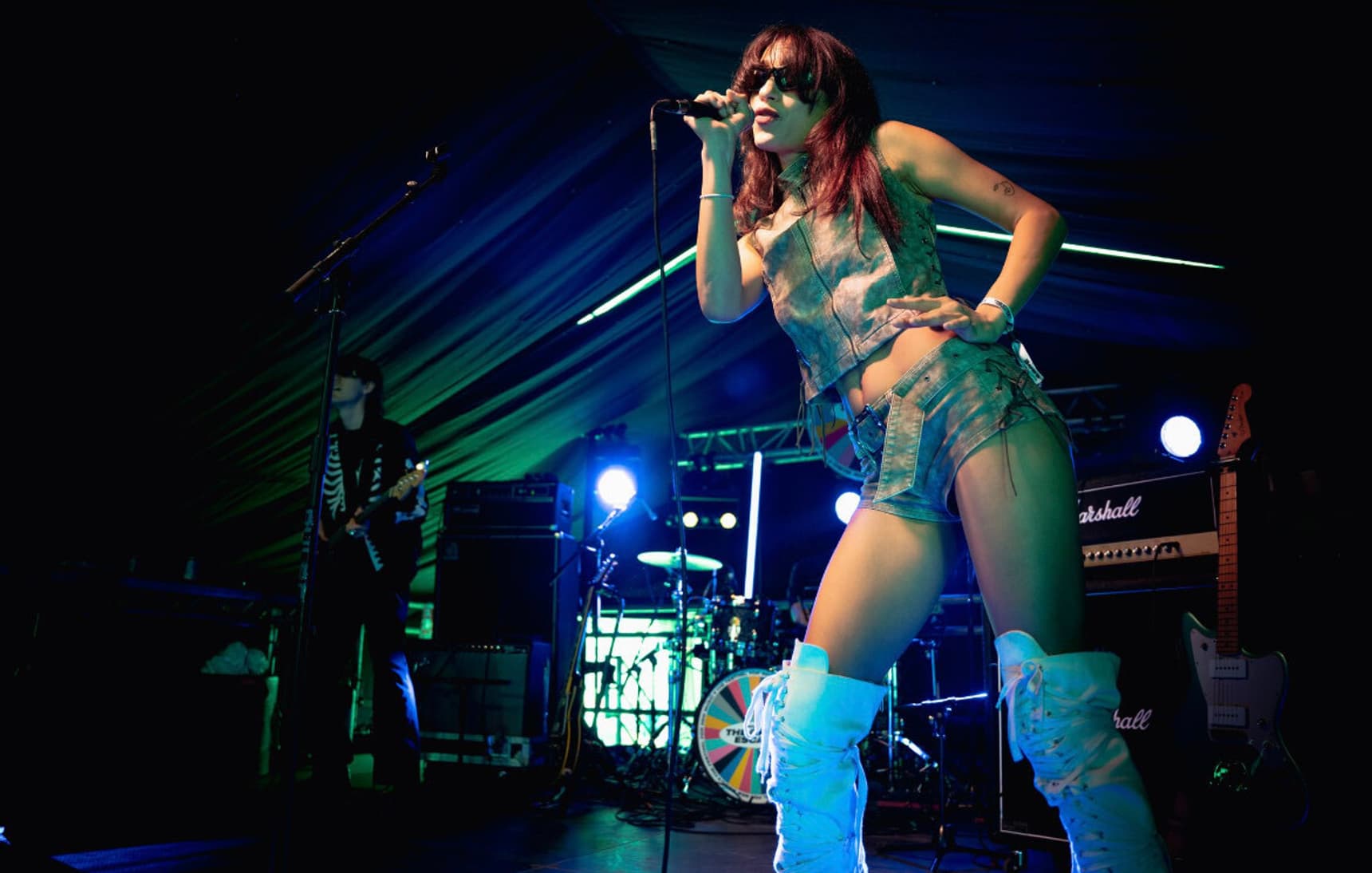 Similarly, plenty of space was afforded to experimental electronic music at this year's festival. France's Julie Pavon got a dance party going with eccentric shapes and synth-heavy electro, Scotlish vocalist and producer LVRA's industrial, whiplash-inducing hyperpop-techno paired with ethereal vocals hit hard, and the eerie, sample-heavy sounds of Spanish pianist and producer Marina Herlop recalled the film 'Midsommar'. Other electronic highlights were yuné pinku, whose otherworldly synth concoctions marked her out as a ravier Grimes, and Sans Soucis, whose effortlessly soulful pop-R&B delighted a busy mid-afternoon crowd in Patterns; particularly the groovy 'Merchants' and house vibes of 'All Over This Party' which were paired with some great dance moves. Another highlight was Maeve, whose haunting ethereal electronic sounds pitched her somewhere between Billie Eilish and the sparse but heavy soundscapes of Labrinth (particularly the eerie 'Bleach'). Dressed in knee-high white boots, she looked every bit the pop/rockstar; fittingly, her upcoming indie-leaning alt-pop bangers, like the unreleased 'Hyperbloom', packed anthemic choruses.
Arguably the loudest set of the weekend came from Man/Woman/Chainsaw, an under-the-radar six-piece band whose noisy, structure-defying concoctions sit somewhere between Jockstrap and Black Country New Road. Performing as part of the BRIT School Alt Escape showcase, the Steve Lamacq-tipped group packed the fancy pub-restaurant Inn On The Square, a venue that made it feel like watching a (very good) practice session in their garage. Very soon, the crashing 'Back Burden' will be inciting mosh-pits wherever they go. Similarly ear-splitting was Cambridge alt-rock band Tom Lumley & The Brave Liaison, whose short but snappy gig at the punk-y Shortt's Bar made for a thrashing 20 minutes. The four-piece really gave it their all, especially during new single 'DEAD' – there's no doubt they'll be commanding much bigger stages this time next year.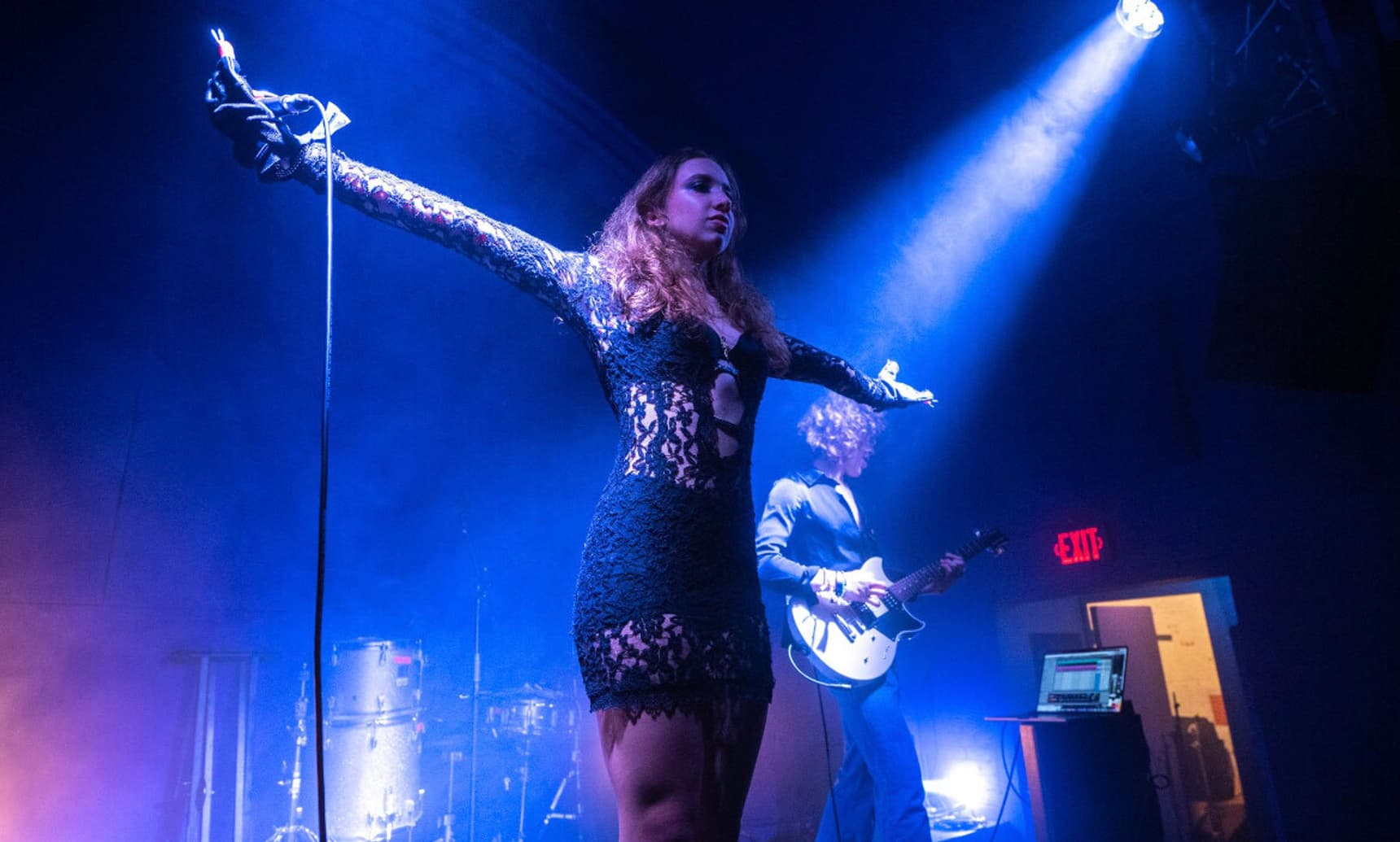 However, it wasn't only those who were sonically the loudest that made the biggest mark. Despite having just a sticker-covered laptop and guitar by her side, Ruti let her incredible voice do the talking. The stripped-back 'Nothing's Easy' and a cover of Tears For Fears' 'Everybody Wants To Rule The World', which brought her attentive crowd to a pin-drop silence, provided the perfect accompaniment to an afternoon at the beach. 'So Much More', with its Rosalia-style flamenco undercurrent, was dedicated to the LGBTQ+ community. Glaswegian Island Records signing and BBC Introducing Scotland Act of 2023, Terra Kin, also soothed the audience at Brighthelm Centre with her calm presence and liquid vocals. Scottish-German artist Becky Sikasa transfixed a lunchtime crowd upstairs in Patterns as they held on to every world of her harmony-filled off-pop-meets-R&B. Performing alongside three backing singers and her sister, 'Keeper' particularly demonstrated Sikasa's impressive vocal tone. Similarly, Jasmine Jethwa's emotive storytelling and raw vocal talent was undeniable; the effortlessly beautiful folk of 'Have I Ever Been' ended with seriously impressive vocal acrobatics. Pure pop brilliance (with a hint of electronica and indie) was in no short supply either, with singalong-heavy sets from SIIGHTS, Redolent, modernlove. and Blusher (aka Australia's answer to Muna).
Rap was well catered for, too, particularly at +44's Friday night showcase at Concorde 2, which was headlined by Unknown T. Rising artist Cristale kicked off the night by showing why she's one of the scene's fastest up-and-comers, delivering a confident performance that included a live rendition of her viral Plugged in session. Later, Ms Banks kept the party going with performances of her 'Gun Lean Remix' verse and finishing on 'Snack' to set the tone for the rest of the evening. Tiggs Da Author then stepped up to give a highlight performance of the entire weekend; performing with a full band including tuba, he had everyone dancing to tracks from 'Blame It On The Youts', brought Rimzee out for 'OCD Riddim (Part 2)' and got the crowd jumping. To close, Unknown T's high energy performance of fan favourites 'Goodums' and 'Right Hand' built to moshpits everywhere for 'Homerton B'. Elsewhere, at Patterns, Rio Rainz - who had been used to making introspective music in his bedroom - rocked out with everyone for his first show, particularly during 'Favourite Girl' and the holiday-ready 'Poison'.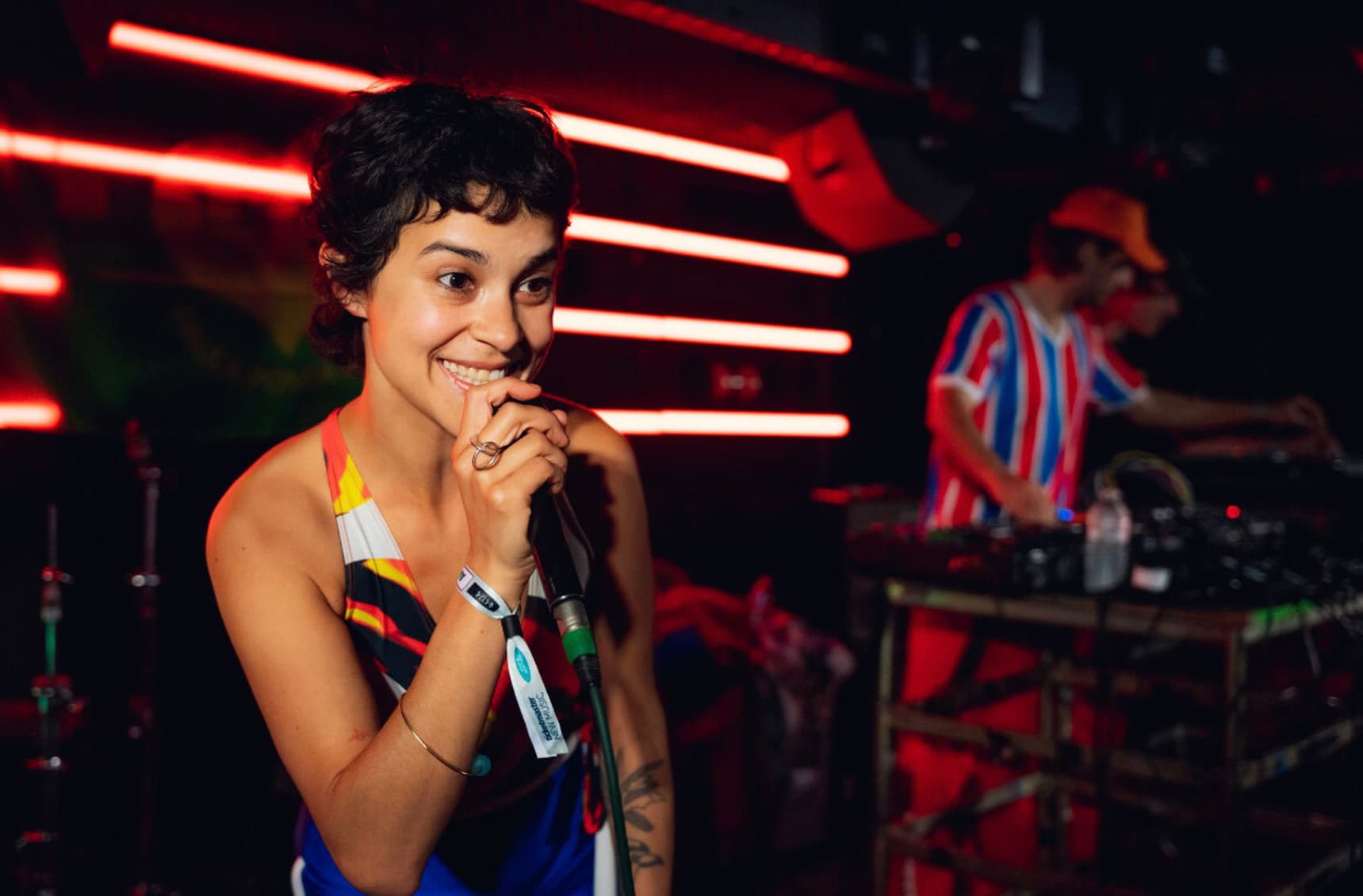 Perhaps expectedly, this year's line-up also featured a handful of artists who first broke through via TikTok. Mae Stephens proved she's way more than just the one viral track, her setlist filled with future bops, like the funk-laden bop 'Mr Right' (relatably about rubbish Tinder dates). "I'm gonna do the song that put me here," she says, beaming on the AmazonMusic stage before leading a singalong for the undeniably catchy 'If We Ever Broke Up'; no wonder it's had nearly 100 million streams and she's booked for BLACKPINK's BST Hyde Park show this summer. 
Later, new boyband No Guidnce caused a roadblock outside Patterns while 2022 TikTok sensation Isabel LaRosa performed for a modest yet transfixed crowd at A L P H A B E T. She didn't let the intimate audience size affect her, though; leaning into the haunting electro-goth-witch-pop aesthetic dressed in black lace and black boots with rolled up white socks, her haunting songs sound like if Alice Glass worked with Billie Eilish. Often perched on the edge of the stage, before walking among the crowd on the dancefloor, her setlist was headline-show-sized. Imminent pop princess Caity Baiser - whose stage presence is an energetic mix of Lady Sovereign and Lily Allen - orchestrated the crowd effortlessly, encouraging them to sing back the chorus of tracks from her recent EP 'Thanks For Nothing, See You Never'. Mid-song, her pantomime-style patter worked wonders, especially as she got the crowd to aww at a story about her teenage break-up. Her new house-leaning Joel Correy collab 'Dance Around It' further showcased her versatility. Although a newer name in the pop scene, TikTok breakout Bellah Mae similarly owned the upstairs of Patterns with her punchy heartbreak pop; current single 'Drama King' sounded like a shout-along anthem and 'Date Your Dad' a lost old-school Avril Lavigne banger. On the opposite end of the spectrum was Scotland's Katie Gregson-Macleod whose emotive storytelling (and incredible piano-playing) left her packed audience stunned, particularly during TikTok smash 'Complex'.
It's safe to say, then, that this year's festival proved, once again, why The Great Escape is the UK's best and biggest showcase for new music – a chance to discover a multitude of fresh sounds and catch the buzziest bands and artists before they blow.