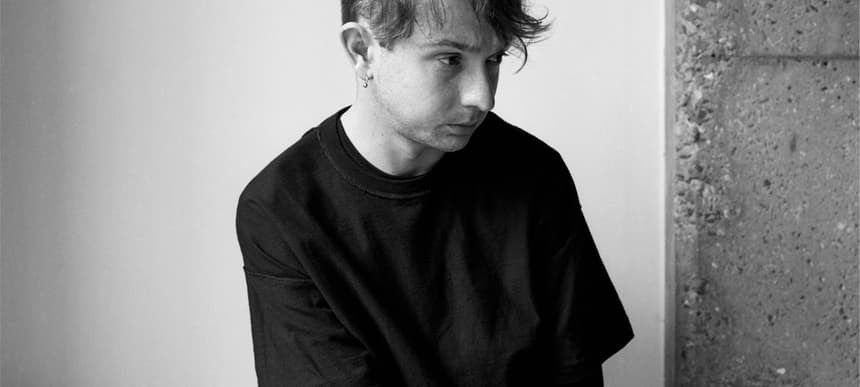 23.08.2016, Words by dummymag
The music gear that made Thom Sonny Green's album 'High Anxiety'
Best known for playing drums in Alt-J, Thom Sonny Green has been sharpening up his solo production, with remixes for acts such as Clean Bandit and Moby. Adding to our mix series late last year, Thom also teased the track and video for one of his original productions, Palms, which was to appear on his debut full-length solo project 'High Anxiety'.
Released last week on his own label, Sudden Records, the album moves Thom a considerable distance from his output as Alt-J's drummer and sees him toy with far flung, subterranean sounds that tread closely alongside the likes of Clams Casino, Boards Of Canada, and Aphex Twin.
Spanning an impressive 21 tracks produced over two years, 'High Anxiety' is a grand entrance for Thom, which resonates as a mutating filmic package that moves from tracks like Blew and Large that would hold relevance in the moody depths of a soundtrack for a pensive thriller, to the reflective air of Palms, or even the vast, crystal clear waters that open up before us on Vienna.
To offer an immersive experience, each track on the album is accompanied by flickering visuals from Thom Sonny Green and Nichola Farnan, and further illustrate Thom's desire to explore the abstract spaces of electronic music as a songwriter, producer, and visual artist on 'High Anxiety'.
To find out more about the making of Thom Sonny Green's solo masterpiece, we asked the dexterous musician to run through some of the treasured gear that made 'High Anxiety', from Gameboys to prised synths. Read through the gear list below, and make sure you've got 'High Anxiety' on full blast.
op-1 Synthesiser by Teenage Engineering
Thom Sonny Green: "I've used this piece of equipment more than any other in my production. I absolutely love the sounds I can get from it. There's a huge variation of effects and parameters to use, which makes for a very addictive experience. I quite often just plug it in and let Ableton record whatever I come up with, and then go into it and select bits I like for editing. You could easily produce a whole album on this synth, with the help of a DAW. It's really easy to carry around too which is great for touring."
Black Death noise synth
Thom Sonny Green: "I started to used a few noise generators earlier in the year, which is a lot of fun. After seeing Ryoji Ikeda live, I remember feeling like I'd just been beaten up. The show was so intense that I wanted to try and emulate that in my recordings. The synth lets you manipulate any audio into noise. I don't know how it works but it's so satisfying. Again, like with the op-1, I would let Ableton record whatever I was doing and then go back and edit sections I liked for use in tracks. There isn't any obvious examples of noise on my album as I've tried to keep it accessible, but there are sections where the noise has been used to create maybe a more melodic sound."
Zoom H2n recorder
Thom Sonny Green: "This has been a really useful instrument in my production. It records pretty high quality sound for the size and fits right in your pocket. I like recording ambience, like traffic or people or construction, and this gear is pretty inconspicuous. You can leave it somewhere and not be obviously recording. It works really well for recording vocal too, if you plug it into an interface and then into your DAW."
Novation Bass Station II
Thom Sonny Green: "This synth is really easy to use and has so much power behind it. You can manipulate loads of different elements of the sound you're working with, which is really exciting. If I have an idea for a bass sound in my head, I know I'll be able to make it on this. You can easily save your sounds too, which is helpful for me as I'm pretty lazy with documenting what I'm doing. I'd quite like to use it live sometime as it has such a punch and would work really well with live drums. It's not huge either which is great, as I don't like having loads of shit cramping up my space."
Nintendo Gameboy
Thom Sonny Green: "Believe it or not, I actually use this quite a lot. With other pieces of hardware I mainly record from them into Ableton and then treat them as samples, unless I'm writing melodies with a certain sound. With the Gameboy I'll run a game and record the sounds, then go back and add a ton of effects. I'll almost always lower the octave a few times to take away the harsh high end and then often stretch out the sample too, as I like the droney sounds I can make like that. It's great also because you only really need a couple of games to sample if you know your way around whichever DAW you're using. You could sample a blender and make a track with it that way."
'High Anxiety' was released August 19th on Sudden/Infectious (buy).