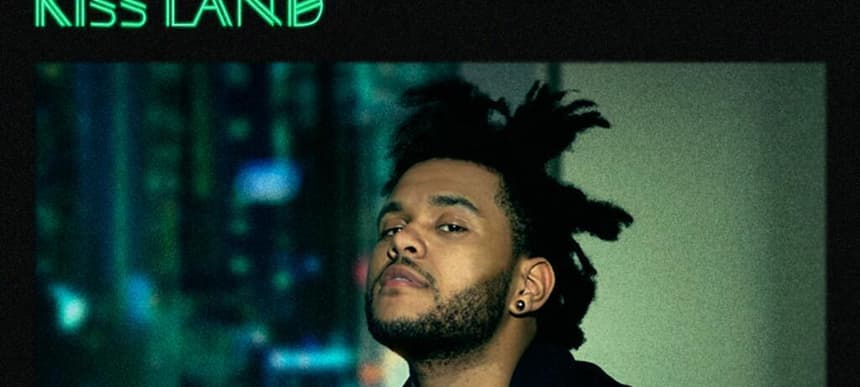 09.09.2013, Words by Steph Kretowicz
Album of the Week: The Weeknd – 'Kiss Land'
I'd made up my mind on 'Kiss Land' long before I'd actually heard it. The odious characterisation of Toronto performer Abel Tesfaye, as The Weeknd, is summed up in his misleadingly emotive, often overwrought vocals that reveal a sexual appetite of sociopathic proportions in the entirely digestible "PBR&B" of his 2011 mixtapes. Those releases could easily be dismissed as repugnant misogyny and, surely, this album debut to follow would too. But the thing is, said empty sensual pursuit is not the exception but, sadly (and seductively), the rule. Tesfaye's very signing to a major label – 'fucks' and all – is a clear indication of the acceptability of what he's both panning and peddling. 'Kiss Land's dark sonic palette, mirroring an urban landscape indistinguishable from the internet and littered with pop pilferings, from a funky guitar line resembling one from David Bowie's Let's Dance in Wanderlust to the stolen Portishead sample of Machine Gun's battering noise in Belong To The World, reveal a defining moment in establishing the supremacy of contemporary R&B at large.
In 2013, the role of pop in shaping and reinforcing the existing inequalities and conventions of Western society have never been more apparent and, by extension, fascinating. Slava's 'Raw Solutions' delves deep into the perversions of US iconography by sampling, cutting and exposing the depraved implications represented by mainstream hip hop and Britney Spears (Slave 4 U, specifically). Progressive cultural discourse in art explores the vacuous reality of the "theory of the Hot Babe" and its function as unattainable desire and conditional commodity; Spears, Rihanna and Miley Cyrus as emblems of this tragically 'sexy but not sexual' value-exchange of destructive objectification.
Then there's Tesfaye, his comparisons to King of Pop Michael Jackson, signing to Universal Republic and an album cameo from Canadian cast member of socially conscious teen series Degrassi: The Next Generation-cum-R&B role model, Drake, are all indications of just how fucked up things are. The latter idol's presence over the looping string plucks and orgiastic hand clap simulations of Live For admonishes Tesfaye's drug addled-depravities as Drake confesses, over a queerly stunning composition, "she just offered a strip tease but she don't look like Demi Moore/ hips all on 45, waist all on 24" before alluding to the secret life of the entertainment industry: "things I shouldn't share/ I mean for the sake of my career". By aligning the two artists – the desperate vocal pitch of Tesfaye's insatiable desire to "fuck", Drake's comparatively numb vocal delivery and squeaky-clean image – 'Kiss Land' confuses the distinction between abuse of women's sexuality and its worship. A standard Madonna/whore complex, perhaps, but far from obsolete, as Tesfaye iterates in Wanderlust by dropping "precious little diamond" among the gangbangs and blowjobs of the rest of the track listing.
You only have to look as far as Robin Thicke's Blurred Lines to recognise a society numb to the hypersexualised, hyperviolent reality of now. Because beyond empty, nihilistic sex one has to wonder what the difference is between Danny Brown rapping about fucking "a bitch mouth until her face cave in", not mentioning Odd Future's 'horror rap', and lesbian Syd the Kid's distressingly misogynistic video for Cocaine. An endless supply of "pussy" is complemented by the pitch-shifting weirdness and trendy vocal chorale samples of a world populated by a colony of Drake-defined 'Net boys' fed by the instant gratification of digital consumerism. After all, things can only remain transgressive as long as they stay abject, but now that Tesfaye has himself become the commodity by signing to a major, 'Kiss Land' will no doubt be integrated into the pop lexicon of a cultural condition that is frighteningly, though mesmerisingly, terminal.
9/10
Universal Republic will release 'Kiss Land' on the 10th September 2013.