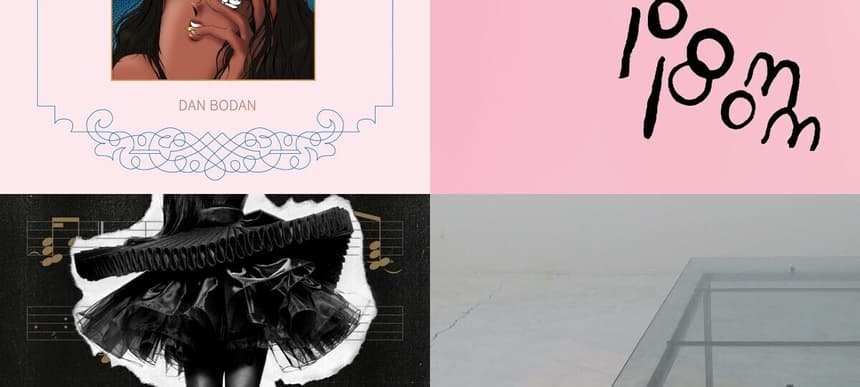 17.11.2014, Words by dummymag
This week's albums: November 17th 2014
Our album reviews column runs alongside our regular Album of the Week reviews, giving you a succinct analysis of some of the records that are on Dummy's radar that week. This week, we look at new albums by Ariel Pink, Azealia Banks, and Palmistry.
Album of the Week: Dan Bodan – 'Soft'
"…the more you listen to 'Soft', the more you realise that this is an album that's less the rosy romance of human interaction that its soulful vibe will have you believe, and more a deeply troubling insight into the alienation and exploitation of modern living…" Read the full review here.
Azealia Banks – 'Broke With Expensive Taste'
Less an album and more a selection of tracks showcasing Azealia Banks's career to date, 'Broke With Expensive Taste' could've been worse. This is, after all the product of more than two years of public 'feuds' with everyone from Angel Haze and Iggy Azalea to Nicki Minaj and Lady Gaga, across a career that rose with "queer rap" but actually started as far back as 2008, with this former Miss Bank$'s Ladytron-sampling Seventeen and Gimme A Chance. Oddly, from teens to early-'20s, Banks still hasn't managed to establish her own style. I can't say if that's necessarily a flaw in the 'everything in' fridge soup notion of genres these days but there's almost something to be said for the fact that Banks never released an album. Maybe she shouldn't have bothered.
There are songs and sounds that stand out through 'Broke With Expensive Taste'. Namely the ones already released, from the weirdly Crystal Castles-sounding Alice Glass screech of Yung Rapunxel and, of course, potty-mouthed pansexual anthem 212. Album opener BBD comes close to replicating the latter track's sleazy bass-rave hybridisation (complete with slightly outdated syncopated trap beat) especially when it comes to the brilliantly punctuated delivery of lyrics like, Tits out with your wife, nigga / I'm bringin' out the dyke, in'er.
But then that's in contrast to the bizarre musical number in the Ariel Pink-sampling Nude Beach A-Go-Go: ra-ma-la-ma-ding-dong/ surfer-billy-bing-bong. Sure, that technicolour nostalgia is okay, if you're into psych pop, but when Azealia Banks is slipping it among a 2008 track sampling the funky fun times bass line of indie rock outfit Enon in Gimme A Chance before tying it off with a Maluca Mala circa 2009-sounding Hispanic rap insert, it makes you think. That's pretty much where 'Broke With Expensive Taste' becomes not so much an eclectic insight into a cultural melting pot but a confused amble through a bunch of music trends that together don't work. Steph Kretowicz
6/10
Azealia Banks/Prospect Park released 'Broke With Expensive Taste' on November 6th 2014 (buy).
Palmistry – 'Ascensión'
It's been a strong year in releases from that flock of artists in South London making unashamedly joyful-to-the-point-of-creepy electronica with a global pop consciousness. But where associated artists like SOPHIE, A. G. Cook, and the rest of the PC music crew have sprung up on the clueless macho-electro radar with a belated bang recently, there are artists like Palmistry (aka Benjy Keating) who have been making a more gradual ascent.
I guess you could call that a pun on his most recent record, 'Ascensión', but it's an apt one regardless, where a culmination of the last couple years of releases and collaborations come in this masterwork of tender dance melodies. Opening with the wonky propulsion of his earlier 'Free Indeed' mix standout, DROPdrip, the rest of the record slip sand slides around a fragmented Japanese vox pop in Sugar Plum Plum, blooms in stunning sadness around the existential musings of what sounds like Triad God in Pree: No one's good in this world. But of all the voices that slip so easily into his keenly composed collection of soft dance numbers – including the eloquently catchy Steal a, with delicate Spanish words from Jassy Grez – it's Benjy's own voice that feels most at home in this equal parts warm and visceral release. Steph Kretowicz
8/10
Palmistry self-released 'Ascensión' on November 14th 2014 (download).