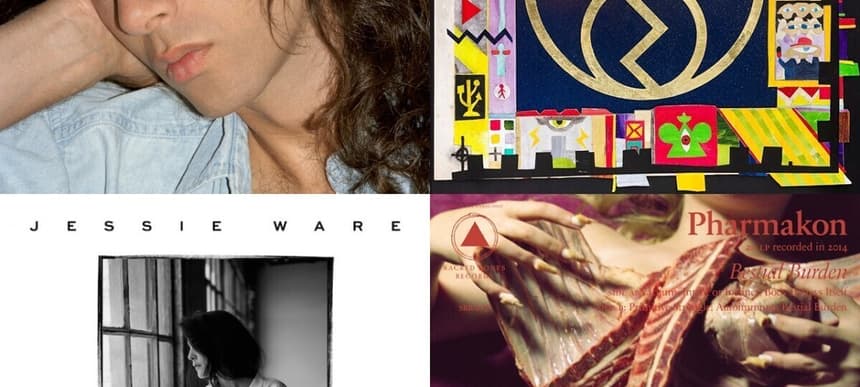 15.10.2014, Words by dummymag
This week's albums: October 13th 2014
Our album reviews column runs alongside our regular Album of the Week reviews, giving you a succinct analysis of some of the records that are on Dummy's radar that week. This week, we look at new albums by The 2 Bears, Jessie Ware, and Pharmakon.
Album of the Week: Kindness – 'Otherness'
"…bringing together excellent pop songwriting, modern production, and a distinctive artistic identity, 'Otherness' is the benchmark for adventurous pop music in 2014…" Read the full review here.
The 2 Bears – 'The Night Is Young'
The second album from Joe Goddard and Raf Rundell's criminally underrated duo The 2 Bears is a record not so much constructed as it is gleaned, collaged, and pastiched. With Goddard and Rundell the twin transistors, double lightning rods for a deluge of sound and noise, the pair mediate between pop, electro, house, 2-step, hip hop, disco, prog, techno, dub, and everything in between.
It's at these wonderful moments of juxtaposition that you can hear the group's origins humming between the notes. Opening track Get Out canters through a lackadaisical breakbeat tempo, overspilling with the mellifluous pop hooks of Goddard's work with Hot Chip, before the track is shot through a filter of hedonistic New York disco, accelerating into a thrumming house beat that carries echoes of the Greco-Roman parties that inspired the partnership. Elsewhere, See You is a skittering glitch number that meshes the duo's dance sensibilities with some serious funk grooves. There'll be more original albums this year, that's for certain – but there won't be many more entertaining. Jack Enright
7/10
Southern Fried released 'The Night Is Young' on October 12th 2014 (buy).
Jessie Ware – 'Tough Love'
I never fully connected with Jessie Ware's first album, 'Devotion'. Don't get me wrong, there were many instances on it that I loved – Sweet Talk, 110%, and Taking In Water all sent me to cloud nine – but the key Jessie Ware focal point for me has always remained the Disclosure remix of Running. It will always remind me of a certain place and time where I first heard it. Hearing it was a like a shot in the arm. 'Devotion', as a whole, never really took me there – I sought more litheness of songs like Sweet Talk and 110%, because that litheness matched with Ware's vocals. Disclosure understood this, and I've always hoped for a Jessie Ware album that would use that remix as its springboard.
'Tough Love' is not that album, but that's not a deficiency by any means. Further work with Disclosure (Confess to Me) as well as Julio Bashmore (110%, Sweet Talk, and later, Imagine It Was Us and his own Peppermint) proved that Ware doesn't make bangers, at least not traditional bangers. And she doesn't need to: unlike typical radio pop songs, Ware's songs are expansive and voluminous, something that's never more accurately rendered than on the album's wispy title track.
The particular manner that Ware sings about love is never too impassioned or fanatical. The hearty thump and bump of Cruel baubles along with its tense ha-ha-ha-ha vocal backdrop. The classic Julio Bashmore-soft shoe of Keep On Lying teeters along, segueing into the revving, getting psyched up, and charging "over hill, over dale" on Champagne Kisses. Nothing comes close to that initial contact with Tough Love, though. Parker Bruce
7/10
PMR/Island Records released 'Tough Love' on October 13th 2014 (buy).
Pharmakon – 'Bestial Burden'
When Pharmakon released her debut, 'Abandon', a lot of the talk around it was primarily directed at the intentionally grotesque artwork. Maggots writhing about in the crevices of her legs and lying flat in the palm of one hand, almost as an open offering – it seemed apt for the music contained within, Margaret Chardiet's blood-curdling screams and clunking, ominous drums echoing into the void. For something that, in premise, should have sounded cold and removed, Chardiet's music felt warm, therapeutic, and painfully attached to human emotion and frustration.
Her new album, 'Bestial Burden', delves deeper into human frustration – specifically towards your own body and how, despite the measures we go to in trying to protect it, we are essentially powerless to some of the horrific and betraying illnesses that Chardiet herself has experienced. Opener Vacuum creates the claustrophobic feeling of the awareness of being trapped in your own body, and the steadily increasing inhales and exhales that form into a panic attack. This and Primitive Struggle, which features extremely visual sounds of someone dry heaving uncontrollably, show how the sounds that bodily functions make can have just as much impact and resonance within music as straightforward singing or talking. Intensifying and recontextualising a lot of the musical ideas from 'Abandon', Pharmakon once again provides us with a listening experience that leaves you feeling drained and in awe of Chardiet's strength to create something so vulnerable and open. Aurora Mitchell
8/10
Sacred Bones released 'Bestial Burden' on October 13th 2014 (buy).