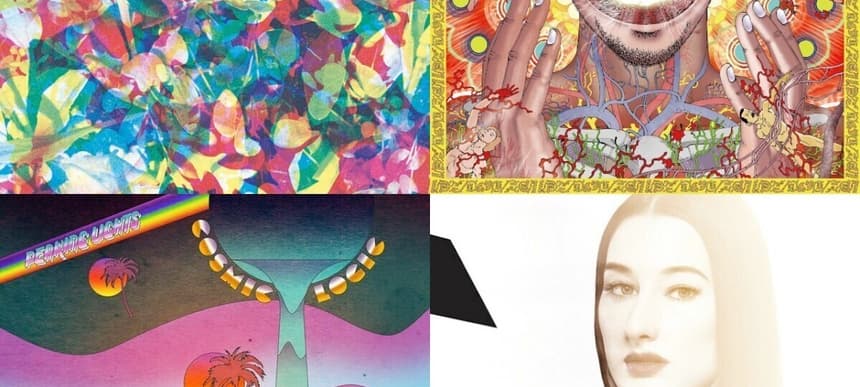 08.10.2014, Words by dummymag
This week's albums: October 6th 2014
We'll be running a new album reviews column alongside our regular Album of the Week reviews, giving you a succinct analysis of some of the records on Dummy's radar every week. This week, we look at records by Flying Lotus, Peaking Lights, and Zola Jesus.
Album of the Week: Caribou – 'Our Love'
"…while it may not have the rewardingly labyrinthine structure of its predecessor, there is a clarity in the sleek and shiny arrangement of a track like Second Chance, which has a high definition kind of appeal of its own. On penultimate track Back Home, the slow build production has an expansive, widescreen quality that seems the perfect distillation of what this album does well…" Read the full review here.
Flying Lotus – 'You're Dead!'
'You're Dead!' is a record with a rapid-fire tracklisting, its 19 tracks coming in at just 38 minutes, and hitting the play button is much like casting off with Odysseus from the shores of Troy. With Flying Lotus at the helm, this is a breakneck journey on roiling tides that are fizzing with voices, faces, dangers and places. The record operates with a kind of turbulent fluidity that flows seamlessly from track to track in a prog-ish stream of warped iridescence, changing and exchanging textures and gestures with the kind of habitual majesty that characterises FlyLo's work.
In such a free-flowing work, you can sometimes find yourself wishing for more weighty standpoints, for the stream to coalesce into tougher structures. What glimpses we get of such standpoints provide the album's best moments – Kendrick Lamar's interjection on Never Catch Me, for example, and the persuasive, eerie pomp of Coronus, The Terminator. That's pure pedantry though – 'You're Dead!' proves that FlyLo ain't. Jack Enright
7/10
Warp Records released 'You're Dead!' on October 6th 2014 (buy).
Peaking Lights – 'Cosmic Logic'
'Cosmic Logic' sees Peaking Lights move away from the swirling, dubby psychedelia of albums like '936' and 'Lucifer' and settle on a clearer, crisper style of pop music. Songs get to the point pretty much instantly, rather than wander in a haze for seven minutes or so. Indra Dunis's voice is no longer hidden beneath layers of reverb, but is now the central focus of the songs.
Peaking Lights aren't spectacular songwriters, but what they are really good at doing is finding an amazing groove and just running with it for three or four minutes. There's a propulsive energy that runs through the whole album and it never really relents, from the acid squelch of Eyes To Sea to the bongo blasts of Bad With The Good to the Patrick Cowley-gone-MIDI sounds of Hypnotic Hustle. The lyrics are generally dodgy, usually evoking the sort of hooks from late '70s/early '80s space disco records (Telephone Call goes Telephone call, telephone call from space / Calling all, calling all the human race), but they're occasionally brilliant: on New Grrrls, Dunis uses no frills language to explore her feminism and its relationship to her being a mother. Selim Bulut
7/10
Weird World released 'Cosmic Logic' on October 6th 2014 (buy).
Zola Jesus – 'Taiga'
The best thing about Zola Jesus's 'Taiga' is that it calls to mind one of the very early groups she was involved in, Nika+Rory. The duo of Zola Jesus (Nika Rosa Danilova) and Rory (Rory Kane) made a small cluster of songs which remain totally thrilling today, like the ravenous LA Suxxx (The Choice). A Nika+Rory album may have sounded a little like 'Taiga', which, at moments, is full of out-and-out bangers. The album's best song is the heaving and churning Go (Blank Sea) with an instantly impressionable, rising and falling lyric: And I go downtown/Where they don't know my name.
The presence of trumpet, trombone, and orchestral instrumentation on the album first officially announces itself at the end of opening track, Taiga, then pops up again in varying degrees of ballooning intensity, creating the sway of Dust, the tumult of Hunger, and the general burrowing sense of heft on other tracks (Hollow, It's Not Over, Nail, and Ego). It seems tacked on to most of these songs, though – Danilova is capable of getting across what she wants to get across without additions like that.
The insidious sense of danger found on 2011's 'Conatus' and the prior 'Stridulum' EPs isn't really present on 'Taiga.' The reason I find myself returning to Go (Blank Sea) is because of that key lyric mentioned above. It seems to come across at the only true moment of Danilova being free and out of control on the whole album, striding downtown flush with the knowledge of anonymity, and the freedoms it allows, practically inviting the listener to join her. Parker Bruce
7/10
Mute released 'Taiga' on October 6th 2014 (buy).