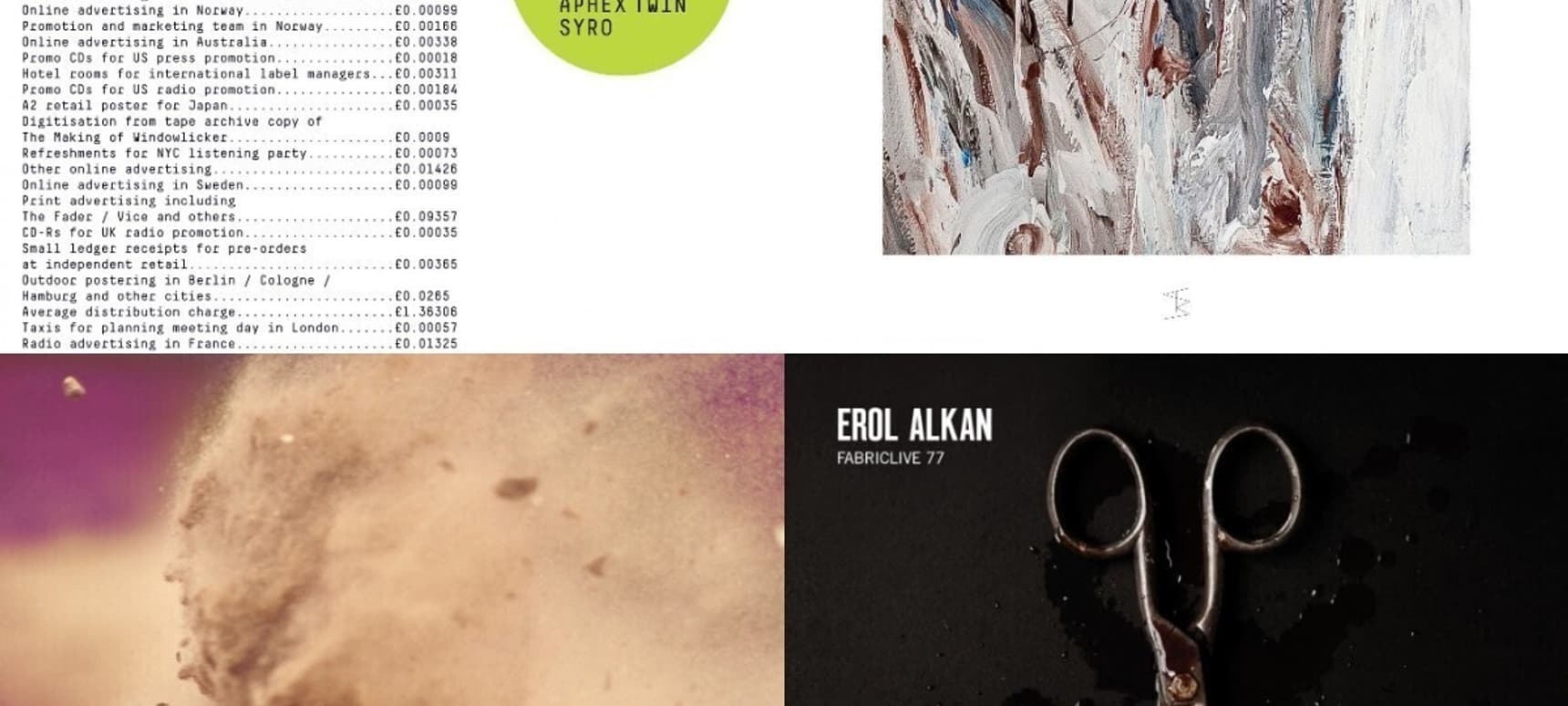 26.09.2014, Words by dummymag
This week's albums: September 22nd 2014
We'll be running a new album reviews column alongside our regular Album of the Week reviews, giving you a succinct analysis of some of the records on Dummy's radar every week. This week, we look at records by Kasper Bjørke, Redinho, and Erol Alkan.
Album of the Week: Aphex Twin – 'Syro'
"…if the best Aphex Twin can offer after 13 years away is 'Syro', that's more than enough. No, it doesn't turn electronic music on its head, nor does it find James refashioning a voguish genre in his own image, as he previously did with trip hop (on 1995's '…I Care Because You Do') or drum'n'bass (1996's 'Richard D James' LP). What 'Syro' does have to offer is the sound of James mutating his go-to touchstones – electro, acid, jungle – in more opulently psychedelic ways than ever before…" Read the full review here.
Kasper Bjørke – 'After Forever'
Kasper Bjørke is a DJ and producer from Denmark who has released stacks of records over the years, both solo and in collaboration with artists like Tomas Barfod. While his 12"s have usually stuck within a house/nu disco mould, his albums have always given him an opportunity to diversify a little. 'After Forever' is his fourth album, and it's probably Bjørke's least club-minded record, seeing him instead produce slow, melancholic synth pop, cosmic Balearica, coldwave, and even a bit of new age, with help from a raft of guest vocalists.
That's not to say that it doesn't still have the pulse of the dancefloor running through each of its tracks, just that this is definitely an album for the head rather than the hips. Songs like the Jaakko Eino Kalevi-featuring slowburner TNR and the Italo stormer Apart hit real grooves, but they're so teary-eyed and lovelorn that you wouldn't really want them soundtracking your Friday night out. Bjørke's production is sharp and crisp throughout, and the instrumental tracks have the right hooks and the right arrangements to keep them from being mere album filler against the poppier vocal cuts. The main issues are that the album is just a bit too long – many of its songs could be trimmed to fit the album format – and at times a touch derivative (see the New Order-y album closer Forever). Selim Bulut
7/10
hfn music released 'After Forever' on September 26th 2014 (buy).
Redinho – 'Redinho'
Redinho's self-titled debut album has been a long time in the making, and it shows. Every song feels like it's been meticulously planned and executed, every moment rammed with little flourishes and sonic tics, every kickdrum and handclap mixed for maximum impact. Instruments and effects switch up regularly. It's all really cleverly composed and arranged. The thing is, none of this is very noticeable unless you pay really close attention: like his friends Hudson Mohawke and Rustie, Redinho's (frankly ridiculous) musical and technical abilities never detract from the sheer rush of joy that comes from listening to his music.
Redinho makes a sort of digital funk music aimed for the clubs, with a crystal clear sound. The album itself veers between out-and-out pop songs (Playing With Fire, Jacuzzi, Get You Off My Mind), wide-eyed instrumental passages (Bubbles, Shem, Dive), and occasional club bangers (Searching, Stay Together). It all works, to be honest – the sound is unified throughout (mostly down to Redinho's killer use of vocoders, talkboxes, and other vocal effects), there are enough switch-ups in style and vocal style to keep things fresh, and the sequencing gives it a real sense of narrative and trajectory – but whether you'll fall for it or not depends on whether you can stomach an album whose immediate comparisons are Rustie, Roger Troutman, and Chromeo. Selim Bulut
8/10
Numbers released 'Redinho' on September 22nd 2014 (buy).
Various Artists – 'Fabriclive 77: Erol Alkan'
In the blurb that accompanies this newest edition of the Fabriclive series, Erol Alkan states that this mix was created with the specific conditions of Fabric's Room 1 in mind. This isn't the first Fabriclive to be conceived of in such a way – Four Tet's contribution, at the tail end of 2011, was also framed specifically in terms of the location of the London clubbing behemoth.
Alkan explores this idea in a very different way, however: Four Tet's mix was an excavation of a particular period of UK garage and 2-step, interspersed with field recordings of the club itself, where this mix is simply constructed, as Alkan says, for "records I would want to play in that environment." While this approach might not mark out the mix against its freebie internet competitors in the way that Four Tet's conceptual approach does, it's still difficult to argue with the results.
With the club's revered rig and colossal main room in mind, there's little respite in the mix's predominantly acid-propelled momentum. Alkan's no holds barred selection is such that it could invite accusations of lacking finesse: there's definitely nothing subtle in the huge, crashing drums and sensory overload of his own edit of RMI Is All I Want by The Emperor Machine. But who needs subtlety when you can stitch together tracks as chaotic and mind-bending as Victor Shan's How You Want It and Claro Intelecto's Tone into such an electric and dazzlingly coherent 75 minutes? Jake Hulyer
8/10
Fabric released 'Fabriclive 77' on September 22nd 2014 (buy).