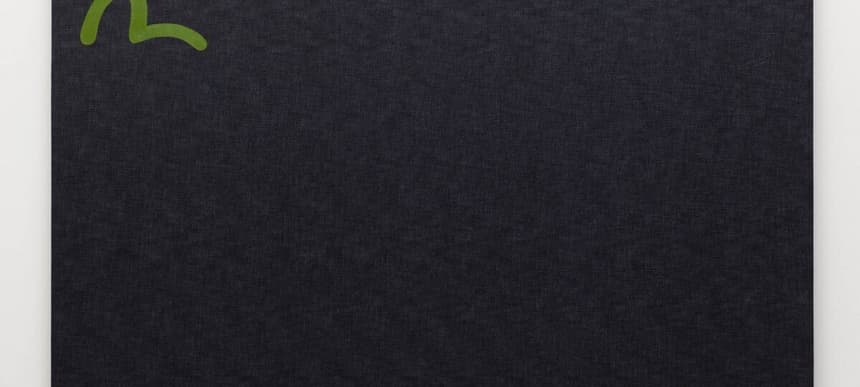 13.11.2014, Words by Aurora Mitchell
Thoughts on Dean Blunt's New Paintings exhibition
It doesn't really come as a surprise with the hip hop signifiers that are included on Dean Blunt's new record 'Black Metal' (track names such as 50 CENT' and Molly & Aquafina), that he has dedicated an entire gallery to paintings that symbolise Evisu – a Japanese clothing brand that was popular in the early '00s. Since his youth, the culture and music that surrounds hip hop has shaped him so even when he's being delicate and soulful in his music, that influence still shines through. The brand has been a prominent reference, being shouted out by rappers such as Jay-Z's Show You How (2002), These ain't Diesel, these is Evisu, T.I.'s ASAP (2003): Seen on the scene, white T and Evisu's and Lil Wayne's Lock and Load (2005): Back pocket jeans falling, cover my Evisu sign. The Wayne reference showing that by the mid-noughties the line had become irrelevant and something they didn't want to associate with.
At first, when I was looking at Blunt's paintings, laid out in pairs across the overly spacious white room, all my eyes could see were black canvases with different coloured symbols scrawled in the top left – painted in different pastel acrylics. The darkness made sense with the title Black Metal and fit in with the album cover, a dark space with a small Parental Advisory logo at the foot of it. But ahead of that, it didn't make any logical sense in my mind at the time and that seemed perfectly normal, a typically Dean Blunt move. For someone who's put out an intense, uneasy persona, staring with the intensity of laser beams into the souls of unsuspecting audience members at shows and battering their ears and eyes to oblivion with white noise, nothing he does comes with an easy explanation. That's part of his allure though, the awe of being puzzled by something that's hard to figure out but indescribably touches you.
I felt very little towards these paintings, just as abstract objects occupying the space, but then my friend recognises the different scrawl at the top and pulls up a Google search, showing me images of these clearly outdated jeans and I instantly remember seeing the scribbles that represented seagulls on people in the street's jean pockets. Looking closer at the paintings, it became clear that the link was intentional – the paintings printed on selvedge denim, the material used for those specific jeans. Unsurprisingly, there's no explanation as to how the brand links to Blunt, the only explanation at all for his latest art exhibition being the words The good die young, ball in heaven – the same letters layed out in the press release. To even uncover part of an intention for Blunt's work feels rare but the mystery is still present, wondering why Evisu is so significant to him that it inspired his entire gallery space and if it's even part of the narrative that Blunt's telling with Black Metal.
Dean Blunt: New Paintings runs at [SPACE] Studios in London until December 7th 2014 (more information).