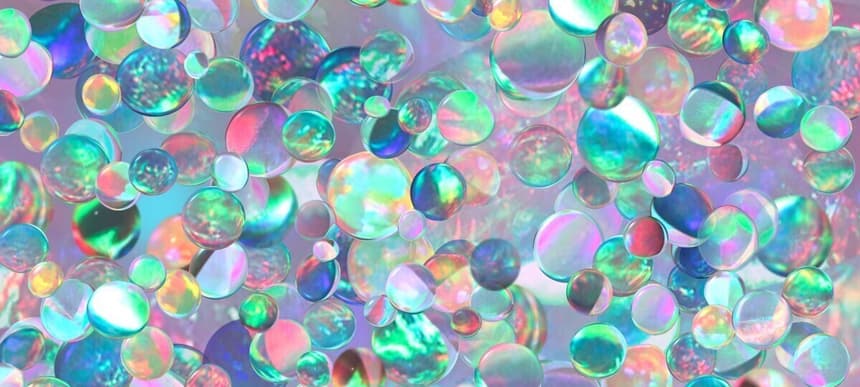 22.05.2014, Words by Steph Kretowicz
Throwing Shade - '19 Jewels' EP
The word 'frippery' springs to mind when thinking about London producer Throwing Shade's particular sound. But not in the disparaging sense, where accessories (feminine ones in particular) are somehow superfluous, but in the luxurious shimmer and deep textures of tracks made up entirely of the trimmings. As an associate of that small South London cluster of bouncing bubblegum orbs of slightly off pop appreciation – which includes artists like SOPHIE, Felicita, and Ana Caprix – Throwing Shade (aka Nabihah Iqbal) stands out by sinking back into a syrupy spirituality through pure sensory enjoyment.
There is a similar focus on tactility to, say, A. G. Cook's drip-drop strut, in Iqbal's sound, but the textures are completely different, owing much more to Iqbal's interests in ethnomusicology than a Brony-like enthusiasm for all things camp and high-def. Rather than playfully prodding and tickling her audience, Throwing Shade wraps them in the low-end of ODC as a steady vocal coo and revolving keyboard melody runs through it. You could make a lazy comparison to New York's Fade to Mind stable for Iqbal's debt to R'n'B and clacking, syncopated drum beats, but this is much less over-stimulated flat-screen apocalypse and more paranormal seduction.
A supple baritone vocal declares "want you real bad" in the aptly synonymous Real Bad as sporadic polyrhythms puncture its tonal coating with maraca-like chatter, while lead single Sweet Tooth probably aligns itself somewhat with the wired toffee-apple sound that drives the likes of Iqbal's peers. Except it's more in tracks like Pure Life – sashaying closest to the dreamy territory that Throwing Shade established with the earlier Mystic Places/Day Dream 12" – that resonates. Here, "pure love", distilled to its narcotic core, is a far more attractive proposition than the awkward coupling of gushing synths and vocalist Emily Bee's cutesy recital of candied similes in Sweet Tooth. But there's also a tension there, where ambient choral patches, studded by sparkling melodies, mangled acapella samples, and macho basslines, make '19 Jewels' as majestic as it is mysterious.
7/10
No Pain In Pop released '19 Jewels' on the 19th May 2014 (buy).