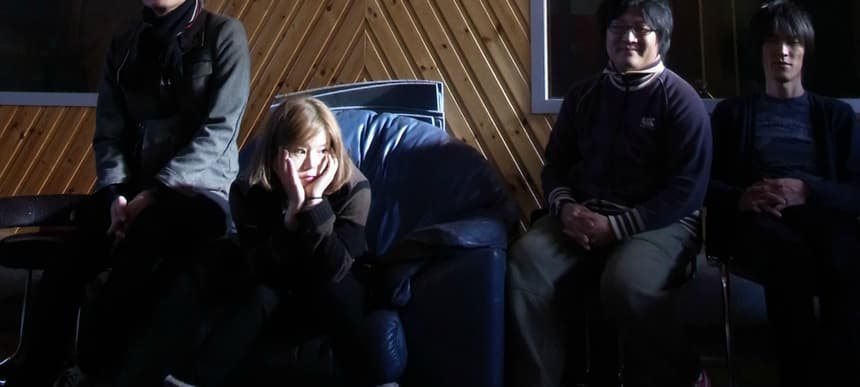 05.05.2015, Words by dummymag
Tim Burgess introduces Taffy
Taffy are a Japanese indie pop group who draw on different eras of British guitar music – C86, psychedelia, shoegaze, Britpop – and have released three albums since 2012 – an album a year, at their current rate. Not ones to slow down, the four-piece are now readying a new EP called 'Darkle', featuring six fuzzy pop songs alongside a remix by The Brian Jonestown Massacre. Taffy's forthcoming UK tour sees the band hit up a few venues, including a stopover at Tim Burgess's Tim Peaks Diner for Liverpool Sound City. A big fan of the band – if only a recent one – Burgess here explains how he came to know them, and why it's practically fate that they should be playing his showcase.
Tim Burgess: "Let me introduce you to Taffy. More of a konichiwa than a hello.
"Maybe we can start with some facts first: they are from Tokyo and Iris is the singer, Asano plays guitar, Koichin on bass, with Ken on drums. They released their third album last year and they've just put out a fantastic EP too.
"I'm introducing you to them but I only discovered them about a month ago but I think you'll really get on with them.
"We were over there playing some gigs and someone played me one of their records, a song called Between – I loved how they sounded, a Japanese take on a shoegaze-y kinda tip with a little nod to C86. Turns out we have a mutual friend in Anton Newcombe from The Brian Jonestown Massacre – in fact, he remixed Taffy straight after remixing a Charlatans track, so maybe something was written in the stars.
"I've always kept an ear out for new bands and with social media, I tend to tweet them and see what they're up to and to say hi. I was putting lineups together for Tim Peaks, my festival venue, coffee shop, and diner and I thought they'd make a great addition – I asked them to come over to Liverpool Sound City to play and they said they'd love to. They even made some Japanese Tim Peaks mugs to celebrate. I was talking to Iris (the singer) about their sound, and she was saying that much of it comes from when she was young and her mum would play Beatles records. Kind of sweet that the gig they are coming over for is in Liverpool. Like I said, maybe there was something in the stars.
"So now you know Taffy and you can even come and see them if you're at Liverpool Sound City. Head over to Tim Peaks and you can catch ace new bands like DROHNE and Hot Vestry too. If you're lucky I might even make you a coffee."
Taffy live dates:
May 14th: Alternative Escape, The Black Lion, Brighton
May 16th: The Great Escape, Queens Hotel, Brighton
May 17th: CLWB IFORBACH, Cardiff
May 22nd: Liverpool Sound City, at Tim Peaks Diner, Liverpool
May 28th: Shea Stadium, Brooklyn, New York
May 31st: Part Time Punks, The Echo, Los Angeles
Club AC30 released the 'Darkle' EP on May 4th 2015 (buy).