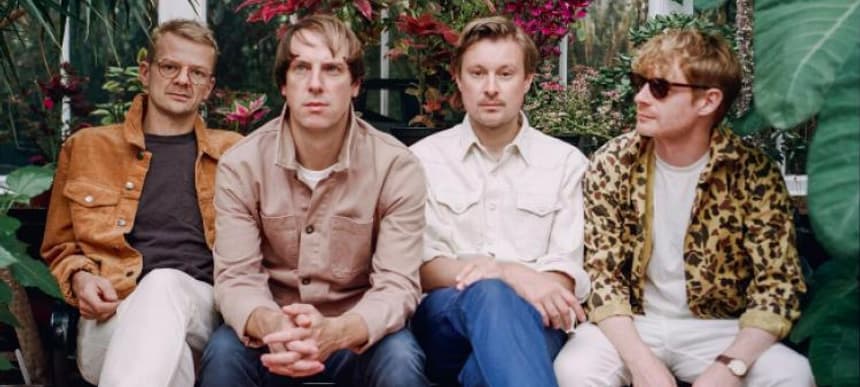 15.10.2018, Words by dummymag
Track by Track: Django Django - 'Winter's Beach'
How jungle bark samples and "crappy Roland synths" found their way into their new EP...
Django Django are a band whose influences are kaleidoscopic, to say the least: the British art rock quartet scoop up sounds ranging from prog-pop to rockabilly to '60s surf rock, while they're just as adept with dance music (and earlier this year put together our 500th Dummy Mix). Which is the band's real USP – you never truly know what you're going to get on a record of theirs.
Their latest EP, 'Winter's Beach', is the release following their third album 'Marble Skies', and finds the outfit adopting this genre-blurring approach yet again. Below, the band have shared their insight into the creation of each track on the record – naming their multiple influences from old electro records to the refugee crisis to funk forefathers.
–
'Winter's Beach'
"This came from some music I made for the artist George Henry Longly. He is a really great artist who makes films and sculptures. He also runs the clubnight Anal House Meltdown. It was in a show in New York a few years ago and I took some of the synth parts and worked with James Mainwaring from Roller Trio who played sax over it."
'Sand Dunes'
"Jim wrote this song and it was an acoustic guitar track. Anna from Metronomy had done a wee drum groove for it and I chopped little bits of the hi hats and sampled lots of drum hits from old electro records. The song is about being without a place to call home. Travelling and wandering. We were thinking a lot about the refugee crisis that happened in ways that we've never seen in our lifetime. People are being displaced people all over the world who have no place to call home."
'Swimming at Night'
"This was a track I made at my parents in Scotland and sent it to the band who made a song around it. Originally it was just instrumental with some mad vocoder. A little bit inspired by 'More Bounce To The Ounce' by Zapp and Roger. All the beats are from a crappy old Roland synth that I use a lot because I love the sound of it."
'Flash Forward'
"This was a mad-sounding track I made and I had no idea what it was or what to do with it. It's got a dog barking sample that was used in a lot of old jungle records. My background is DJing and I was playing a lot of jungle and hardcore in the early to mid '90s and sometime that comes out in the production. Vinny, Jim and Tommy worked on the melody for it and turned from a dance track to a song of sorts! Even we're not that sure what it is or what to make of it to be honest. It just came out like this and we went with it."
'Ghost Rider'
"This seemed to take on this Japanese sound for some reason. I think of a Japanese film score when I hear it I'm not sure why. it's just a baggy, quite live percussion jam that Tommy looped and kept layering up. Jim played a nice bass groove and the vocals just came out very quickly and naturally and we didn't mess about with it too much. Vinny sang something at some point that sounded like he said ghost rider and it just seemed to stick. It's sort of about the ghost of an old life, an old relationship that comes back into your mind every so often and stays with you long after it's over."
'Blue Hazy Highs'
"Our track 'Waveforms' [from Django Django's 2012 self-titled debut album] came from this same session about ten years ago! Vinny had this song and it split in two and we had 'Waveforms' and this. I always had it the back of my mind to finish this and I'm glad we did because I really like how it turned out. It's more straightforward than things we usually do. Sometimes it's nice to do that."
Listen to 'Winter's Beach' below.