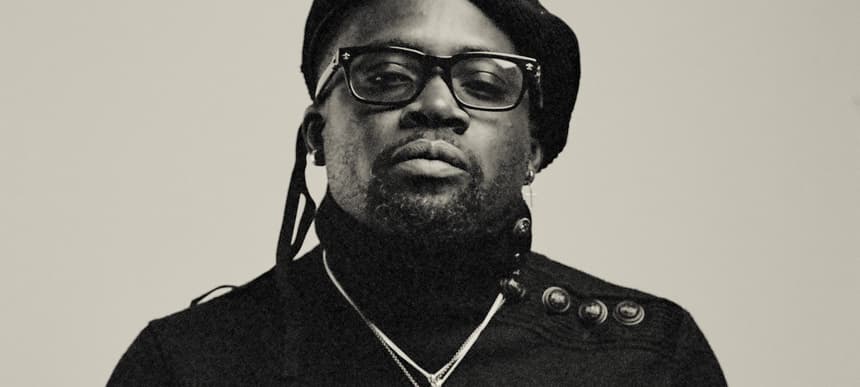 15.10.2021, Words by Maisie Goulsbra
Track by Track: Juls - 'Sounds Of My World'
"This is a straight banger that I expect to go over people's heads, but give it time."
MOBO-Award nominated British-Ghanaian artist, producer and DJ Juls has released his eagerly-anticipated debut album 'Sounds Of My World'. After many years of making a name for himself as one of the UK's most in-demand producers, working with the likes of Mr Eazi, WizKid, Burna Boy, Sango, Tyler The Creator, Stonebwoy, GoldLink, Lauryn Hill, Masego and many others, 'Sounds Of My World' functions as Juls' definitive solo statement.
A prolific figurehead in the global expansion of Afrobeats and African music as a whole, Juls touches his music with a smoothed-out, mellowed-down twist. After his 2019 'Colours' mixtape, Juls has spent the last couple of years focusing on creating 'Sounds of My World', which seamlessly connects the dots between sonic palettes from the African diaspora, rendering a gumbo of tracks tailor-made to see you dancing right through from the pre-drinks to the party. We asked him to take us through the album, track by track.
1. 'Close To Me' (Feat. WizKid, Agent Sasco & Jaël)
"This track is a perfect blend of sounds that reflect my favourite genres of music. It's a mixture of dub, reggae and Afrobeats with a hint of R&B and soul. This track was heavily inspired by King Tubby and Augustus Pablo."
2. 'Summer in the Ends' (Feat. Jaz Karis & George the Poet)
"George sets the tone to a record that would make a listener feel like it's going to be a slow one. But the house influence of the record takes people by storm. I made this one in Ghana. I've always wanted to make a house record and Jaz floated on this with ease. Expect an EP or an album from us soon."
3. 'Makossa Riddim' (Feat. Haile of WSTRN)
"A mix of amapiano, latin music and lovers rock. Such a diverse record that is smooth with a hard knock at the same time."
4. 'Love Me' (Feat. Niniola)
"Very traditional sounds here! Old School Afrobeats vibe!"
5. 'My Size' (Feat. King Promise, DarkoVibes & Joey B)
"I had to get some Ghanaian vibes on the album. Highlife is one of our greatest exports and I had to tap in."
6. 'Intentionally' (Feat. Fireboy DML)
"A blend of reggaeton, dancehall with Afro vibes. A fun track full of sunshine and happiness."
7. 'Wish You' (Feat. Bas & Mannywellz)
"This one has a bouncy funk carioca vibe with undertones of hip-hop. I love to make records like this these days. I feel like this is an introduction to what my new sound is going to be."
8. 'Wicked' (Feat. Sam Wise, Knucks & Kadiata)
"It has a similar bounce to 'Wish You' but has more of a UK influence. There's hints of UKG and it has elements of an old school vibe."
9. 'Alarm' (Feat. Prettyboy D-O & Suspect)
"I knew this one would surprise people. It's Afro-Trap and unexpected. Prettyboy D-I and Suspect add that raw hood vibe to it that makes it an interesting listen. I expect a lot of raised eyebrows because people don't know this side to me and my work."
10. 'Mare' (Feat. Sauti Sol)
"The perfect blend of old school reggae and African highlife. A surprise collab with arguably the best band in the whole of East Africa. These guys are legends in their own right – the amazing Sauti Sol."
11. 'Love Language' (Feat. Mayra Andrade)
"This is one of my favourite records on the album as I've always wanted to make an Afro-Latin song. Mayra's voice is angelic and makes you fall in love with her and everything about what she represents."
12. 'Say You Love Me' (Feat. Xenia Manasseh, Karun & A2)
"A Sade-inspired record that's the only ballad on the album. A sweet duet with a perfect rap verse. I loved putting this record together."
13. 'Melly Melly' (Feat. Oxlade)
"This is a straight banger that I expect to go over people's heads, but give it time."
14. 'M.O.O.D' (Feat. Kojo Funds)
"Put me and Kojo in a studio in the islands for like 3 months and I guarantee we would make something so incredible. One of the most effortlessly talented cats I know."
15. 'Chance' (Feat. Projexx & Tay Iwar)
"I put this record out first to let people know what was coming. It's a creeper and I know it'll become a classic over time."
Stream 'Sound of My World' on your preferred service here.
Read next: The 10 Best Amapiano Tracks, according to Stonebwoy.