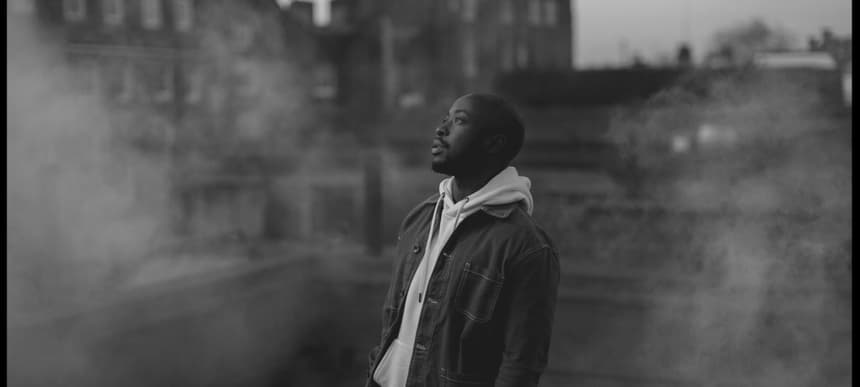 22.05.2020, Words by Felicity Martin
Track by Track: Oscar #Worldpeace - 'Sporadic'
The Tottenham wordsmith takes us through his eclectic, boundaryless LP...
Oscar #Worldpeace is a different kind of rapper. The Tottenham lyricist traverses genres including garage, grime, hip-hop and R&B, with his sound blessed with a distinctly London vibe. Following an impressive string of mixtapes and EPs, Oscar #Worldpeace recently dropped his debut album, 'Sporadic'. The result is something completely boundaryless and captivating as a result: at times it bangs with rap energy, at others it floats amorphously – providing the perfect backdrop for #Worldpeace's introspective penmanship that touches on modern masculinity, relationships and fatherhood – with album opener 'Shine' named after his son.
Part of the Mini Kingz collective, #Worldpeace has been under the mentorship of one Mike Skinner, and his choice of guests on the record points to a very well-connected musician, tapping up kadiata, Sam Wise, BenjiFlow and more – not to mention The Streets – for features. Below, Oscar takes us through each track on 'Sporadic', delving into the themes, guests and sounds behind each one.
'Shine'
"I wrote most of this song just before my son Shine was born. There was so much joy and excitement so all that positive energy was channelled into it. Funnily enough, I wasn't a fan of the track at first so wasn't sure if I should name it after my son, but the more I listened, the more it connected with me and it made sense to dedicate it to my family."
'Ooo'
"When we were temporarily living in Stoke in Trent, I'd drive down to London with my wife and we'd be playing music for the whole journey. I'd watch how she'd react to certain songs and if it got her gassed, I'd want to make my own version. Kanye West's 'So Appalled' was always getting a big reaction so it made me want to make something similar. Especially when I realised I didn't have a swagged out sexy song on the album so it inspired me to make 'Ooo'. I've also never had a braggadocious song like this before so it was fun to make."
'Evening Time'
"Knucks and I linked up for a couple sessions and made 'Blessings' in the first one but for the second session, I asked E-Whizz (the producer who produced the entire album) to play the 'Evening Time' beat to Knucks and by the time I got to the studio he'd already recorded his verse. We set up the video shoot and at that point, I didn't have Etta [Bond] on the song. I'm a big fan of Etta's music so I reached out and she added her vocals a couple days later then invited her to be in the video. It all came together naturally."
'2pac'
"I was in the studio with E-Whizz and Ragz Originale, and we were arguing about whether the album needed another banger or not. Ragz was adamant it did but I was stubborn and not having it. But then he started making the beat to '2pac' and the verse came to me instantly and wrote itself. Originally, I had another hook but it wasn't that great so I hollered my other bald-headed friend Kadiata to bless it and it was the icing on the cake."
'Relocate'
"Originally this was going to appear on a joint project with Ragz Originale but when we both were focused on our own solo projects, we thought it'd suit this album better. Sam Wise and I did a few studio sessions and this was the strongest track that came out of them. When I came across Arielle's World, I knew her voice would sit on the track perfectly. Before she went into the booth, she asked me to lead the prayer – it felt really special. All three of us (myself, E-Whizz & Arielle) held hands, I said a prayer then she recorded her verse."
'Touch'
"A tribute to my wife. Going through the pregnancy and seeing how beautiful she is, inside and out. All men have their insecurities so the lyrics "can't believe before me you've been with somebody else" is to highlight this. You wish you met that special person earlier in your life and cut out all the rubbish before."
'Mmm'
"Definitely the album's anthem. Ragz and I were bouncing ideas off each other on flows but it was the 'Mmm' flow that stuck. Ragz went to get some food and when he came back I'd finished the hook. Ragz was filming the video for his song 'Proof Read' the next day and we played the demo to BenjiFlow at the shoot, he went crazy and demanded to be on the track then it became the family reunion track. Mini Kingz family special."
'Leave The Devil Outside'
"Mike Skinner has been a mentor to me for five years. Sometimes I'm confused as to why he looks out for me so much. Especially because he's so massive as an artist. I've always wanted to do him proud and only approach him for a joint track when it was the right song, and this felt like the one for him. I was nervous to ask because I'm a fan first and he's a massive inspiration but he was totally down and happy for it to be a The Streets feature, which was really special for me."
'No Time'
"E-Whizz really wanted me to bless this beat but it wasn't grabbing. He kept playing it over and over but nothing came of it. I buckled and agreed to try something then it all started flowing. Pretty much wrote it on the spot at the studio then felt like it needed female energy. Demae sprang to mind because I love her work and what she did as a part of Hawk House and her vocals are beautiful, tying everything together. This one is a reflection of the past few years I've had – the highs and the lows."
Stream or purchase Oscar #Worldpeace's 'Sporadic' here.