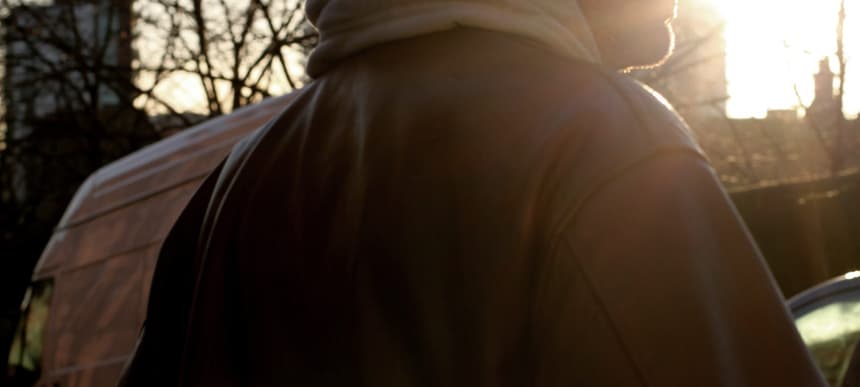 10.02.2020, Words by Felicity Martin
Track by Track: Slim Pappito - 'Excellent Adventure'
The North West London rapper details the much-loved icons that have inspired his debut project...
What do jazz fusion drummer Leonard White III, fictional Star Trek character James T. Kirk and Have I Got News For You team captain Ian Hislop have in common? The answer is they're all the inspiration behind tracks on a project by new North West London rapper Slim Pappito. 'Excellent Adventure', released recently, is his debut project, produced by himself and Astral Black label boss Jon Phonics. Over melodic, hyper-referential hip-hop beats, he delivers rhymes packed with clever wordplay and Action Bronson-esque culinary expertise. Asked to describe his rapping style, it's like "a cartoon Massimo Bouttura trapped in a psychedelic Ian Fleming novel set in the Costa del Sol," apparently.
"When I'm writing I just make these cultural references to shit I'm into or interested in," he explains of the project, "it just happens natural 'cos for me rhyming is just expressing your character and experiences. So when I get to naming the sessions, I just put the name I dropped in the lyric so I can remember what song the Ableton session is. After a while I just ended up with this whole EP named after icons. Well, icons to me at least. I like that when people hear those songs, if they are into history and space 'n that – then they will get the Mary Jackson lyric, or the Clement Attlee reference – and I also hope that if they don't get the references, then maybe people will google it and learn something new. Everyday a school day." Read on below as he takes us through each track on the project, detailing the influences behind each cut.
'James T. Kirk'
"I wrote this one on the edge of Ouassane looking out at the North Atlantic Ocean, so the first verse is like an ode to back home and the second verse is like where I was when I was writing."
#StarTrek is important to me for many reasons.
It showed me diversity and people working together.
It showed me great storytelling.
It showed me characters that I wanted to aspire to become.
It showed me that the right thing isn't always the easy thing.
Star Trek is important. pic.twitter.com/WvOm0A1h6W

— 🇨🇦"All in for Raffi" Mutala🇨🇦 #LoveYourFandom (@BrandonMutala) June 18, 2018
'Fellini'
"Fellini is like this slick, psychedelic before psychedelic was a thing, film-making motherfucker, exploring and defining the limits of the medium he's working in but in an awe-inspiring way. But like, same way I like Prince, sometimes it feels like the whole thing is one big joke and he's in on it. Word to Christina. You know before Fellini had his ultimately fatal heart attack, he had asked Scorsese to help him get funding to shoot a series. Which he did, so there was a Fellini project exec produced by Scorsese in the works.
When I say 'I'm Federico Fellini in a peaked beanie,' my homegirl Kara was joking about the peaked beanie and how it's a symbol of the 'Hip Hop Is Dead'-era Nas, and so I guess I'm saying I'm this like avant garde, surrealist-yet-militant saviour of the rap game."
'Ian Hislop'
"Ian Hislop man, this guy you just see him walking through Soho, dodging eye contact, bold as brass. Seen him in a rain mac and a big brimmed hat once, he looked like a private eye. He used to write for Spitting Image, which is one of the things that makes me feel proud to be from this imperialistic hell hole. Private Eye is the only thing that continues to deliver that honest, taunting, bold satire our society so desperately needs and should forever be heralded as a national treasure."
'Clement Attlee'
"Wrote this when we were still slightly hopeful Labour might win the election. Clement Attlee, the last sound Prime Minister? Not that I would remember, like. He took Labour into power after WWII. Get it up ye Churchill, c*nt."
'Gretzky'
"Wayne Gretzky, a man's man. A ladies man? A gentleman. What's he up to when he's not being the best damn ice hockey known to man? He's setting up Gretzky Estates, refined winery and whiskey distillery. Mon gar. Party on Wayne!"
'Lenny White'
"Lenny White from Return To Forever, Lenny White cool as fuck because he be playing this insane, what-the-hell-is-the-time-signature, jazz fusion shit with Return To Forever, then laying down wild latin rhythms with Azteca, then grooving on his own jams with lyrics like "Girl, your love's like a cruise on the love boat". If that aint game I don't know what is. I bought the sample for this from a record store on Sunset Blvd in LA when I was out visiting some friends. I spotted the shop, pulled over, jumped in the shop real quick and bingo, this was the one record I copped. So when I flipped the sample, it took me back to that place and then the pen just took me back to some other places too – some dark and some actually quite bright and sunny."
Stream Slim Pappito's 'Excellent Adventure' in full here.