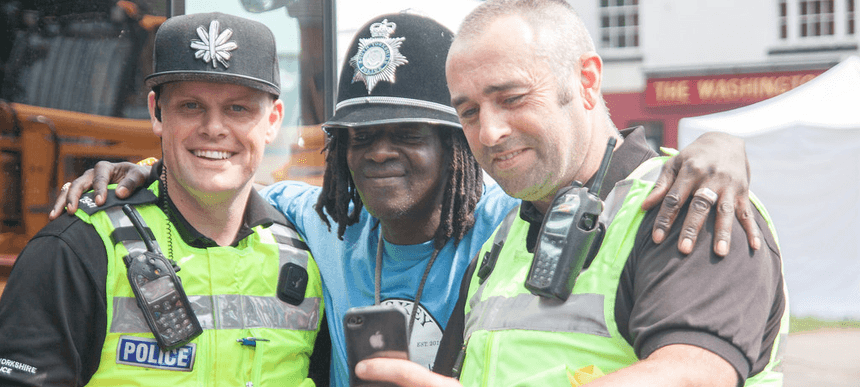 31.07.2014, Words by dummymag
Tramlines festival report, 25/07/14 - 27/07/14
Tramlines has developed a reputation as a choice pick of multi-venue city festivals in the country, and if this weekend was anything to go by, there can't be many that better it. It lost its place as an entirely free event last year, and you sense there's a few locals boycotting it, but £30 for a weekend pass could probably justify entry to the main stage alone (Public Enemy, Sister Sledge, Katy B, JUCE…). Now in its sixth year, Tramlines took over the centre of Sheffield and in the July heat united what must a have a fair reflective chunk of the city's populous: from excitable teenagers, to gurning students, to the cheery and beery, and through to older but no less eager festival goers.
A good reflection of Tramlines' range was offered on Friday night at Bungalows & Bears, an ace spot and among the pick of the free shindigs, hosting names like Cloud Boat, Only Real, and Raf Daddy across the weekend. My Panda Shall Fly played the first of two of his sets planned for that evening, twisting and contorting his equipment every single which way, proving his live show is as mind-melting and groove-crumbling as so many of his warped techno tapes are. From there it was onto Millennium Gallery for a masterly performance from Shackleton, with the crowd in the pearly white space swelling in size as the Skull Disco co-founder built up the dread. It would take a 'head with more background than me to know how his live show has changed over the years, but the re-configuring of creepers like (No More) Negative Thoughts still has such potency, and seeing an old guard dubstepper like Sam Shackleton felt like reconnecting with an old friend. From an art gallery it was on to Hope Works – one of Sheffield's finest warehouse spots – for 4am nosebleed techno courtesy of Boddika.
Despite Chuck D observing that there's a combined age of 109 between himself and Flava Flav (apparently numbering in the thousands if they added crew), Public Enemy still threw it down for their headline slot. Toward the end the sound had unfortunately become a prickly soup of distortion and feedback, but it didn't seem to matter all that much to those clued up in the crowd. Flava Flav wore a clock and said 'Yea boi' a few times and played a bit of bass and some drums for a while (he seems better on the drums). What more do you want?
Saturday night was all about the Octagon, one of several University of Sheffield venues, for a tight selection of DJs. NTS' Wednesday Club member Moxie served up steady house selections, and Gold Panda's Eastern inflections were given weight with colourful, kaleidoscopic projections behind him. The Gaslamp Killer bounded on next in a way only really he does: chatting throughout and letting us know about all the good stuff he was playing out, including first ever spins for new originals from a forthcoming album, unreleased James Blake bits from 2011, and love for the new Rustie and FlyLo albums. His mood seemed to shift a bit after someone leapt up onstage and disturbed his groove, caning the bottle of champagne that was presumably there to toast this last date on his European tour. There were words at the end touching on the significance of coming out the other side of his near-fatal scooter accident just over a year ago, and he got a big hug for him from Lone at the changeover. The R&S producer's set also felt like one of two halves – with a brief powercut kind of killing the energy he'd built up. A shame really, because it's been a strong summer for the R&S producer, and recent album 'Reality Testing' is a real beaut soundtracking the sunshine.
There were some nice touches to the Tramlines experience: to collect tickets, you were invited into the main space of the Sheffield City Hall, and alongside the usual gaggle of drinks and corporate music sponsors, Sheffield City Council and The Sheffield College were listed. While direct council money for Tramlines in fact dropped this year, as far as London's concerned, it's getting tougher envisaging a festival of this scale receiving much in the way of direct council backing and support – especially when thinking back to Boris Johnson's crippling of Rise Festival in 2008 (after removing its anti-racism message because he no longer considered it an important issue for the capital). Along with the generally open-armed atmosphere, you're left still catching some whiffs of socialist consciousness in this post-industrial city. That'll be a good thing for Sheffield's future, and here's hoping Tramlines will be a part of it for years to come.