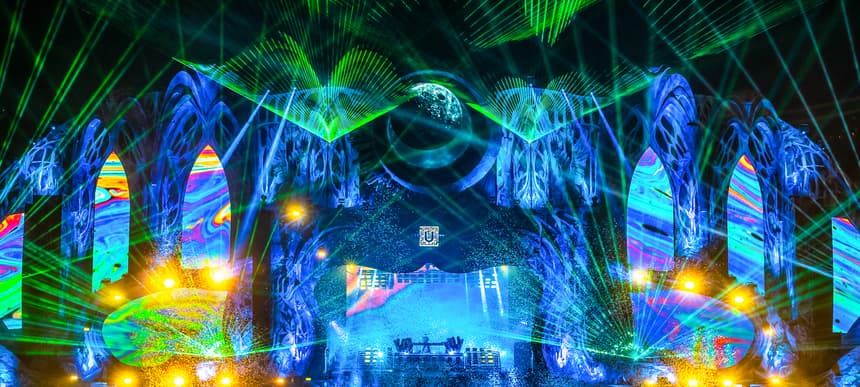 11.08.2022, Words by Sam Nahirny
UNTOLD 2022 proved why it's one of Europe's most spectacular parties
A blissfully bizarre 4 days showcasing the world's leading electronic music and beyond
When I say UNTOLD is my favourite festival, I mean it in the truest, most sincere version of the word. Based in super-trendy, super-lovely Cluj-Napoca, Transylvania, the festival runs over 4 days, with 360,000 humans attending, plus plenty of fairies and magical beings too.
Even as someone who works at festivals sober, when I come back sharing stories from UNTOLD, people assume I must have sampled the local delights.
Want to ride a pink flamingo down a canal while trance legend Robin Schulz blasts out tunes so loud your Apple Watch tells you it's unsafe? Or, see beaked hero Claptone play to 50,000 people donned in masquerade masks while more fireworks than you've seen on New Year's Eve light up the sky?
These are just a handful of the blissfully bizarre moments that UNTOLD puts before your eyes and ears. The festival really is an all-sense-tingling experience.
The whole theme of the festival is magic, luna and associated words that might make your average electronic music fan want to throw up. But once you're there in person it all makes sense, and you really feel like you're part of a community of like-minded individuals.
It's fascinating watching the crowd here too. I've never seen a more passionate, dedicated set of festival goers. From the amount of people waiting at the opening gates to the amount of screaming fans for every artist. Or just the sheer amount of signs and merchandise dotted around the festival.
It's worth acknowledging some of the world-class names UNTOLD manages to bring in to Transylvania too. You've got American platinum rapper G-Eazy (who even brought a fan on stage), Reggaeton legend, 3 times Grammy winner J Balvin and his slew of dancers, plus fellow Brit Anne-Marie getting one of the loudest crowd sing-backs of the festival.
Another highlight included the Galaxy Stage, which is essentially a massive, immersive piece of art, featuring the likes of Amelie Lens and Boris Brejcha.
The final night brought a spectacular closing show with the return of Lost Frequencies. As midnight struck, he hits play on the now edm-classic 'Are You With Me?', and the sky erupts into bursts of light in every direction.
30,000 steps a day. Very little sleep. And even a UK heatwave to contend with when I'm back. I'm sad to be leaving to UNTOLD, and I'm already excited to be back.
Read next: UNTOLD 2021 was a magical reminder of what we've been missing