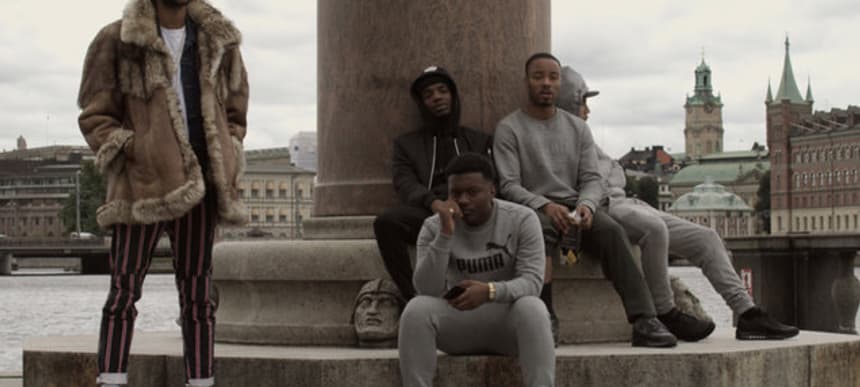 01.11.2017, Words by dummymag
Vibing with Vibbar
Music collectives are nothing new – in fact, they seem to be undergoing a renaissance of relevance of late – but not many have the combined talents of the UK scene's newest grouping: Vibbar. The clue is in the name; 'Vibbar' literally means 'vibe' in Swedish, and the expansive group aim to provide an endless supply. Consisting of rappers, singers, producers, fashionistas, artists and everything in between, each individual member brings their own flavour into the mix for a potent injection of creativity.
Skits, Skribz and Jordy provide the raps, while singer Joel Baker adds to the bubbling pot of talents, sounds and style, brought together by the production team TheConfect. In-house photographers and videographers are added to the equation, topped off with art director Yinkasays, bringing visual enterprise to the centrefold, and the infamous Poet is a linchpin of the group who adds his prestigious style and flair. Recent track 'Sweden' was a worthy introduction for those who had yet to know, and now they are ready to make their ascent on the UK scene. While catching up with them at their recent launch party in London – which you can relive in the images above – Vibbar outlined their ethos, direction and ultimate aims…
"Vibbar is just a group of friends man, that's what we've always been," Skribz told Dummy. "I think people try to complicate it like they're a collective, they're a gang, what is it? We're just a group of friends with many different types of creatives in it, everyone's involved. We're just trying to bring back authenticity, good music and, like, good vibes. Trying to have people dancing at the parties again instead of snapchatting their watches and their faces. But yeah man, my job's just to give you the hooks, the bars and hope it hits when it's in the club. That's Vibbar in a nutshell."
Poet continued: "Vibbar is something everyone can experience, Vibbar is inclusive, Vibbar is far from exclusive – it's not a situation where we're trying to seclude anyone or not have anyone a part of it. It remains a collective of individuals that are friends, who are creatives and express themselves through different creative mediums such as art, music, production, videography and we do it together under one umbrella.
"The beauty about it is we all respect each other's craft so we all get to make a piece of content which involves every single person within the group, so we all appreciate it from a different perspective. I don't see friends doing that you know, I don't see friends coming together and saying, 'lets create something that we can all be proud of, and we can live off and we can all make money off and we can all celebrate with', you know what I mean. I think with Vibbar, it is literally by far one of the most beautiful experiences I've ever been a part of in my entire life. Long live Vibbar and long live every single member in it."
Check out Vibbar's track 'Sweden' below.