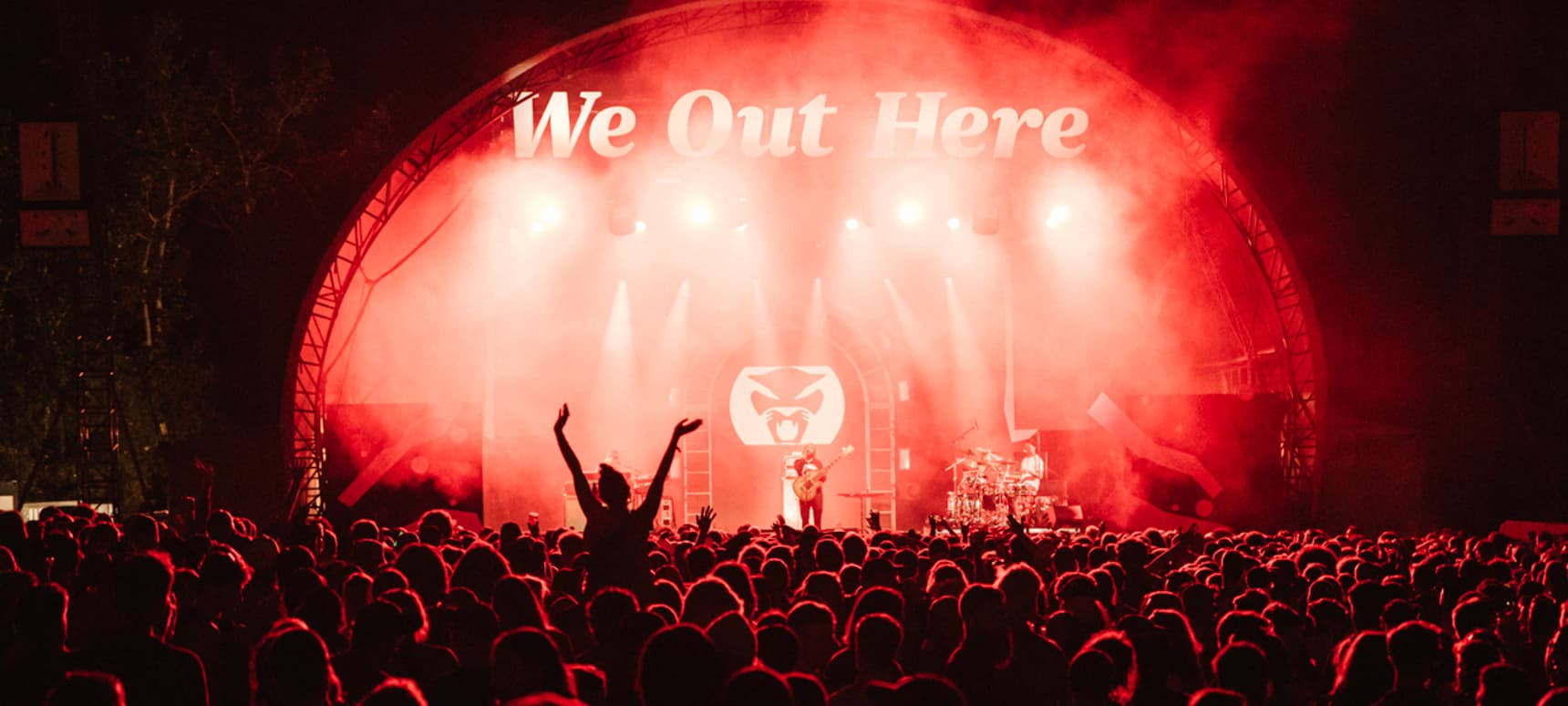 25.08.2021, Words by Ben Jolley
We Out Here 2021 is a huge step up
Walking around the We Out Here site on Thursday afternoon, it's as if festivals never went away. Glitter-covered friends meander around the hilly fields of Abbots Ripton, Cambridgeshire, sipping cocktails from environmentally-friendly reusable cups as they embrace for long-awaited reunion hugs: it might have been delayed for a year because of the pandemic, but that just means everyone's even keener to make up for lost time.
While this is certainly true for the constantly ecstatic crowd – which comprises a real mix of ages and characters – it also presents a fantasy situation for many of the artists and DJs on the line-up, the majority of whom haven't been able to perform to actual people for more than a year. Standout sets on the Rhythm Corner and Lush Life stages, then, offer exciting and long-awaited opportunities for them to win over a new legion of fans, while giving music-lovers the chance to discover new favourites.
South Londoner Wu-Lu's impassioned protest-punk thrashes jolt a subdued Thursday afternoon crowd to life as they tentatively form a moshpit and start headbanging. Conveying a real sense of urgency with their grunge-rap-drum'n'bass fusion, the what-is-this intrigue is particularly striking. Lex Amor's soulful socially-conscious rap, meanwhile, comes straight from the heart and manages to tell a powerful story in just 20 words; it's easy to picture her dominating massive stages and having a Little Simz-style ascendance.
Another genre-crossing star-in-the-making who effortlessly proves why she's got an extremely bright future ahead of her is rapper Dreya Mac: the undeniably anthemic 'Kick It' goes off before an Afro-swing track proves her versatility. Halfway through her set, the crowd has – deservedly – increased tenfold. Talking of massive audiences, there's one artist who seems to have every festival-goer watching: conjuring a hazy laid back vibe with her equality-encouraging, reggae soul fusion, Greentea Peng proves herself as a future headliner. Tracks from her debut album, including the bass-heavy 'Mr Sun', have everyone bopping. In terms of musicality, ethos and energy, there's no other artist quite like Peng.
Another major takeaway from the weekend is that jazz has never been so cool – and it's easy to see why: 10-piece Nubiyan Twist start the party at a packed main stage, igniting their own mosh pit full of energy while Emma-Jean Thackray spreads the positive vibes with her dancefloor-ready trumpet-fuelled jazz-fusion, the bongo drums and mantra-like chant of 'Our People' uniting the crowd in a moment in time.
But that's just one side of We Out Here as, channelling the hedonistic roots of the site's predecessor Secret Garden Party, there's plenty to satisfy underground dance fans. Shackleton treats his live show as if he's playing Berlin club Berghain at 3am (instead of a field in Cambridgeshire at 8pm), the bass rumbling through chests as lasers flash to the breaks-y techno. Overmono's kaleidoscopic live show is equally jaw-dropping while, inside The Woodland, Shanti Celeste takes no prisoners either, her bass-heavy rollers and vocal house bangers transforming the forest into a 90s illegal rave. Jamz Supernova's Future Bounce takeover at Labyrinth is also a runaway highlight, especially Anu's set which veers between jazz, beaks, Jersey club, percussive samba, Bollywood edits and even an homage to the late SOPHIE. She's a DJ who really can do it all – much like Sherelle, whose unrelenting 90-minute voyage of 160bpm-plus rockets truly blows the cobwebs away, and Elkka, who sends a packed open-air crowd into blissed out euphoria with rapturous classics like 'I Feel Love' and the particularly poignant 'Everybody's Free'.
Overall, the Covid-delayed return of We Out Here festival is a huge step up from its 2019 debut. While there are more stages to explore this time round as well as several surprise sets (Bradley Zero packs the intimate Lemon Lounge for a special dub set on Thursday while an unannounced appearance from neon-haired funk king Thundercat has the main stage in the palm of his hands on Saturday evening), everything remains just as tastefully curated. A much-needed return to normality, We Out Here 2021 is a timely reminder of the importance of live music.
Read next: The 10 Best Drum Breaks In Tracks, according to Overmono.