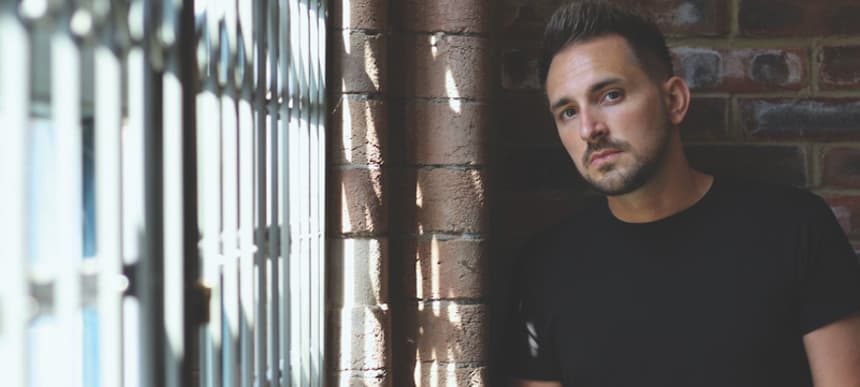 03.06.2019, Words by Michael Keating
"It has to be interesting for me too": J Sparrow pushes dubstep forward on 'Dark365'
Nine years on from his Tectonic debut, the UK dubstep veteran outlines his "honest but risky approach"
Heavyweight producer J Sparrow has returned with '#000000365 (Dark365)', the follow-up to his seminal 2010 Tectonic debut, 'Circadian', as Jack Sparrow. His latest work arrives on Mala's legendary Deep Medi Musik, and promises to continue to push the boundaries of dubstep in a more experimental direction. J Sparrow also heads up his own independent label – Navy Cut, which he uses to champion lesser-known artists and support their creative abilities with a hands-on approach. Ahead of the album dropping, he spoke to us to shed some light on the behind-the-scenes creative process, his vision for Navy Cut, and the future of dubstep.
On the album, 'Double Time Skank' has a hint of a grime flavour to it, while 'Kaleidadope' has some elements of a dark techno sound. What genres other than dubstep have influenced the album?
Each track has its own flavour and story, much like the rest of my discography with the Author project (alongside Submotion Orchestra's Ruckspin) which was heavily influenced by hip-hop and jazz. My first album, 'Circadian', was heavily influenced by jungle and techno. On this album, there are some footwork elements in 'Ndidi' (which means "patience" in Igbo, a language from the southeast of Nigeria) and some techno influence in 'Run For The Border,' which is the slower of the tracks on the LP. Everything really went into the melting pot for ideas. The energy had to be high, though, when mashing up the sound palettes – that's all that mattered to me.
'#000000365 (Dark365)' was awarded Album of the Month in Mixmag back in March. How come it has taken until now to finally see the light of day?
There are always delays when making records, so I guess it was just one of those things. I was really happy with getting Album of the Month – it is always a massive internal struggle to keep cool and collected waiting for judgement by such a big publication. Something to make my mum proud!
You picked the twelve tracks on 'Dark 365' from over 120 potential tracks. How did you choose? And are we ever going to hear more of that larger back catalogue released, or are you going to hold on to it for DJ sets and dubplates?
When I initially sent through all the folders to Mala, he said there were a few albums' worth of music there. We arrived at this tracklist from wanting to be diverse with styles and having music that fits with Deep Medi. If we had chosen a different ten or twelve tracks, it could have been another album altogether. It was really that diverse. I have put together another couple of albums that are in waiting, but knowing me, I'll make another 120 tracks by the end of summer and forget about the older tracks on the hard drive. Sometimes I have to work like that, as rediscovering something after six months is the litmus test for me – it makes me ask, "does this still sound interesting, and would I put my name on this?" My DJ sets lately have had a lot of the newer stuff I'm testing out, focusing on different tempos ranging from 120-140 bpm. So to answer the question plainly: yes, lots more music coming.
Recently, 'Struggle' by Leo James & J Appiah, released on your label Navy Cut, was endorsed by Mary Anne Hobbs, featuring in her Hit Reset Mix on BBC Radio 6 Music. The track is a taste of classic, lighters-in the-air dub. What does the future hold for Navy Cut?
I have always loved Mary Anne Hobbs' programs since Breezeblock! She has done a lot for dubstep and giving it a platform. BBC Radio 6 Music is gaining popularity as a diverse station where you can discover some absolute gems. Navy Cut is an extension of my DJ sets and what I play. More so, it's about supporting great creators who are overlooked in such a competitive market. Everything we put out we love and care about deeply, and we try promote our artists and include them in nearly everything we do – full transparency! Leo James and J Appiah have crafted two tracks that blew me away on my first listening, and the music video shot in Leeds [his hometown] created something very homegrown and organic. Navy Cut has a lot lined up for the rest of this year, with Outlook Festival and some more events in Leeds which will coincide with our release schedule.
The dubstep scene in the US often gets stereotyped as one-dimensional "brostep". Do you find you need to adapt your selection when in the US compared to the UK, or is there the appetite for the same brand of bass in both countries? Is the brostep stereotype unfounded?
This is going to sound arrogant, but people book me to play what I play, that's what they know me for. That's how I like think about it. If you want to hear brostep, book a brostep DJ. I do think America and Canada are going through a very interesting time right now, as the "deeper" sound is getting quite popular, and I guess that's thanks to the "trap" surge that came about. I personally don't want to hear things in a club I have heard before. I want to hear new music and new direction. I have a soft spot for the classics – don't get me wrong – but we run the risk of going stale as a genre. That's why my music is so diverse, because it has to be interesting for me too. If I am into what I'm playing and doing, then other people will see that. It's an honest but risky approach, I admit.
Who are the most underrated dubstep producers at the moment?
Fiend, Surreal, and Leo James have sent me some outstanding music lately.
If you could collaborate with any artist, who would you choose?
I would like to make music with Roots Manuva, Jose James, Osunlade, slowthai, Massive Attack, Freddie Gibbs, and Tyler, The Creator.
To finish up, if you had to end all your sets with the same track from now on, what track would you choose?
This is so hard! But maybe 'Port Rhombus' by Squarepusher. I'm a big fan of Warp Records, and this track is very satisfying for my brain. 'Kaleidadope' was inspired directly from this tune.
Stream J Sparrow's '#000000365 (Dark365)' in full: