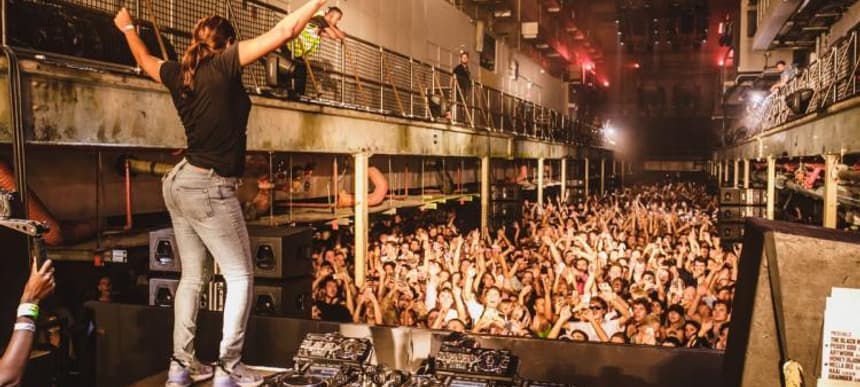 17.10.2018, Words by dummymag
Why Printworks' Equalising Music all-dayer was a vital thing for dance music
The day rave proved that gender equality in electronic music could - and should - be around the corner
Last Saturday, Printworks threw an all-day event championing equality and inclusivity. Run in partnership with Smirnoff's Equalising Music venture, it shone a light on female and female-identifying talent in electronic music. Rubbishing the idea that such gender imbalance on clubnight line-ups and festival flyers are down to a 'smaller pool of female talent to choose from', just three of the 15 DJs booked for the event were men. A study by female:pressure was the inspiration behind the bookings, revealing that women accounted for just 19 per cent of festival headliners in 2017. Smirnoff's three-year campaign aims to double that number by 2020.
Although there's still work to be done – especially on the festival side of things, Printworks' 11-hour party on Saturday felt like a big step in the right direction. The energy and atmosphere felt different, too, as a result: the crowd it drew was more mixed than the often lad-heavy audience a daytime rave attracts – with multiple ethnicities, races and sexualities all grooving together. The vibe on the Press Halls' dancefloor translated behind the decks, too, leading to joyous, unforgettable performances from three leaders in the dance music world.
Journeying through soulful, funky house, Honey Dijon wasn't afraid to work up a sweat whilst delivering an energy-filled performance; throwing her towel into the crowd before climbing the decks and dancing to Cheryl Lynn's 'To Be Real': the love and adoration between Honey and her fans was wonderful to watch. Up next, and sporting an unwavering smile, The Black Madonna took no prisoners with her speaker-shattering techno before a delayed Peggy Gou arrived, quickly unleashing some acid and breaks on the thousand-strong crowd in front of her.
It was a masterclass from three of the world's best DJs, showing off their talents as selectors and mixers with ease. But it wasn't just about the big names; alongside those sets, the party also offered a stage for the ten aspiring DJs who had taken part in the Smirnoff Equalising Music mentorship programme over the summer. Taking charge of the Dark Room, rising stars like Jaguar, Jade Cox, Alexis, Catalina, Eva Crystaltops, Jay Carder, KIIA and Trudy Knight took turns to work the more intimate, low-ceilinged dancefloor, proving why the next generation of electronic talent is in safe hands.
Trudy Knight, who recently enjoyed a mentoring session with Peggy Gou, drew a growing crowd to her genre-hopping set – which veered between the diva vocal house of Big Miz's 'Good Thing' and Duke Dumont's club banger 'Runway' to Finn's garage-infused 'Sometimes The Going Gets A Little Tough'. "It took nine months to get a date in the diary because Peggy plays in a different country every other day," Trudy told Dummy after her set. "But we spent three hours together and she taught me so much".
As one of hundreds to enter a mix into the competition, it's safe to say Trudy never expected to make it to the final 20, let alone be picked and mentored by one of her biggest inspirations. Since the workshop, which Trudy describes as a once in a lifetime experience, she'd been relentlessly preparing for her Printworks debut. "It had been my life for the last two months; I was practising every night," she says, although there were zero signs of nervousness watching her select tune after tune.
Another standout from the day was Kiia, whose vinyl-only set started off darker and trippy (somewhere between Helena Hauff and Or:la). Just off the back of the first three tracks, her talent was evident; especially thanks to her seamless transitions. Working through breaks, spacey synths and even a James Brown-sampling selection, Kiia really made the most of her time. It's no surprise to learn that she was mentored by The Black Madonna. "I was kind of a shy idiot," she laughs from the Printworks balcony, while watching her mentor lay it down. "It's like when you go on a date with someone and you've got nothing to say at first… but it turned out to be a great experience. An opportunity I definitely wouldn't have had."
With much-needed initiatives like Smirnoff Equalising Music leading the way and powerful spaces like Printworks getting on board, gender equality in the electronic scene could – and should – be around the corner. Everyone else just needs to follow suit.
To find out more about the campaign visit www.smirnoffequalisingmusic.com and for future events at Printworks go to www.printworkslondon.co.uk.