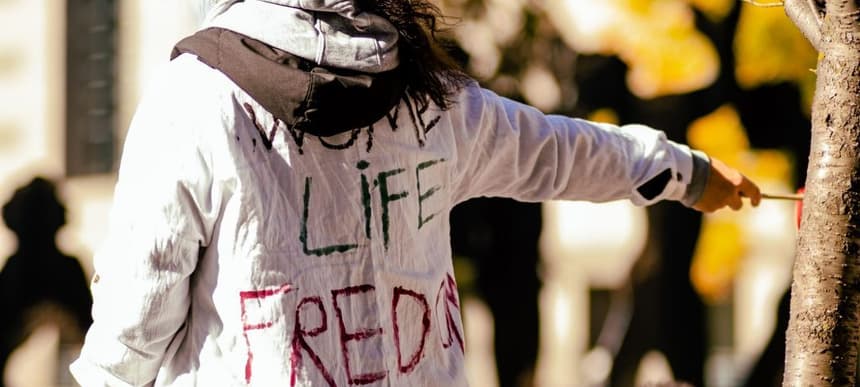 07.03.2023, Words by Billy Ward, Photos by Unsplash: Tianlei Wu
"Women, Life, Freedom": The underground music movement bolstering Iran's female uprising
We sat down with Iranian artists AIDA and Nesa Azadikhah to discuss their politically-charged compilation album
Last year, Iran was rocked by the biggest protests in years following the death of Mahsa Amini in police custody. Widespread demonstrations and violent government crackdowns have engulfed the country since then, mobilising Iranians of all ages, ethnicities and genders to fight against the systemic oppression of women in their country. 
Tasked with enforcing strict codes around dress and behaviour, the country's controversial morality police had arrested the 22-year-old for allegedly not wearing her hijab correctly and sporting skinny jeans. What started as a spark in protesting justice for Mahsa Amini has since turned into a revolution with people fearlessly standing up for their rights across the nation. Government forces have killed, arrested, and tortured many protestors including children and teenagers but this hasn't stopped the will of the people. 
Throughout Iranian history, women have been at the forefront of music and performing arts for many years. Soheila Sokhanvari's recent and timely Rebel Rebel installation at the Barbican highlighted this rich heritage, recreating the glamour and individuality of women stars of stage and screen in pre-revolutionary Iran. Under the Islamic regime, however, this relatively recent era of female stardom is a far cry from the current reality women in the country face. Banned from singing, dancing, and performance and facing threats to the safety of themselves and their families, female artists are forced to quit, leave Iran, or to go underground facing grave risks. Despite this, Iranian women have remained active and at the forefront of their art.
One of the ways the younger generation have mobilised to fight during the current uprising has been through the arts. Back in January, Iranian artists AIDA and Nesa Azadikhah released a compilation album titled, 'Woman Life Freedom' on their label Apranik Records - a charity release that was put together to draw attention to what has become one of the greatest fights for freedom of oppression in recent memory.
"Since 44 years ago when the last revolution happened and this government took over, women essentially became second class citizens but also controlled from a religious standpoint," AIDA tells DMY over Zoom. "Women can't sing, women can't dance, they definitely can't be the front person of any performance or any video, they are censored from TV, even theatre.
"We got the idea of doing the album at the beginning of the uprisings in Iran around September/October," AIDA continues. "We started to talk around doing something because in the music industry there had been basically no coverage of what was going on inside Iran."
Originating from rich Iranian roots yet having a serene west-coast Canadian upbringing, AIDA intersects two contrasting worlds. This dichotomy is infused into everything she crafts, combining elements of world-inspired music with electronica, she gives colourful twists to dance floor-crafted belters. The 'Women Life Freedom' record was made with the intention to raise awareness within the music industry about what is happening in Iran, while offering artists a way to actively get involved in the fight. Consisting of 12 tracks, the record itself features an array of Iranian female artists operating both within and outside the country, leaning towards a visceral, rebellious club-oriented sound. Masterful blends of groovy house and techno twist and turn alongside breaks and vocal lines geared for the rave - it's a wonderful body of work in any circumstance but the underlying messages woven between each track makes this release even more potent.  
"You will find this general sense of ferocity, anger and hope within the songs in the album and that's not something that we really dictated but it's more an unspoken feeling among all of us," explains AIDA. "It was an unspoken shared pain that we have and had back then that really brought it all together. We were able to very quickly get the roster of artists going and get the music from them."
Nessa Azadikhah is one of the leading figures in Iran's electronic music scene. The Tehran-based DJ, music producer, composer and sound artist has established herself as one of the most in-demand figures around, learning to DJ at the age of sixteen before infiltrating the underground dance movement and founding Deep House Tehran to showcase Iranian electronic musicians on the global stage. An extensive contact book always comes in handy when piecing together a project, and in this case, Nessa's network proved crucial. Despite her status in the world of electronic music, Nessa has experienced first hand the difficulties of being a female creative in her home nation. 
"I've had many experiences where people have come to me because of Deep House Tehran asking for a DJ to perform at some event and whenever I've opted myself in they've refused it because I'm a woman and even though I'm not really dancing or doing anything, I'm just standing behind some decks and mixing, even that to them is this foreign thing that's putting a woman under a spotlight which they're uncomfortable with. That being said, that doesn't mean that people aren't doing their thing," she continues. "Iranian people really do whatever they want to and they really fight and push things underground. In the underground, with great risks, there are women performers, dancers, electronic musics, DJs, doing their thing still in Iran."
It's important that these issues are highlighted across the music industry and over the last few weeks there has been a wave of support from different artists. Speaking with Artefact Mag in a recent interview, British-Iranian singer-songwriter and DMY signee Farrah opened up about her experiences being a female artist with connections to the country.
"When I began to release my own music as a proud British-Iranian female, I was warned to be careful during interviews and public speaking when it came to my experience of Iran and what I had learnt about the shackles the regime had placed upon the country I loved so dearly. I always made sure that I only spoke about my great experiences in Iran and never even considered getting political or touching on the subject of the regime because I was told if I did, I could be putting myself in serious danger if I ever travelled back there and these articles or videos were to come to the authorities attention," Farrah told Artefact.
"Fast-forward again to September 2022 and my silence is over forever. For good," she adds. "It's time to use my privilege to free my brothers and sisters in Iran so they too can express themselves however they please."

All proceeds from the 'Women Life Freedom' record are being donated to support women in Iran. Using their networks and contacts, Aida and Nessa have found direct routes to help women in need who have been displaced for different reasons: from addiction to homelessness, to being cornered based on religious or societal pressures.

Stream 'Women Life Freedom' on Spotify below: