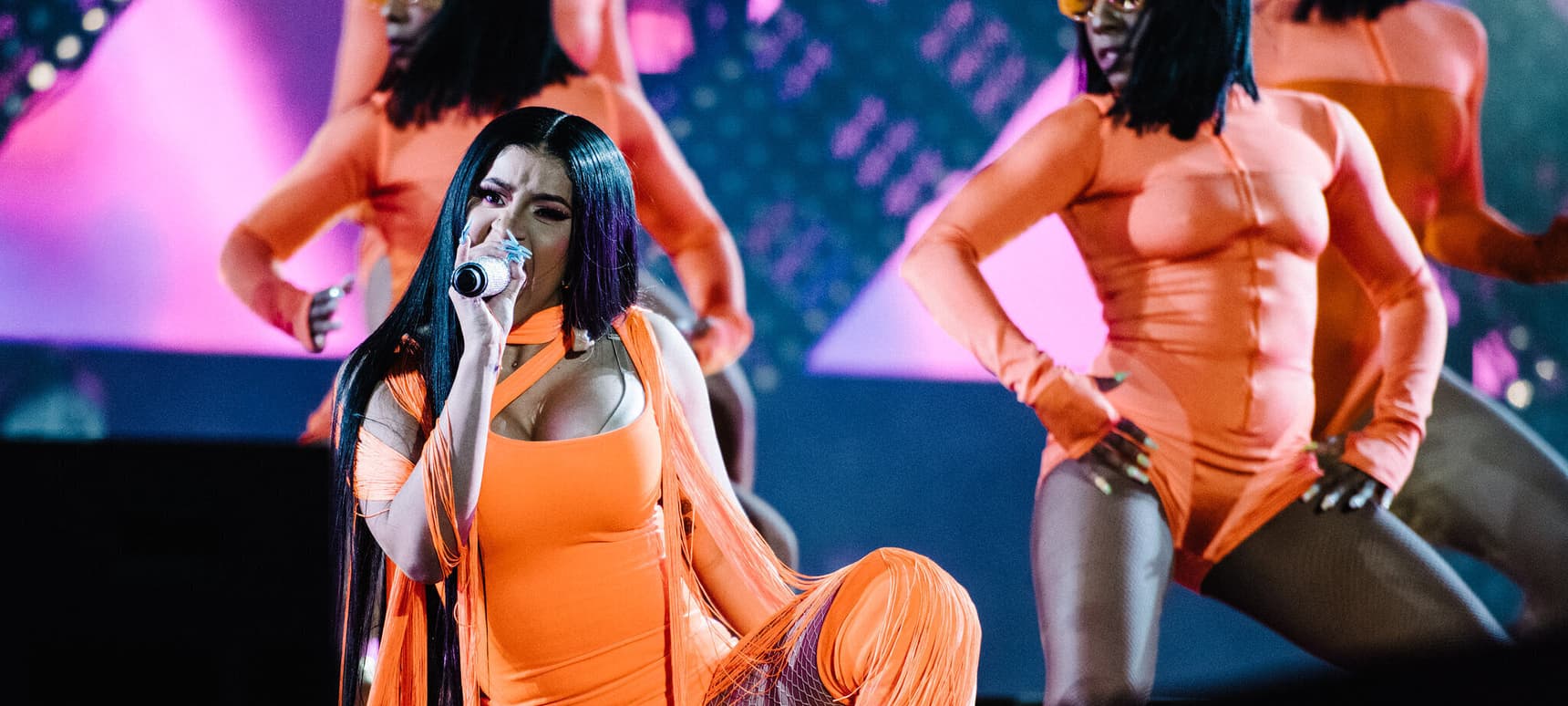 08.07.2019, Words by Ben Jolley
Women ruled Wireless 2019, the year of US-UK link ups
The festival addressed its former gender imbalance with standout performances from Cardi B, Megan Thee Stallion and Stefflon Don...
In previous years, Wireless festival has been criticised for not booking enough women. This time round, it felt as though the festival organisers had made a concerted effort to address the gender imbalance. It was something that translated into the crowd, too, with noticeably far more girls in the audience than we'd noticed in previous years, meaning that thousands got to watch their female idols killing it on two of the biggest stages at the Finsbury Park three-dayer.
It might have been a year later than scheduled, but Cardi B took her crown as the queen of Wireless on Friday night with a high-energy, wig-throwing headline show full of hits that demonstrated her talent as a rapper, dancer and, to some extent, comedian. Twerking up the runway followed by her dozen-strong army of impeccably choreographed dancers, it was immediately clear that Cardi wasn't about to play around. Within just a 45-minute set, Cardi made time to bring Lil Nas X out to perform the song of the summer, 'Old Town Road', and then their new collab, 'Rodeo', while husband Offset joined her for 'Clout'.
If the audience was a little flat earlier in the day, Cardi's thousands of adoring fans were instantly woken up by her flawless bars and eye-popping visuals (think gold-plated Lamborghinis and private jets). Veering between the carnival vibes of 'I Like It' to the competition-destroying bars of 'Press' and 'Money', via her many features from the last two years, Cardi was in a league of her own… and just as hilarious onstage as she is on Twitter. "We've gotta turn down 'coz I got asthma, I'm out of breath," she joked, later throwing her wig into the crowd only to ask for it back (it's currently on eBay for thousands of pounds) and later trying and failing to take her heels off ("It's not gonna work, I'm just going to have to take the pain").
But Cardi wasn't the only woman who ruled Wireless this year, as all of the best performances came from females at the top of their game. Next in line to Cardi's throne was Megan Thee Stallion, who delivered Sunday's standout set. The Houston rapper, sporting green and blue hair, an orange hi-vis jacket and denim hotpants – drew one of the weekend's biggest crowds as she blazed through her biggest hits to date, 'Realer' and 'Freak Nasty' (each with millions of streams). Twerking with two dancers while hundreds of girls stared on in awe, some on shoulders, all of them rapped along to Megan's every bar. Having played two sold-out London shows in the week leading up to Wireless, her set felt like a real moment.
On Friday IAMDDB made lightwork of her Wireless debut, performing cuts from 'Hoodrich Vol. 3' and 'Flightmode Vol. 4'. Removing her shades to take in the size of the crowd and ensure that everyone "keeps the vibrations high," she seemed genuinely humbled as girls on the front row dressed in lime green shouted out their favourite songs for her to perform. After jumping down and wheeling up 'Shade' three times, she bounced along as moshpits formed across the park. "This is why I love performing in London," she signed off; "you ain't shy to show love or energy."
Stefflon Don brought a massive crowd to the main stage for her afternoon set full of chart hits including 'Hurtin' Me', 'Phone Down' and '16 Shots' while Californian rapper Saweetie showcased her incredible flow on the second stage; she may have arrived on stage 20 minutes late but no one seemed to care, especially when the instantly recognisable Khia-sampling beat of 'Icy Girl' rang in.
It was a weekend full of US/UK link-ups, too: Future brought out MoStack and Krept & Konan, Lil Baby welcomed D-Block Europe and Sunday night headliners Rae Sremmurd were joined by Afro B who had thousands singing along to his inescapable hit 'Joanna'. There were plenty of surprises over the weekend as well: special guest Skepta ran through cuts from his new album 'Ignorance Is Bliss' (aided by collaborators Nafe Smallz and Lancey Foux), led chants of "Free Rocky" and was even joined by Jme out for 'That's Not Me'. Denzel Curry, meanwhile, performed his set while being pushed round in a wheelchair because he had broken his leg after "going too crazy" the previous night in Dublin. In a display of dedication, he didn't let the injury get in the way of his Finsbury Park debut, bouncing around on his one good remaining limb and later tweeting: "one leg ain't gon' stop shit".
On the second, smaller stage it was Sheck Wes (or, as he likes to be known, Sheck Jesus) who received the biggest reaction of the weekend at the second stage, despite the recent accusations of abuse that have surrounded him. Despite the ensuing showers, dozens of moshpits sprouted up in each corner of the park – and beers flying everywhere as he ran through incendiary renditions of 'Mo Bamba' and 'Live Sheck Wes'.
Bringing AstroWorld to life – complete with a giant teddy bear onstage and psychedelic tripped-out colours on screen – Travis Scott looked as though he was on fire (thanks to incredibly clever visuals) as he ran through 'Antidote', 'Goosebumps' and 'Stargazing'. By this point it was raining hard but no one cared at all, instead thousands lost themselves in his otherworldly universe.