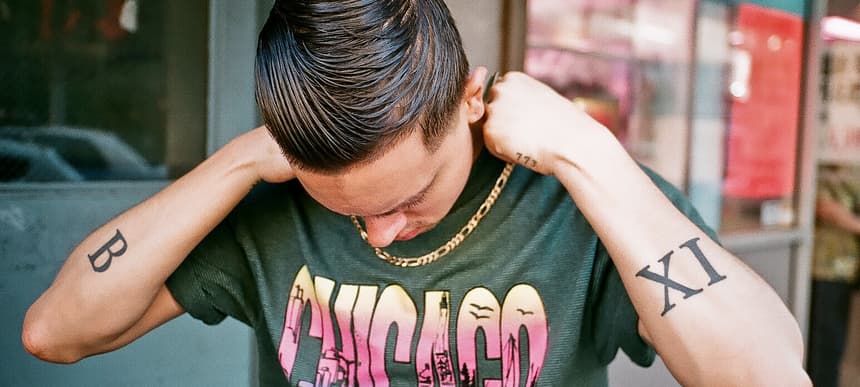 13.11.2013, Words by dummymag
Brenmar's history of Chicago juke mix for Ssense
You know how it is: you're halfway through the week, you're tired, and you need something – anything – to satisfy your mid-morning jacking needs.
Thankfully, Chicago-born DJ Brenmar is here to help. He's put together a mix for Ssense that traces the history of the city's ghetto house music and juke, leading right up to the days just before it mutated into footwork. It's all raw, body-moving music, starting out in the 1980s and moving through the years up until the mid-'00s.
There's no tracklist, but the eagle-eyed listener should recognise a few classics in there, like Adonis' No Way Back, Jody "Fingers" Finch's Jack Your Big Booty, and Frankie Knuckles/Jamie Principle's Baby Wants to Ride in the mix's earlier sections. Later on, it moves into more defined ghetto house territories, with tracks by the likes of DJ Gant-Man and DJ Deeon cropping up – understandably, it all starts to get a little more lyrically dubious.
For music from Brenmar that's equally sweaty (albeit in a far different way), check out his two R&B themed Dummy Mixes here and here.
Tracklist
Jody "Fingers" Finch – Jack Your Big Booty (BHQ No Acid Vocal)
Frankie Kuckles – Baby Wants To Ride
Mark Imperial – Dissin All Hoes (46th Street Dub)
MD III – The Pressure Cooker (M.D.'s Klub Mixx)
Candy J – Why Are You Wasting My Time (Club Mix)
Mark Imperial – J'adore Danser (Club Mix)
Adonis – No Way Back
Armando – Morse Code
Gant-Man – Juke Dat Girl From Tha Back
Paul Johnson – Construction Work
Jammin Gerald – Pass It To The Homie
Waxmaster – Footwerk 97
Houz Mon – Fear The Worlddd
Eric Martin – If You Ride N My Truck (FTP Up 96 Mix)
DJ Deeon – 3 Fine Hoez
DJ D-Man & Billy Boy – Dooky Boody (D-Man Club Version)
DJ Puff – Bang The Box
Jammin Gerald – Hold Up
Greedy J & Sleepy J – Nation Hoe
DJ Milton – JR Funeral
Dj Puncho – Let me C U Juke
Parris Mitchell – Muthafuckin Dog
Dj Clent – Back Seat Hoe
Green Velvet – Shake & Pop (Gant-Man's Juke Remix)
Traxman – Get Down Lil Mama
Dj Funk – Bounce Dat Ass
RP Boo – Speakers R-4 (Sounds)