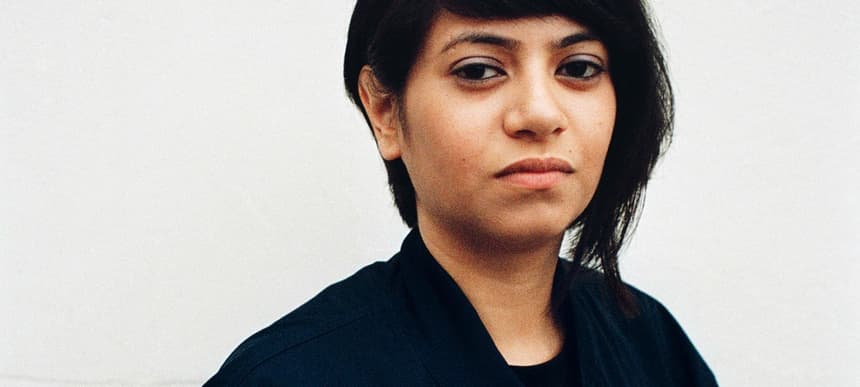 10.07.2013, Words by Aimee Cliff
Dummy Mix 173 // Ikonika
We're particularly chuffed to present this week's Dummy Mix, an absolute ripper from Ikonika. The West London producer is best known for her associations with the labels Hyperdub (where she released her first singles and the album 'Contact, Love, Want, Have' in 2010) and her own Hum + Buzz (co-run with Optimum and where she released the 'I Make Lists' EP last year) and streaked the rather bleak dubstep landscape with some much-needed colour and shine when she emerged in the mid-to-late 2000s.
She's set to release her second album 'Aerotropolis' later this month, and this mix opens with a stripped-back edit of its opening single Beach Mode before delving into an hour of distorted but forthright, hard-jacking beats. As far as those trademark synths go: alongside moments of relief like the "033472 edit" of Shed's Well Done My Son are another two of Ikonika's own productions, though her very vivid melodies tend to act more as catalysts than coolants – really tearing through tracks and adding to the great sense of momentum. Stream and download this forceful, forward-thinking mix and read our brief Q&A with its maker. 
Hi Ikonika! What have you been up to?
Been getting back into the swing of doing press stuff. I'm really excited to have a new album coming out.
Can you give us a little background to this mix?
I recorded this mix in my garden studio. Using Serato and vinyl on an Allen & Heath Xone 92, with a couple of midi controllers for loops and effects. I finally compressed using Logic. It's the sort of set I wish I could play more often, it's got a similar vibe to my Night Slugs Boiler Room set from last summer.
Your second album is obviously coming out very soon, is there anything we can glean about it from the mix?
The mix could be a look back, some of these tunes really helped the process of 'Aerotropolis', but also the healing from locking myself away.
You started with a Percapella version of your single Beach Mode – which is a smash. There has always been a great potential for vocals in your music but is this the first time you've actually incorporated singing in your work?
Yes, apart from remixes.
Bar the inclusions on this tracklist, what has excited you musically in 2013 so far?
I've been enjoying making a mess of things to devastating effect.
Lastly, what are you most looking forward to in the next six months?
Touring my debut live show.
Tracklist
Ikonika – Beach Mode (Percapella)
Soundhack – Untitled 2
Gesloten Cirkel – Moustache
Omar S – I Just Want
Legowelt – Elements of Houz Music
Gesloten Cirkel – Yamagic
Ricardo Villalobos – Enfants (Chants)
Soundhack – Devil's Run
Shed – Well Done (033472-edit)
Dirty House Crew – Cantina Tango
Steve Poindexter – Work That Mutha Fucker
Geeman – Computer Jackin'
Photek – Mine To Give
Zoltan – Saturn
Mick Finesse – They Sex Machines (Perc's Dub Decision)
MikeQ feat. Fade – Pussy Cunt
Fidel – Andreas
Ikonika – You Won't Find It There
Ph0t0machine – Technicolour (Optimum's 808 Reduction)
Marcel Dettmann – Apron
Mr. G – Potent
Fingers Inc. feat Robert Owens – I'm Strong (Instrumental)
DJ Vague – Porche Trax 2
Eric Martin – Emergency (Steve Poindexter re-edit)
Bok Bok – And Dancin'
Ikonika – Praxis
Hyperdub will release 'Aerotropolis' on 29th July 2013.