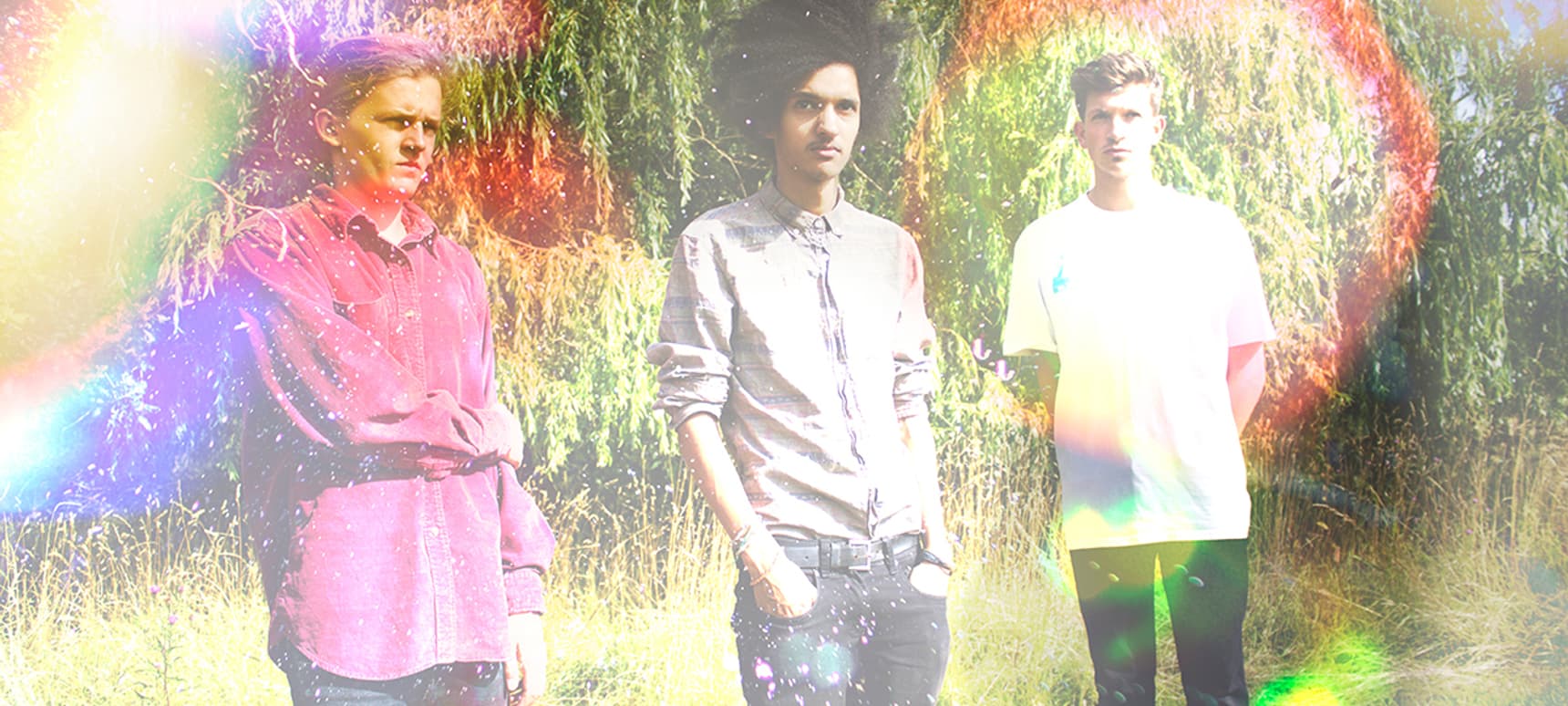 26.09.2013, Words by Aimee Cliff
Dummy Mix 183 // The Soft
The Soft are a band who make music that doesn't sit comfortably in any one genre. That's because, as they self-consciously address with the title of their 'Uncanny Valley' debut EP, it's the boundaries that fascinate them – they work on the borderline between synthesised and found sound, between digital and acoustic, between audio and visual. A trio of bright young things hailing from Suffolk, Zander Fletcher, Henry Morris and William Glass caught the attention of Border Community's Luke Abbott when playing a small gig in Norwich last year, and just released their new EP on Ceremony featuring a helping hand from Abbott himself as well as engineer David Pye (who's also worked with Egyptian Hip Hop and Wild Beasts).
Building on the muggy, moody textures of their self-released 2011 'Hot Summer' EP, and accompanied by a more streamlined visual aesthetic (as shown in their head-spinning videos), 'Uncanny Valley' is a delirious, psychedelic listening experience anchored by a real sense for a danceable beat. The vocals are always kept just out of reach with dizzyingly layered production, but they're applied with the perfect lightness of touch to allow cracks of light to shine through the experimental swathes, offering an emotional accessibility.
In our chat below, Morris says that the band are trying to get away from their "ambient", "shoegaze" image, and with this grin-inducingly fun mix, it's easy to see that these three have a few more strings to their bow. Take a listen to the 'Uncanny Valley' EP over at Dazed, and stream the mix in the player up top (or download it here).
So, The Soft, how are you doing today?
Morris: Absolutely fine, thank you ! It's release day so our house is pretty excitable right now.
We always refer to you as a "Suffolk trio" but I heard that you've just moved to London. How is the big city treating you?
Morris: It's great. After 17 years of living in a small town it's great to be somewhere with some variation, vibrancy, colour… It's definitely affected the sort of sounds we've been listening to and making in the past few weeks. We've been meeting new friends, going to new places, and although its been a bit stressful at times, the change is definitely positive.
What's going on in this mix?
Morris: It's basically a collection of the records that defined my summer. The tracks aren't necessarily new, in fact some of them are pretty ancient, but many are artists I've discovered recently. These tracks have all been essential in my DJ sets. The mix definitely defies genre restrictions, but I never really stick to one sound for long, I wouldn't want to put myself under that kind of constraint. In this mix i wanted to show people the diversity of our influences. I think it's a way of moving away from the "shoegaze", "ambient" image we created for ourselves early on, although we certainly haven't forgotten those sounds.
Luke Abbott had a hand in your EP. He told me earlier this year that the bands he works with "have to be able to do something that I can't do, and I have to be able to add something to what they do." What did he add to your music that you couldn't?
Fletcher: Luke has a way of making synthetic tones sound completely natural, organic even. His album was a huge influence on us prior to meeting him, so working with him (and David Pye) was a pleasure. Also getting to see him use his modular was an experience, I didn't dare touch it though.
I'm a big fan of the uncanny valley theory – it's why I have to change the channel if I see The Polar Express on TV during the Christmas holidays. Where'd you first hear about it?
Fletcher: I honestly can't remember, but I've always been interested by technology, particularly video games. I think the idea of it just caught my attention somehow. The theory is becoming more and more relevant as technology and synthetic life forms advance, meaning video game graphics and artificial intelligence are becoming more and more realistic.
What's next?
Morris: Well we've got a lot of new ideas in the works, but they're so varied we really need to figure out which direction we want to take our sound. We're currently collecting remixes of the EP back from a really great list of producers, which is really exciting for us. I think we just want to get out there and play the EP out live as much as possible, we've been doing a live audio/visual show with our third member – visual artist William Glass – which is heavily improvisational and weird, so we definitely want to keep focussing on that and introducing people to another aspect of The Soft. It's really important that people get the whole package, not just the music. Hopefully soon you'll also get to hear a remix we did for our friends and one of our favourite bands, The Physics House Band. They're really talented and definitely getting some of the attention they deserve.
Tracklist
Jeremy Greenspan & Borys – Stylite Feat. Christina Stealy [Jiaolong]
Metro Area – Muira [Environ]
Risque Rhythum Team – The Jackin' Zone [Soul Jazz Records]
Leon Vynehall – Don't Know Why [Man Make Music]
DJ Koze – Mariposa [Kompakt]
Anthony Naples – Mad Disrespect [Mr Saturday Night]
Kool Vibe – Be Someone (Kool Mix) [Trax Records]
Rick Wade – Nothing To Fear [Harmonie Park]
Mike Huckaby – We Can Make This [Deep Transportation]
Move D – Say I [Electric Minds]
Huxley – Atonement [20:20 Vision]
Black Magic – Let It Go (Ken Lou Mix) [Strictly Rhythm]
Ceremony released 'Uncanny Valley' on the 24th September 2013.