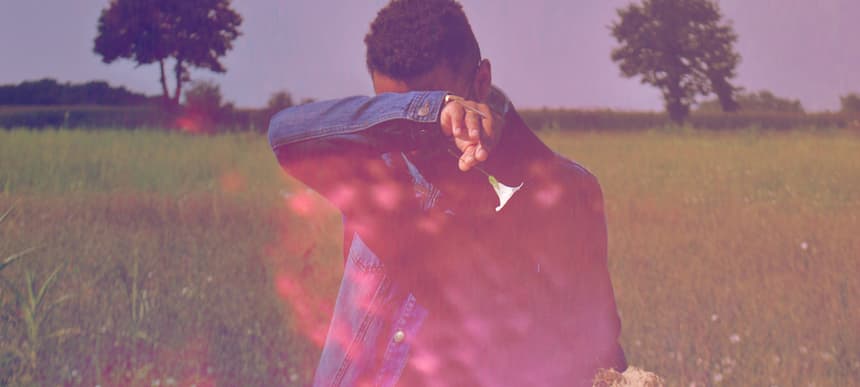 18.12.2013, Words by Aimee Cliff
Dummy Mix 194 // patten
Warp Records recently announced that the elusive patten had signed to their label, news that was met with a big grin here at Dummy. For those unfamiliar with his work, patten has been behind a lot of beguiling, intriguing experimental music to emerge out of London in the past few years, whether as a solo artist (his debut album 'GLAQJO XAACSSO' saw a release through No Pain In Pop in 2011) or as head of the stonking label Kaleidoscope.
patten's debut release for Warp was the five-track 'EOLIAN INSTATE' EP, and in support of that release, he's put together this stonking mix – titled "Forty-Five Minutes (Atomoxetine mix)" – for Dummy. We say "mix", but that's maybe not an adequate decscription. There are no slick blends, or full tracks, and it's more like an incredibly frantic jump through songs both great and weird, going from Nirvana to Tubular Bells to underground punk to Stereolab deep cuts in the space of about a minute. Still, such genre-hopping seems to make perfect sense in patten's head, and the result is one of the maddest, most ridiculous, and downright brilliant mixes we've had on the site this year. You stream it above or download it here.
Here, patten introduces the mix to Dummy readers, and talks a little about his latest EP.
Hi, patten! Where are you right now and how's the view?
patten: "9/12/13. 11.46am. Watching the clock hands change. 11.47am."
Tell us all about this mix. What was the guiding principle behind it?
patten: "A mix of 45 minutes was requested, so the piece is comprised of 45 unaltered minute-long sections of music, one after the other, connected by various logics. A sort of exquisite corpse."
Huge congratulations on signing to Warp! If you could sum up your 2013 in three words, what would they be?
patten: "Two. Thirteen. Zero."
Your recent 'EOLIAN INSTATE' EP is a dense, intricate listen; how did you feel when you were making it?
patten: "So many different ways. Some might be left there in the music. Accelerated into a kind of latent constantly unfolding present. Embodied by a chord, articulated in pulses through the air. Others will be inaudible but still present and felt. Mosquitoes in amber."
What can we expect from your second album, due on Warp in 2014?
patten: "Sound and silence."
And what's on the horizon for Kaleidoscope next year?
patten: "A permanent dawn."
Finally – what tune will you be seeing the New Year in with?
patten: "The violent sound of time rushing forward."
Tracklist:
Sibylle Baier – Driving – 'Colour Green' [recorded 1970-1973, released 2006 Orange Twin Records]
Autechre – jatevee C – 'Exai' [2013 Warp Records]
Ariel Pink – Pleasure Spot 2 (Lucinda Cunt) – 'Ariel Rosenberg's Thrash and Burn' [recorded 1998, released 2006 Human Ear Music]
Rachel's – Esperanza – 'Systems/Layers' [2003 Quarterstick]
Die Monitr Batss – Spread Yr Leggs, Release The Bats – 'Youth Controllers' [2003 Dim Mak Records]
Luther Vandross – Never Too Much – 'Never Too Much' [1981 Epic, Legacy]
U. Shrinivas & U. Rajesh – Raghupathi Raghava Rajaram – 'Maestros in Concert VCD' [2002 Music Today]
Egyptian Hip Hop – Pearl Sound – 'GOOD DONT SLEEP' [2012 R&S Records]
Self Control – Just A Feeling – 'v/a Toronto Underground – Chronicle' [1993 Toronto Underground]
Iggy Azalea – The Last Song – 'Ignorant Art' [2011 Self-released]
Sufjan Stevens – Movement III Linear Tableau With Intersecting Surprise – 'The BQE' [2009 Asthmatic Kitty]
Drexciya – Intensified Magnetron – 'Drexciya 3 – Molecular Enhancement' [1994 Rephlex]
Randy Crawford – Rainy Night In Georgia – 'Secret Combination' [1981 Warner Bros.]
Nirvana – Radio Friendly Unit Shifter – 'In Utero' [1993 DGC]
Laurel Halo – Sunlight On The Faded – 'Sunlight On The Faded' [2012 Hyperdub]
Steve Reich – Section VI – 'Music For 18 Musicians' [1978 ECM Records]
The Congos – Ark of the Covenant – 'Heart of the Congos' [1977 Black Ark]
Neneh Cherry – Manchild – 'Raw Like Sushi' [1998 Virgin]
The Sun God – Maum – 'Being Hieroglyphic' [2012 Bio Rhythm]
The Magnetic Fields – Love is Like a Bottle of Gin – '69 Love Songs' [1999 Merge]
Daedelus – Drown Out – 'Looking Ocean' [2012 Scion A/V]
Goldie – Inner City Life – 'Timeless' [1995 FFRR Records]
David Lange – I Lie – 'The Little Match Girl Passion' [I Lie first performed in 2001, released 2009 Harmonia Mundi]
Justin Timberlake – My Love – 'FutureSex/LoveSounds' [2006 Jive, Zomba]
Sam Prekop – Brambles – 'Old Punch Card' [2010 Thrill Jockey]
The Dance – Tumble To The Power – 'Soul Force' [1982 Statik Records]
Captain Murphy – Gone Fishing – 'Duality (Instrumentals)' [2012 Brainfeeder]
Syd Barrett – Opel – 'Opel' [recorded 1968-1970, released 1988 Harvest, Capitol]
Soul 4 Real – Candy Rain – 'Candy Rain' [1995 Uptown/MCA]
Kyle Hall & Kero – K2 Attack – 'Zug Island' [2012 Wild Oats]
Stereolab – Cybele's Reverie – 'Emperor Tomato Ketchup' [1996 Duophonic, Elektra]
Avey Tare & Panda Bear – Spirit They're Gone – ''Spirit They're Gone Spirit They've Vanished' [2000 Animal]
Quasimoto – Hydrant Game – 'The Further Adventures of Lord Quas' [2005 Stones Throw]
Mike Oldfield – Tubular Bells, Part One – 'Tubular Bells' [1973 Virgin]
Diana Ross – My Old Piano – 'diana' [1980 Motown]
Roof Light – Around Here – 'In Your Hands' [2009 Styrax Records]
My Bloody Valentine – who sees you – 'mbv' [2013 MBV Records]
Claude Debussy – Clair de lune – 'Suite Bergamasque' [composed circa 1890, revised and published 1905]
Lesser – Mensa Dunce Squad (Leg Up Program) – 'Mensa Dunce Squad' [2001 Tigerbeat6]
Jeremih – Fuck U All The Time – 'Late Nights With Jeremih' [2012 Self-released]
Delta 5 – Delta 5 – 'See The Whirl' [1981 PRE Records]
Wu-Tang Clan – Triumph – 'Wu-Tang Forever' [1997 Loud/RCA/BMG]
Broadcast – Valerie – 'Haha Sound' [2003 Warp Records]
Rangers – Bel Air – 'Suburban Tours' [2010 Olde English Spelling Bee]
Prince – Purple Rain – 'Purple Rain' [1984 Warner Bros.]
Warp released the 'EOLIAN INSTATE' EP on November 26th 2013.