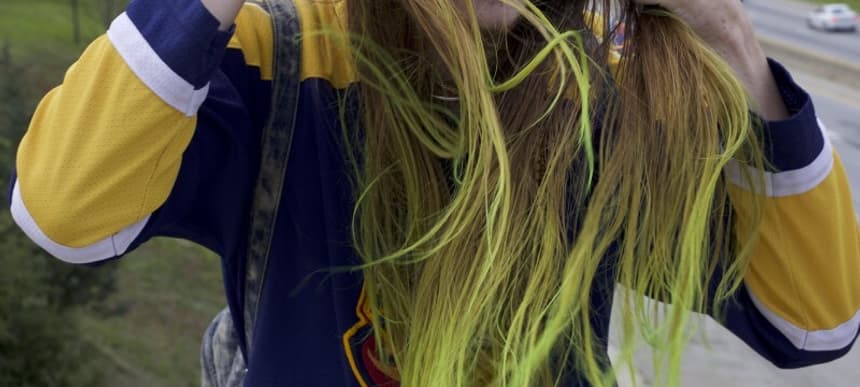 22.01.2014, Words by dummymag
Dummy Mix 195 // DJ Vague
That Beau Thigpen is a talented bloke. Hailing from Stone Mountain, Georgia USA, Thigpen is best known for his relentless and downright incredible production work with Night Slugs under his main alias, Helix, but over the past couple of years he's also released music under other names in other styles, such as Thigpen and, now, DJ Vague.
The DJ Vague alter ego is really an excuse for Thigpen to turn his hand to hard, fast, looping, and hypnotic techno. Earlier this week, Australian club label Templar Sound released DJ Vague's first EP, 'Porsche Trax', a three-track EP of relentless beats to blast down a highway with your foot glued to to the pedal. Its video (directed by Youtube heartthrob hurfyd) is a neat distallation of the DJ Vague sound into visual form.
His Dummy Mix for us today consists of 100% original productions, slaying through what seems like a million pumping tracks at rocket speed (well, 140bpm), drawing immediate and obvious comparisons to the likes of Jeff Mills, or Daft Punk back in their great pre-'Homework' days. It's also great, but that's not a massive surprise. Stream it on this page or download it on our Soundcloud.
We hit up Thigpen over email to get the lowdown on the DJ Vague project and to see what the future holds. Given that he's one of the most refreshingly outspoken and outrageous personalities in the often quite polite world of dance music today, his answers are very entertaining.
Hello, Beau! How's the weather?
DJ Vague: "ITS COLD AS ALL GET OUT IN THE A RIGHT NOW. I SEEN SNOWFLAKES LIKE A FEW DAYS AGO." [sic]
This mix is 100% DJ Vague material. For the uninitiated, what separates DJ Vague from Helix or Thigpen or, uh, DJ Elements?
DJ Vague: "SMFH, who told you about DJ Elements..? The DJ Vague name started as a way to release stuff that wasn't a good fit for Nite Slugz, but now it's kind of become this spare alias for fast techno trax that you can just throw in the mix and jack to."
Some of the material on your new 12" has been kicking about for a while. Is this release simply a case of finally putting out old tracks, or the beginning of something new and beautiful?
DJ Vague: "It's both, because now that EVERYONE FOUND OUT that I'm Helix, it means I can't just put beats out and see if people like them, it means I have a little pressure to live up to. But I'm in talks with a label or two about releasing some DJ Vague material. You'll find out one day."
If you were to give me a tour of Stone Mountain, where would we go?
DJ Vague: "To my weedman, for obvious reasons, to Texaco for blunts, and then to the top of Stone Mountain to see the majesty of the Metropolitan Atlanta area."
What are your hopes and dreams for 2014?
DJ Vague: "To Better Myself And Those Around Me. But real talk, I'm just try'na be healthier, spread some positivity and good music around, and make some nice guap. Basically, same as last year, but better."
Templar Sound released 'Porsche Trax' on January 20th 2014.