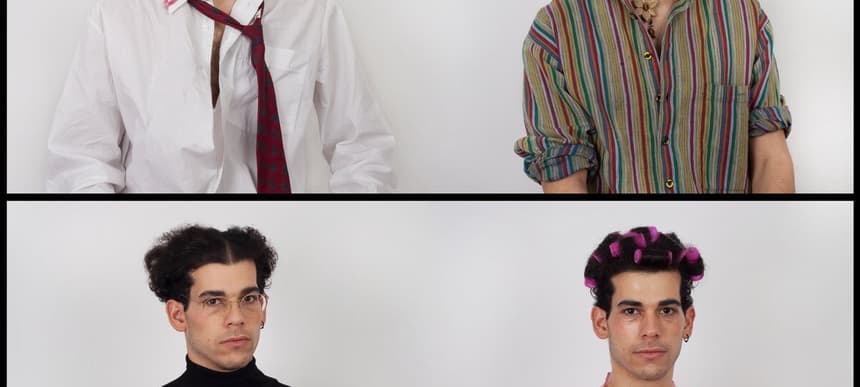 23.04.2014, Words by dummymag
Dummy Mix 207 // Physical Therapy
As Physical Therapy, Daniel Fisher has been behind some of the better, stranger dance records to have come out over the past couple of years on labels like Hippos in Tanks, Fifth Wall, and Grizzly. Although it has has its basic foundations in techno and house, Physical Therapy's music is free of genre (he has an unabashed love for pop music, for example, with some of his earlier productions being bootlegs of artists like Carly Rae Jepsen and Alicia Keys), but there's always a consistency in its character, with Fisher's offbeat sense of humour coming across every time. Hailing from New Jersey, Fisher is also a Berlin regular – his shows on Berlin Community Radio are a must listen.
Most recently, Fisher started his own little label, Allergy Season, as an outlet to release music by himself and his likeminded friends. More than your typical vanity imprint, Allergy Season is a clear labour of love, with a playful visual identity (it's probably the only Benadryl-themed tecno label out there) that we wish more serious techno institutions could take a cue from. The label's most recent release was a new Physical Therapy EP from Fisher himself, the excellent 'Million Years Crushed' EP, which featured a remix from Berlin techno overlord Norman Nodge.
Coinciding with that release, Physical Therapy has put together a new Dummy Mix, a solid DJ mix which features tracks from Jeff Mills, Mood II Swing, and The Chemical Brothers, as well as a bunch of tracks by cohorts like DJ Richard, Galcher Lustwerk, MGUN, and Max McFerren.
Hey PT! How are you doin'?
Physical Therapy: (Physical Therapy literally sent us this emoji)
What is the deal with this mix you've made us?
Physical Therapy: "Just some tracks I've been playing out recently blended a bit more scientifically than a live mix. Chill emotional music!"
I enjoyed the Norman Nodge remix on your new EP. How'd you two meet?
Physical Therapy: "I cold called Ostgut Ton with the track to see it he would be interested and he was. Always worth a try!"
While we're on the subject of your new EP – it's on your own label, Allergy Season. I love the whole visual identity of the label. Do you have plans to do anything more with it in the future, or is it just going to remain an outlet for your own music?
Physical Therapy: "Thanks – no, there's a lot more coming out on Allergy Season. There are two artists with upcoming releases on the mix – Head Hz and Max McFerren. Expect a steady stream starting in late summer."
Tracklist:
01. DJ Guy – Thats AS54 Side A – Trk 4q [Self-Released]
02. Galcher Lustwerk – Global Style (Edit) [Pacific Psychedelia Tapes]
03. Head Hz – Wud U Do Me [Forthcoming Allergy Season]
04. MGUN – Mask [Third Ear Recordings]
05. King Maurice – Hoe Patrol (Massive Pitch Mix) [King Street Classics]
06. Johnick – Tales Of Morbid Jerry [Henry Street Music]
07. Divas Of Color (feat. Evelyn "Champagne" King) – One More Time (Hiroshi W. Nite System Dub) [King Street Classics]
08. Dense & Pika – Colt [Hotflush]
09. Avalon Emerson – Church Of Soma [Spring Theory]
10. Mood II Swing – Call Me (Duke's Pink Dub) [Earth, Moon & Sun]
11. Physical Therapy – On The Rag [Unreleased]
12. Och – Up For Lost [Sect Records]
13. Pianoheads – Distortion (Choo Choo's Trifling Bitch Mix) [Subliminal]
14. Dennis Desantis – Koro [Third Ear Recordings]
15. Hardhouz Inc. – Snares [Sex Mania]
16. Blaze – Lovelee Dae (Eight Miles High Mix) [Urban Tracks]
17. DJ Richard – Nailed To The Floor [White Material]
18. Jeff Mills – Time Keeps On Slipping [Axis]
19. Handsome Head – Qing Shao Nian Nuo Zha (Henning Baer Extended Mix) [Fifth Wall]
20. Max McFerren – 2 Young 2 Be So Zen [Forthcoming Allergy Season]
21. Fatboy Slim – Song For Shelter (Chemical Brothers Mix) [Skint]
22. Galcher Lustwerk – Kaint (2) [Unreleased]
Allergy Season released the 'Million Years Crushed' EP on April 7th 2014 (buy).