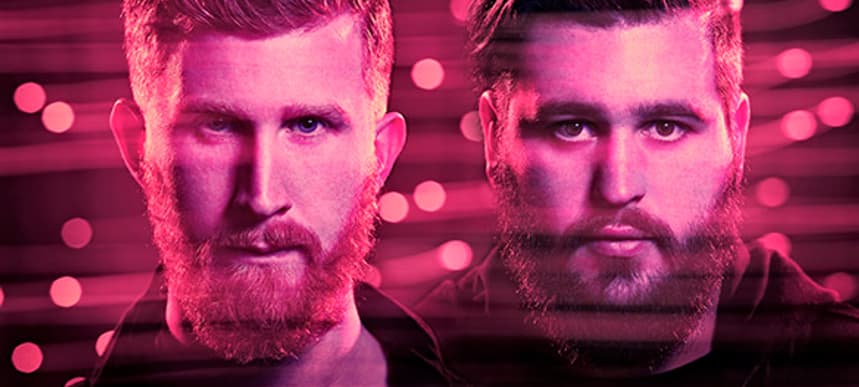 09.07.2014, Words by dummymag
Dummy Mix 217 // Cloud Boat
We're only just clear of a year since Cloud Boat put out their debut album 'Book Of Hours' on R&S subsidiary Apollo Records. At the time, it had us revisiting that stagnating notion of post-dubstep and discovering this solemn-but-direct duo building on it and combining elements of folk and soul to find a timelessness in their sound, brought out elegantly on Youthern's chant-like yearns.
When reports of the duo's second album 'Model Of You' emerged, the duo emphasised that this record wouldn't be quite so emotionally draining as the last, and promised "something bolder, bigger and more ambitious". There's still plenty of their heavy songwriting to be found here: All Of My Years is a whopping ballad that drags its weight around with pain, reverie and regret, and includes the line "footsteps still sound like the sound of my head on the floor". But there's plenty of jolts of energy shot through 'Model Of You' too: Hideaway is likely their most rounded pop piece yet, and rousing closer Hallow carries the spirit of a band letting loose and thinking big.
When their mix arrived, Sam Ricketts (guitar) described it as "a somewhat wayward journey, traversing a few of the bangers I've been enjoying recently". Bangers there most certainly are, with the presence of the likes of Vex'd's Angels giving a clue to some of the noughties sounds that have clearly informed Cloud Boat's approach, while we suspect this is a Dummy Mix first for blending a Grimes tune into DMZ's formative bass-wobbler Coki. Have a sift through some quick questions with the guys and a full tracklist below.
Hey Cloud Boat! What can you see out of your window right now?
Cloud Boat: "The tops of trees and an apathetically cloudy sky!"
It was only last year that you put out your debut. Did you manage to fend off any second album jitters and get right back on it for 'Model Of You'?
Cloud Boat: "Initially I personally did have a few worries about whether I had anything worthy to give, but once I actually began playing guitar everyday and working with some beats Tom had made, then ideas began to form. Once we'd forged a relationship with our producer Andy and knew we had the support of a great label, we really hit our stride and never really ever found the process anything other than gratifying."
Andy Savours, who's worked with Sigur Ros and My Bloody Valentine, produced this record. What was the experience working with him like?
Cloud Boat: "It was brilliant! We'd been uncertain as to how we'd take to it, given how undisciplined the bedroom production of our first record had been. But all our ideas were still born at home, and Andy was there to push us in directions we might not have otherwise explored fully, and also to take things to the next level sonically. He was a joy to work with, and we enjoy lots of the same things in terms of music, beer and humour which helped!"
Your Dummy Mix certainly shows us off some diverse tastes. Would you say when you see DJs you prefer eclecticism over more genre-specific sets?
Cloud Boat: "I think especially with these kind of mixes, it's really nice to put some personality in, and for it to be a broader representation of yourself. Not that I have anything against very genre specific, smoothly mixed mixes at all, but that's not something I find myself able to do! I'm into such a great variety of music, that I find it hard to keep track of what's new or current in any particular scene or genre. At clubs too I've always enjoyed DJs who lean towards the more eclectic or unexpected styles of playing. I think this is something which I've always liked about dubstep and grime, where tracks and rewinds are going off all over the shop!"
You've got Grimes' new track Go on there, which has kinda split the internet since it was shared. What is it you dig about it?
Cloud Boat: "I really enjoyed her first album, so I was obviously intrigued by the new track (especially after hearing Rihanna had turned it down). It's just a bit of fun really, and made all the more so by mixing it into a Coki tune."
Any funny stories you can share about the recording of 'Model Of You'?
Cloud Boat: "Tom and Andy encountering the biggest pile of faeces either of them had ever experienced in the alley by one studio we were working in (this wasn't particularly funny at the time). Sam falling over carrying one of Andy's amps which previously hadn't worked but post-fall magically came back to life (this wasn't funny at the time either). Inventing very specific dance moves for every song. The 2am/8 pint drunken sing-a-long version of All Of My Years. Calling Andy 'Daddy' at every conceivable opportunity.
"Most of my memories of the recording process involve hysterical laughter, though I can rarely remember why. And if I could it'd surely make little sense now!"
Tracklist
01. Grouper – Living Room
02. Richard Skelton – Undertow
03. Vex'd – Angels
04. Flowdan – No Gyal Tune
05. Coki – Shattered
06. Grimes – Go (ft. Blood Diamonds)
07. Henry Saiz – Fill Me Up (Essáy's Run Away Remix)
08. Four Tet – Sing
09. James Blake – Limit to Your Love (Few Nolder Edit)
10. Daniel Avery – All I Want
11. Daphni – Jiao
12. Leon Vynehall – It's Just (House of Dupree)
13. John Roberts – Crushing Shells
14. Portishead – Machine Gun (Jimmy Edgar Edit)
Apollo/R&S release 'Model of You' on July 7th 2014 (buy).