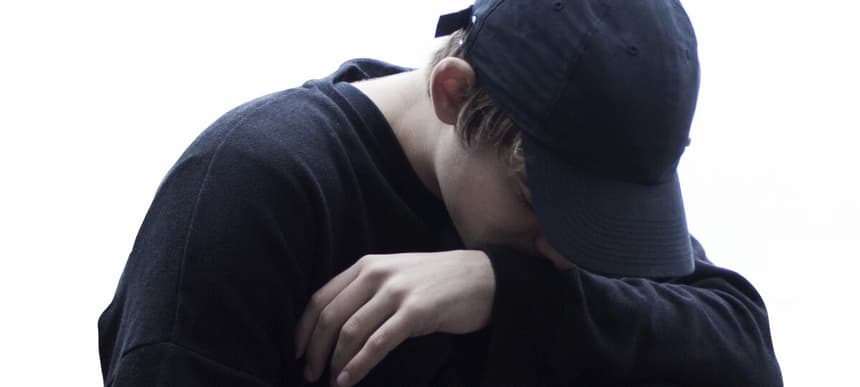 14.01.2015, Words by dummymag
Dummy Mix 240 // Torus
Torus is a young Dutch producer who has been impressing us since debuting on blog-'n'-label Sonic Router back in 2012.
His latest EP for Rwina Records, 'Temples', features four tracks of strange electronic music. It's sort of like rap beats, with booming 808s underpinning widescreen synth panoramas, all tied together by some seriously weird sample choices.
Although we'd argue that his highlight of 2014 was remixing a Eurodance classic, Torus himself would probably say that going to Tokyo for two weeks for Red Bull Music Academy was also pretty good – he's subtitled his Dummy Mix 'Life After Tokyo'. It's packed with exclusive and unreleased tracks from Torus and pals, and mixed together seamlessly.
We caught up with Torus over email to get the lowdown on the mix.
Hello Torus! Describe the environment where you are currently sat.
Torus: "Its 4am. I'm at my desk, but it's a mess. There's three mini cacti on the desk, about five €1 shades, a baby spoon with my name on it, a Kaonashi Spirited Away doll, a bottle of L'air de Colette, a 1992 Tommy Wright III cassette, a stack of Temples 12"s, and a Nike wristband. Right next to my desk, there's a Greek column with a fern on it. There's a bunch of shoes on the ground."
Tell us about this mix – it's crazy, acapellas and unreleased tracks everywhere!
Torus: "I just want a mix to be something more than just a selection of tracks, otherwise I could've just made a YouTube playlist for you, and I don't wanna just limit myself. I kinda look at it like 50 minutes of vibes and sounds – it's almost like making a song. It should sound new to the listener, even if there's parts they're already familiar with.
"For example, I got the Teengirl Fantasy acapella from Nick [Weiss] to take a shot at a remix with a couple weeks back, but I started fucking around with mashing it up with other songs and it really worked with the Dark0 jam, so I just got lucky that I got to mess around with it and now it's something new for this mix… might still make a remix though.
"I put the unreleased stuff in there for the same reason – I just wanna give the songs and secret gems I've been sitting on a special spot. Even if nothing is happening with 'em, at least they're out here. I made the intro especially for the mix, btw."
When searching for you on Google, the second hit describes you as "18 year old Torus", but it's probably quite old now. So let's set the record straight – how old are you now? Or are you eternally 18 years old?
Torus: "I'm 21 atm, but I think back then it was cool for people to drop my age everywhere they could if they wrote anything about me. I wouldn't say I'm eternally 18 though. I'm probably eternally 19. 19 is chill."
Got any tips for RBMA hopefuls?
Torus: "Try to think creative when answering the questions, but don't fake something you're not. Don't brag and namedrop too much, but don't be too modest. Show that you're open to all types of things, even if it's not the music you're making yourself. Make sure to give me a shoutout. Don't put 20+ tracks on the CD. Most of all, don't listen to people's tips about how to fill in the RBMA form."
What's your favourite .gif on the Torus Wikipedia page?
Torus: "Lmao this one is pretty tight. I'm getting WorldStar twerk Vine compilation vibes."
Dummy Mix 240 // Torus tracklist:
01. Chris Brown Forever (Torus Intro Drown Mix)
02. Chief Keef Shooters (prod. by TM-88)
03. Teyena Taylor Maybe (instrumental) + 4Strings Into The Night (acapella)
04. Torus Everyone Left
05. Waka Flocka Hard In The Pain (Torus 2k14 Turndown Mix)
06. Future Codeine Crazy (prod. by TM-88)
07. Andy Stott Faith In Strangers
08. Belinda Maldita Suerte (Lao Ronka Ruins Bootleg)
09. Suicideyear Hope Building A (Screwed)
10. K9 Stress (prod. by Dark0 & Visionist)
11. Mssingno Brandy Flip
12. Rick Ross Sanctified (Intro Loop) + 808 Kick
13. Dark0 Sweet Boy Tears + Teengirl Fantasy U Touch Me (acapella)
14. Tommy Kruise Washington (feat. High Klassified)
15. Gala Freed From Desire (Torus Graveyard Mix)
16. NYPD Police Scanner
17. Drake Views From The 6 (Torus Instrumental Remake)
18. Claude Speeed Ambien Rave + Bruno M Danca Do Scomba
19. Lil Wayne I'm Single
20. Palmistry Lil Gem
21. DJ Nigga Fox O Badaah (at 1.0 & 0.5 speed)
22. Even Tuell & Midnightopera Untitled 03
23. Porter Robinson Flicker (Qrion remix)
24. E+E Fire Gut
25. Chimes
Rwina Records released the 'Temples' EP on November 24th 2014 (buy).