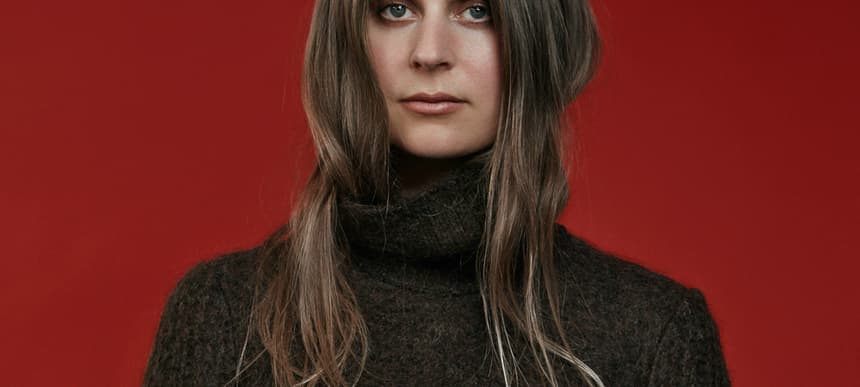 11.02.2015, Words by dummymag
Dummy Mix 244 // Lydia Ainsworth
Lydia Ainsworth's debut album 'Right From Real' was one of 2014's sleeper hits. Although its release via Arbutus Records in September was relatively low-key, new fans seem to be coming to the album every day, enticed by Ainsworth's widescreen, cinematic, experimental take on orchestral pop music.
And now new fans are able to catch her perform songs from the album live: normally based in Toronto, Ainsworth is currently halfway through her debut European tour, which includes a few dates in the UK.
Before those shows, she's shared a brand new Dummy Mix. Ainsworth is a composer of film scores, and it's perhaps best to think of her Dummy Mix as a soundtrack to an imagined movie – a movie set in LA, and set at night – weaving in choral pieces, pop songs, and snippets from other film soundtracks like Mulholland Drive and Chinatown.
We hit up Ainsworth over email to find out more about the mix and how the tour has treated her and her band so far.
Hello, Lydia! How have the past few months since releasing 'Right From Real' felt?
Lydia Ainsworth: "The past few months have been so beautiful! It's felt especially magical for me to share 'Right Fom Real' live; songs that I worked so hard on in isolation over the past few years, bringing them to life once more, exchanging their energies with audiences all over, is something I am really enjoying on my Euro tour at the moment. I am looking forward to more live dates in the future as well."
What's going on in this mix?
Lydia Ainsworth: "I often fantasize about living in California. Of all the places I've visited recently, I have felt most at home weaving up and down Mulholland Drive at dusk. This mix is a collection of my personal favourite tunes that I imagine would pair beautifully with the San Fernando Valley sparkling dusty pink and blue in the distance. You will hear some choral pieces – Stravinsky's Four Russian Peasant Songs for women's choir and French horns has been a long time favourite – and also a few movie score cues that to me embody the haunting beauty of California – Mullholand Drive and Chinatown – as well as songs that are particularly inspiring to my own writing at the moment that I would love to set against the backdrop of a night drive in LA. I hope you enjoy."
I liked your recent cover of Wicked Game. So many different artists have covered that song – what do you think causes people to keep going back to it?
Lydia Ainsworth: "When I made my cover of Wicked Game I had no idea how popular a song it was to cover. Only after I released it did it occur to me as people were writing about it as 'yet another cover of Wicked Game'! The song is so incredibly direct with its message and raw and exposed with emotionality, I think it has a universal appeal because of this, vulnerability is a feeling we can all relate to."
You're on tour at the moment – can you talk us through your live setup?
Lydia Ainsworth: "For my Euro tour I am performing on keyboard and have a bunch of vocal effects. I'm joined by a cellist and drummer."
I'm looking forward to catching you when you're over here! Have you ever been to the UK before?
Lydia Ainsworth: "I've been to the UK – my mom's family lives in London. It's the only stop on my tour that I've been to so the rest of the destinations will all be completely new to me. I've never performed in London so it's very exciting for me to stop by as well."
What city has had the best food?
Lydia Ainsworth: "So far I've been to Berlin, Hamburg, and I'm in Copenhagen right now. All have been great for food. Last night my band and I went to a raw food restaurant here in Copenhagen that was gorgeous. I had a strawberry ginger smoothie."
What stuff have you been listening to in the green room?
Lydia Ainsworth: "We've been listening a lot to Ratking."
What's the most outrageous thing on your rider?
Lydia Ainsworth: "Fresh ginger for ginger tea."
Dummy Mix 244 // Lydia Ainsworth tracklist:
01. Messiaen O Sacrum Convivium
02. Pink Floyd Green Is The Colour
03. Igor Stravinsky Four Russian Peasant Songs
04. Rebekah Del Rio Llorando (Mulholland Drive)
05. Ace Of Base All That She Wants
06. Jerry Goldsmith Love Theme (Chinatown)
07. Joni Mitchell The Hissing of Summer Lawns
08. Shostakovich String Quartet No. 8 – 2nd Mvt.
09. Madonna Don't Tell Me
Lydia Ainsworth live dates:
February 11th: Le Romandie, Lausanne
February 12th: Palace St. Gallen, St. Gallen
February 13th: Exit07, Luxembourg
February 14th: Espace B, Paris
February 15th: Generiq Festival, Dijon
February 17th: Sebright Arms, London
February 19th: Gullivers, Manchester
February 20th: Prince Albert, Brighton
February 21st: Leuven Artefact at Stuk Arts Centre, Leuven
February 22nd: subbacultcha @ Het Muziekgebouw, Amsterdam
Arbutus Records released 'Right From Real' on September 29th 2014 (buy). Lydia Ainsworth plays London, Manchester, and Brighton on her UK tour later this month (buy tickets).