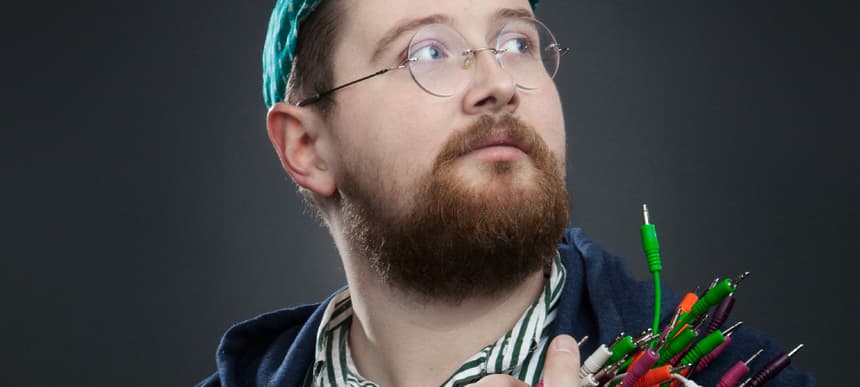 25.02.2015, Words by dummymag
Dummy Mix 246 // Dan Deacon
For well over a decade, New York-born and Baltimore-based electronic music composer Dan Deacon has been generously sharing his own very unique brand of synchronized indie electronica, informed and influenced by a keen interest in the histories of modernist composition and computer music. Considering his background, it is surprisingly needless – yet also wonderful – to say that Deacon has come to occupy quite a singular position in electronic music today, though it could be said he's been carving it out this whole time.
Deacon first appeared on the scene with his debut collection of 'songs' titled 'Meetle Mice' back in 2003, released while he was still a music student at SUNY Purchase. But it wasn't until 2007's 'Spiderman of the Rings' that his popularity really took off, helped by his Crystal Cat single, put out by Carpark Records that same year. Since then, Deacon has not only developed ever more as a songwriter and artist, with major albums such as 2009's 'Bromst' and 2012's ambitious 'America', but he's also taken on multimedia art, film scoring (such as Francis Ford Coppola's Twixt in 2011), and composing projects.
After several years consisting of projects and albums branching out from what characterized his early period, particularly with the introduction of live instrumentation and orchestration to his work, new album 'Gliss Riffer' sees Deacon return to making music on his computer by himself, the way he did when he first started out. Yet it would be hard to believe the last few years of 'experimentation' haven't affected him.
Dan Deacon's new mix for Dummy was inspired by what he was listening to while making 'Gliss Riffer' as well as what he's into at the moment. To go alongside the mix, we also conducted an interview with Deacon over email to find out how the album fits into his overall discography. Listen to the mix and read the interview below.
Your last two full-lengths, 'Bromst' and 'America', sound – arguably – like your most coherent collections of songs, at least in narrative, thematic, and compositional terms. Would you agree with this observation?
Dan Deacon: "I hear my own music very differently than other people do. It's hard for me to hear a song without hearing the process of the creation that went along with it. And of course, no two people can ever hear anything exactly the same. We all hear music and approach its context in our lives depending on our very unique pasts, tastes, moods, and our musical education.
"With all that said, I think 'Bromst' is the most thematically cohesive as far as instrumentation and tone. As far as narrative, I think 'Gliss Riffer' and 'America' are equally themed, and I think that 'Gliss Riffer' and 'Spiderman' are the most coherent compositionally.
"But when I'm making an album I really do think about the album as one piece and the songs as parts. The song order, the flow, the songs that make the cut, etc. all play into the overall form."
After an album like 'America', what kind of music did you want to make, and what kind of album were you thinking of doing?
Dan Deacon: "After 'America', I started working on a mixtape of remixes and mashups using only samples called 'Wishbook Vol. 1' that I released on Soundcloud. I started making it just for fun and it was a very different way of making music than 'America' or 'Bromst'. It really helped to inform the process that would become the drafts for 'Gliss Riffer'. It was really fun to work with samples and, mainly, to be making music solo and all inside the computer. That's how I started making music, that's how I fell in love with music. It was nice to rediscover that process."
Your new album, 'Gliss Riffer' is being described as a kind of back-to-basics, a return to the way you made music like 'Spiderman of the Rings', or possibly earlier material. If so, why'd you decide to take this approach at this point?
Dan Deacon: "I love working with others, but ultimately I'm a solo artist. After several albums and projects that had large collaborative elements, I wanted to return to making something alone with the instruments I knew best. It was fun to make an almost entirely synthetic album after making two largely acoustic albums."
The first single for this album, and its opening track, Feel The Lightning, has a very bittersweet feel to it. Although it ultimately veers more towards the sweet than the bitter, it never forgets or totally conceals some kind of hidden pain, even in its most joyful aspects or moments. Is this something you wanted to inspire or keep present throughout this album?
Dan Deacon: "Like many of people, I get pretty intense anxiety. Even at my most happiest I have a hard time not feeling stress or anxiety. Music really helps me escape that and get lost in the moment and not feel the negative feelings and also cope with them so they aren't just hidden but resolved. When I'm writing lyrics I tend to compensate for the euphoric aspects of the music with themes on doubt, shifting consciousness, death of the body, etc.
"There are a few songs in my past that have the longing represented on 'Gliss Riffer' – mainly Snookered and Build Voice' off 'Bromst'. I think Feel The Lightning has a similar feeling to those tracks. I wrote the hook many years ago, after I stopped organizing a Baltimore music festival after five years. I realized it was over and while I felt really satisfied and happy with its end, I didn't feel finished – but I knew it was over, the time passed and it was out of reach. Know what I mean?"
I also noticed that Feel The Lightning isn't the only bright, poppy, and danceable moment on the album – there are quite a few. But this album really starts with a bang, so to speak.
Dan Deacon: "This is where I'd use a series of emojis if this were a text."
But on a deeper level, I also couldn't help but think about this album without also remembering your background and education in music, and your interests in composition, the modernist composers, and contemporary classical music. Even when I'm reading about you, people still like to make electronic/dance music and anything more composition/orchestra-based mutually exclusive, with a clear intellectual hierarchy. I feel you're a great example of how old and tired this dichotomy is. But what do you think?
Dan Deacon: "I totally agree. I also feel like people have a very difficult time understanding music or performance art that has any element of humor in it, even if slight. It's a broken system, but I try to not think about it. The internet seems to be a slow eraser of old habits that need to go, so I'll play the long game and just focus on making music that I care about."
What are your plans for supporting this album? Are you going to be trying anything different for your shows this time around, for example?
Dan Deacon: "I'm actually late for a production meeting right now about the new stage show. I don't want to talk about anything before it's finalized, but I'm really excited to overhaul the show. I made the transition from the floor to the stage about two years ago now and I'm really excited to fully embrace the stage as a place where performances can happen. I realize that sounds insane, since that is where nearly all performances happen, but for years I didn't use the stage and I still see the entire venue as the performance space and everyone in the room as a performer. But since I've ignored the stage for so long, it'll be be nice to focus on it and see what new creations it can help me to create."
Besides 'Gliss Riffer', are there any other things you're currently working on?
Dan Deacon: "I've been making a lot of ambient synth music that I plan on sneaking out on to the internet, and I've been working on a few other musical side projects. I've also been talking to a few bands about producing their music, which I'm very excited about. I've never produced the music of others, but it's something I would really love to do."
I still really like Francis Ford Coppola's movies, and I think his new era of films are really interesting and take risks. Needless to say, I enjoyed Twixt, and I liked what you and Osvaldo Golijov came up with for the score. How do you look back on it, and would you like to work on any more soundtracks? Which filmmakers would you be interested in working with?
Dan Deacon: "I'm glad you like it. It was a really insane process to score that film. Francis is great, and he has his visions and I 100% respect that. My favorite part of the process was when we had conversations one-on-one about music, film, and technology, about how new art forms that don't yet exist, that aren't music or film but rooted in them, are on the horizon. They were like master classes with a legend, and I view those times as extremely valuable. As far as scoring more films: yes, I'd love to, sign me up! I've done mainly work for shorts – most recently I scored some sections of Adult Swim's 'unedited footage of a bear', which was really fun. And as far as filmmakers go, I just want to work with people that are down to experiement."
Coming from a studio art background myself, and also being a huge fan of what came after the modernist composers, from Schoenberg, to Stockhausen, John Adams, and Michael Daugherty, I've always appreciated the influence on your music, going back to 'Meetle Mice', and likewise with your collaborations with artists. Do you have any specific plans for future projects in composing or with multimedia art?
Dan Deacon: "I've become very obsessed with mechanical instruments over the past few years and plan on composing for them a lot now that I have some. I'm also working on a video project that's in the very early planning stages and would be foolish to talk about now."
What are you listening to these days? Have your musical tastes changed at all from what you listened to when you first started out?
Dan Deacon: "Since I've gotten Spotify I feel like my musical tastes have exploded. I've been listening to so much more music than I ever have before. I'm also reading Yes Yes Y'all and listening to a lot more early hip hop, which is something I'm totally ignorant about. Very different from that, I've been really into Urlsa Bogner (who I put on this mix). Her music is so amazing. And there are a few Baltimore bands that I really love right now: Wume, Chiffon, and Oh Hang."
What's this mix you're doing for us all about?
Dan Deacon: "These are all songs that I've been listening to a lot and have revisiting for both inspiration and enjoyment from before I started working on 'Gliss Riffer' to after making it. In some of them it's just a slight feel or one instrument voice or small phrase or part, in others it's the full form or the total approach or the production or the lyrical narrative. It was a fun mix to make so thanks for asking me to make it!"
Dummy Mix 246 // Dan Deacon tracklist:
01. Brian Eno Backwater
02. Little Richard Rip It Up
03. DJ Snake Bird Machine
04. Stevie Wonder You Haven't Done Nothin'
05. Urlsa Bigner Inversion
06. Charanjit Singh Raga Bhupali
07. Madjid Khaladj Sama
08. Steely Dan Peg
09. Nine Inch Nails Closer
10. Joanna Newsom Bridges and Balloons
11. Steve Reich Drumming (Part IV)
Domino released 'Gliss Riffer' on February 23rd 2015 (buy).