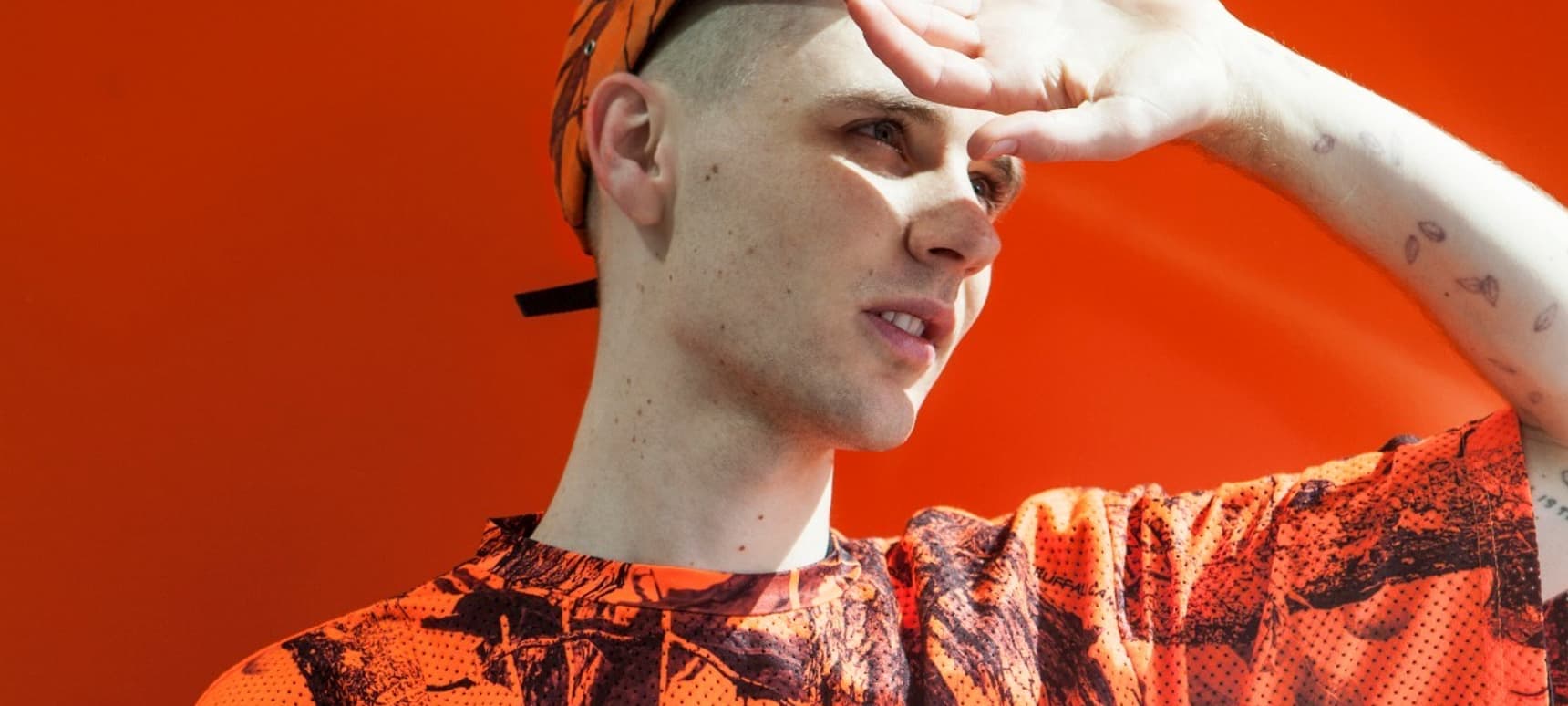 25.03.2015, Words by dummymag
Dummy Mix 250 // Air Max '97
Air Max '97 describes his music as "oblique club trax" – a description that's had a surprising amount of staying power, going some way to describing a certain aesthetic that's been percolating in the underground for a couple of years now. Hybridizing elements of Jersey club, Ballroom house, grime, and techno with more abstract sounds, it's the sort of music you can find on labels like Night Slugs Club Constructions, Her Records, and Astral Plane Recordings, and in DJ sets by the likes of Total Freedom, Lotic, Eclair Fifi, and Nguzunguzu.
Born in the Netherlands, raised in New Zealand, and currently residing in Melbourne where he runs the ESC clubnight alongside Aspartame and Rap Simons, Air Max '97's pristine club music has been wowing us since we heard his 'Progress + Memory' EP for Liminal Sounds last year. We've been wanting to tap him for a Dummy Mix for a while now, and with a second EP for Liminal Sounds in the bag and a new, Ballroom-leaning release for Trax Couture out now, we figured it's a perfect time to get him on the decks.
Check the mix below, and learn more about Air Max '97 in a short email Q&A after the jump.
Hello, Air Max 97! Are you sitting comfortably? What's new in your life?
Air Max '97: "I just quit my day job. Right now I'm traveling with my partner, then I'm back in Melbourne for a month, then I'm going on tour in Asia and Europe. I can't wait."
Tell us a little about your new EP – how does it differ from your Liminal Sounds releases, how did you hook up with the Trax Couture guys, and how'd your collab with the one and only Divoli S'vere come about?
Air Max '97: "My Trax Couture 'World Series Vol. 6' EP comes out on March 25th. I'm happy to be part of the series; I think it introduces some producers from a bit further afield than the normative club music narrative, and every volume so far has been really interesting and strong. This EP differs from my last Liminal one in its use of a slightly more pared back, darker palette. It's also my first release that has vocals on a track – Divoli S'vere on Reflex Glamorized. The vocal is actually from an acapella pack Divoli sent out to a few producers – I dropped that one over a track I had just written at the time, and it felt like the perfect element to complete it. I sent it to Divoli to OK and they were supportive. I'm glad Rushmore chose it for the EP, it's been one of my favourite things to play in my sets for a while now. I'm totally in love with Divoli S'vere's vocal performances and lyrical content, so I'm really honoured and proud to have them on my release."
You came from a noise/free improvisational background in the years before you started making club music. Do you feel there are any spiritual similarities between this style and the style of club music you're making today?
Air Max '97: "Sure, I think there is spiritual kinship – that's a nice way of putting it. I guess it's a logic of playfulness and experimentalism, and a love of texture and sonic diversity. But applied to the 'functional' space of club music."
What's the nature of this new Dummy Mix, then?
Air Max '97: "It's a clubbish set that implodes about halfway through and gradually reconstructs itself. It includes two cuts from the 'World Series' EP, Fruit Crush from my last EP, a blend I made, my remix of Victoria Kim and Divoli S'vere's Kiko Kicks, and some things I've been really enjoying from other artists."
We are based in London and obviously this means we're oblivious to anything going on outside the city, but I do know that you run the ESC clubnight in Melbourne and are connected to other producers in your own community. So who should we be looking out for?
Air Max '97: "My community is partially local here in Australia, but also distributed globally and connected online, so this list has a bit of both: Nidia Minaj, Jikuroux, RY4, Lotic, Simona Kapitolina, Broke Powers, Maia Butterfly, Strict Face, Aspartame, M.E.S.H., Lechuga Zafiro, Joey La Beija, Sharp Veins, Moslem Priest, DaSoLee, and more I'm forgetting right now."
Finally, why did you choose "Air Max '97" for your name rather than the marginally more popular "Air Max '95"?
Air Max '97: "I think I liked the '97's vibe; futuristic, fast, tough-but-cute, underrated."
Dummy Mix 250 // Air Max '97 tracklist:
01. Lotic x Inoj Slay You Down (Air Max '97 Blend)
02. Jubilee Jealous
03. Air Max '97 Fruit Crush
04. Neana Bow Kat
05. Rahel Restless (Joey La Beija & False Witness remix)
06. Air Max '97 Spoken
07. Maia Butterfly Downlow Dreamlover
08. Kingdom No Type Edit (feat. Justina Valentine & Germaine Edwards)
09. Iglooghost Wood Farm (Sharp Veins remix)
10. Nidia Minaj Mambos Fudiz
11. Lechuga Zafiro Fauxless Passinho
12. DJ Technics Questions
13. Hysterics Club Life
14. Tiffany Foxx Selfies
15. NBB Underground
16. Air Max '97 Reflex Glamorized (feat. Divoli S'vere)
17. Nightwave Night Life
18. Victoria Kim Kiko Kicks (feat. Divoli S'vere) (Air Max '97 remix)
19. Fatima Al Qadiri Shanghai Freeway
Trax Couture release the 'World Series Vol. 6' EP on March 25th 2015 (buy).