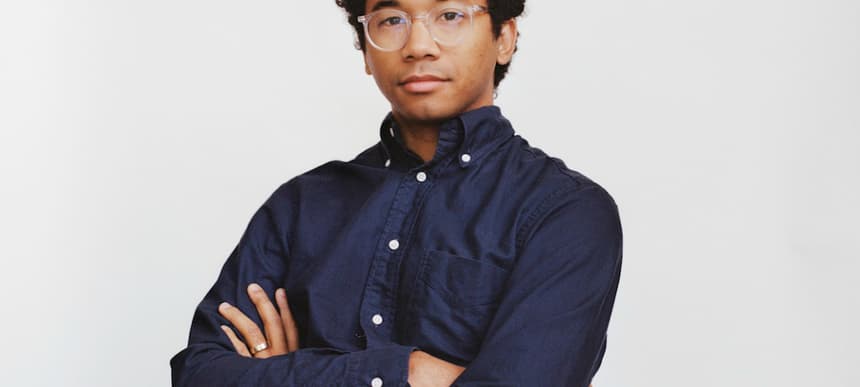 08.04.2015, Words by dummymag
Dummy Mix 252 // Toro y Moi
Under the playful and memorable name of Toro y Moi, songwriter Chaz Bundick has been making mostly electronic-oriented soft pop since about 2010, when, much to his eventual frustration, he was associated with the emerging and soon (perhaps prematurely) dismissed 'chillwave' genre. Toro y Moi has only grown in popularity since, becoming a fixture of the contemporary post-indie music scene. All the while, Bundick has both responded to how his music has been received and grown as a songwriter. It's fair to say that the chillwave days are far behind him.
'What For?' is Bundick's fourth album as Toro y Moi. It follows last year's electronic/dance-leaning 'Michael', released under the Les Sins alias, and 2013's 'Anything in Return', which saw Bundick branching out and experimenting with new and different influences from his first two albums while putting his vocal chops out on display. First single Empty Nesters seemed to suggest that Bundick had indeed ventured deep into rock territory as he promised two years ago, but, as with anything, it's never that simple: 'What For?' is still, unmistakably, Toro y Moi through and through.
We've been pining for a Dummy Mix from Toro y Moi for ages now and are chuffed that he's put one together. We also had a quick chat with Bundick to learn about the new album and how – if at all – it relates to how he's doing, and what he's up to these days.
Around the time you released your third album 'Anything in Return' in 2013, you were pretty vocal about expressing an ennui with your past output, music in general, and just about everything else, it seemed. What's changed for you since then – if anything – and how was making 'What For?' different from your other experiences?
Toro y Moi: "I think it was more what didn't change rather than what changed. For my previous albums, I was moving around so much while making them that I didn't really get a chance to nest into my studio and make something in a big chunk of time. But for this album I got to really work on songs for a little bit longer and really focus on making something different. I also wrote most of the songs with a guitar and piano first and added production on top, whereas before I'd just work on a song in big sections."
You do seem pretty happy on the album cover for 'What For?', and the title itself seems to suggest or at least imply some kind of contentment, but I could be wrong…
Toro y Moi: "Someone said the same thing recently and I told them that I feel like I'm in a great place and I'm very fortunate to be doing music at the level. The title somewhat is a nod to how it's sometimes better to let things be and let things happen the way they want, instead of thinking about how it could or should be, letting things occur naturally. Sometimes it's hard to keep track of what we really want in life and we let life get in the way of what is really important to us. That was somewhat the main theme for the record."
You also started mentioning your interest in rock music and having picked up a guitar back in 2013. From what I gather, you grew up listening to rock bands and only later got into hip hop and R&B, which are some of the genres many people said informed your first two or three albums. Obviously, this first single you've put out, Empty Nesters, is some of the most rock-oriented material you've ever put out. Now that you look back on it, why do you think you felt the need to work more with guitars? And what's behind the choice to make Empty Nesters the first single off this album?
Toro y Moi: "I really missed recording guitar and I really haven't made guitar-based music since being in the public eye. I try not to repeat myself and am always looking for new ways to approach music. I feel like guitar-based music is sort of on the backburner too – no one's really paying any attention to it, which is always a nice indicator of where I think I'd like to go next with my music. I like finding new processes and experimenting with ideas that aren't necessarily popular at the moment. As for picking Empty Nesters as a single, it was one of the first songs I wrote for the album. The label and my friends liked it and I trust their opinions. I felt like it was a nice representation of the new sound as well."
How do you feel with how 'What For?' came out? And how do you think it fits in with the rest of your work?
Toro y Moi: "I feel great about how the record turned out. It left me wanting to do more. I feel like a lot of my previous stuff had a lot of songs that I worked on for a little bit of time, but with this album I feel like I really got to hone in on crafting 10 solid songs. Compared to my other stuff, I think this fits right in with the progression of things."
What were the inspirations you worked with and what influenced this album, both music-wise and non-music-wise? I'm asking, because you're definitely mentioned some very interesting influences before…
Toro y Moi: "A big influence for the album was nature, both human and natural nature. I felt like I never would let things be the way they are and would try to force a scenario in a certain direction. Coping with nature and being comfortable with how things are were a big theme for the record as well. Musically, I listened to a lot of Todd Rundgren and Tim Maia. The sonics of their recordings were something I was trying to capture in my recordings. Culturally, I find myself always attracted to the '70s more because of the overall vibe associated with that era; it was a time where people and musicians were really pushing for peace and happiness. I feel like that's a message we need to continue spreading with music."
Especially after hearing Empty Nesters, a lot of people might be thinking that you've made a serious departure from past albums, but to me your new album sounds more like the transition itself made from 'Causers of This' to 'Underneath the Pine', rather than any one thing in particular. Your music is constantly described as a mish-mash of a variety of genres and sub-genres, but no matter what you do, I feel like I can recognize a specific, singular Toro y Moi sound and style…
Toro y Moi: "Thanks, it's hard to be 'original' but I feel that as long as you don't try to be original it'll somewhat happen on its own. Your sound and style will come through no matter what. A nice example is when you listen to Arrow Through Me by Paul McCartney – it sounds like it could almost be a Michael Jackson song, but McCartney's style still comes through even though it sounds like nothing he's ever done. But, what makes it awesome is that he executes it well and simply getting his idea across perfectly. I feel like if you strive to make good music it will find it's own audience without you having to 'try'– and by 'try', I mean without having to make something you think will be successful or catchy."
Actually, you've been pretty busy since expressing general frustration and boredom soon after putting out 'Anything in Return', you released the album 'Michael' under the name Les Sins, which itself was pretty well received, should we be expecting anything in the future from this side project?
Toro y Moi: "I guess I was a little frustrated with electronic music at the moment. I felt like it's becoming the cool thing or something, and it's sorta loosing it's effectiveness. Sonically, I love what electronic music can do. Recording with traditional instruments will never compete with that type of sonic spectrum unless with the help of a computer which is what led me to this next album. Currently, I'm not working on music to be released but hopefully soon I'll have some stuff though… I'm aways making stuff… I just don't know what to do with it sometimes."
So what's the deal with this mix you're doing for us?
Toro y Moi: "I still like finding and making electronic stuff and for the most part of this mix, this is what I'm currently into at the moment. I thought it'd be fun to do a mix of electronic stuff since the record isn't electronic. People's taste nowadays are so eclectic, I feel like y'all would enjoy it. Thanks!"
Dummy Mix 252 // Toro y Moi tracklist:
01. AbJo Three
02. Joe MB
03. REKchampa Bartender's Theme
04. D Tiberio Why Do I Stay?
05. REKchampa Collapsin' (feat. Brea)
06. Loose Joints Is It All Over My Face? (Female Version)
07. Broadcast Drums On Fire
08. Michael Angelo Sorcerer's Delight
Carpark Records released 'What For?' on April 6th 2015 (buy).