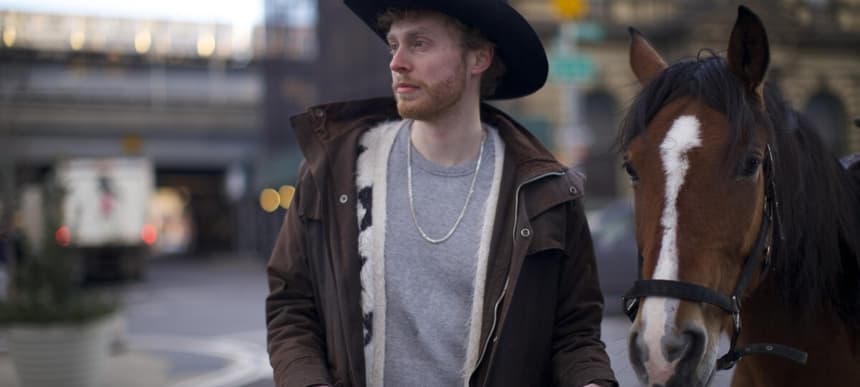 22.04.2015, Words by dummymag
Dummy Mix 254 // Drew Lustman
Drew Lustman has been releasing music under the name FaltyDL since 2009, with his last outing rightly lauded by many as his best yet. Released last year, 'In The Wild' was a big, ambitious record packed full of ideas. It sounded like the work of someone unfazed by expectations, and being able to settle into its extended running time felt all the more absorbing for it.
For his return to Planet Mu, who provided a home for his first two albums, he's adopted the name he uses in his everyday normal life, first introduced on an EP released last year. Drawing a line between the expansive sound of his most recent work, this (non-)alias serves to distinguish a more focused way of working.
The mix includes a fair chunk of material from the new album, 'The Crystal Cowboy', making connections between musical influences as well as some more playful nods to lyrics and track titles. We spoke to Drew over e-mail to hear this thoughts about getting props from your heroes, jungle's influence and growing a really massive beard.
The album seems like it's more simple in terms of a closer focus on the ideas that you explore. As well as a way to get away from the associations attached to FaltyDL, do you think using your real name had something to do with a more focused way of making music?
Drew Lustman: "The short answer is no, but I knew going into this that once I attached my own name to the project it might conjure different connotations than, say, the fifth FaltyDL LP (which blows my mind, that this is my fifth album). What makes this record congeal sonically and style-wise was that it was all made on the same setup and using similar methods in a short amount of time.
"Usually I'll make 10 tracks in two weeks and the best one gets put on the album. The cuts that made it happened to all have been done in the same mindset. I'm not sure if this sounds like I'm dancing around the question. I just wanted to make something hardcore. Less esoteric than 'In The Wild', which I loved making! It's just more straight to the point. The test will be how it reflects in my bookings for the rest of the year…"
I liked the way your mix dropped in a lot of the album tracks, making connections with those songs alongside them. Do you feel like you're engaged in that kind of dialogue when you're making music?
Drew Lustman: "Well, I've never been able to shake the goosebumps from incredible tracks. It sticks in my memory stronger than other sense memories. I have sounds in my head that I have been hearing since I was a little kid. Melodies I must have heard in children's songs that I just put breaks underneath now, haha.
"It's exciting knowing that I am participating in a tradition, and even more so when my tunes get props from heads I grew up on. Working with [Planet Mu label head] Mike Paradinas always has this underlying excitement and notion of approval. A kind of, 'Hey Mike, what do you think of this?!', sort of thing."
You include a 4hero track, and your first Drew Lustman release found a home on Dego's 2000 Black label. I wondered if working with people who you respect made a difference to you. Do you find having people's advice or input helpful?
Drew Lustman: "Exactly. Yeah for sure, although I'm aware that looking back to those guys too much may land me in some weird nostalgia hot zone. But then I look at these people and their 20 album careers and think, fuck, if I'm half as on it at that point I'll be grateful."
Speaking about 'In The Wild', you said that you'd started to feel more comfortable making music without worrying about how it would be received. Is doing this record in any way a development of that?
Drew Lustman: "Sure, you know two weeks ago I had my scheduled freak out with the label: 'Hey, who is hearing this?! What's press saying?!' That seems to be inevitable. But you naturally grow a thicker skin. I do believe there is space for an artist rebuttal, but we haven't quite evolved yet to where that's truly accepted. I can't count on one hand how many bridges I've burned because I speak my opinion after reading another's. It's just who I am. I won't take it laying down! Definitely not bent over."
The album often recalls a quite nostalgic jungle sound. Is there anything about that period of music that appeals to you in particular?
Drew Lustman: "The rawness. There is actually only a small amount of jungle I truly love. I like a lot, but the great stuff still sounds head and shoulders above anything freaky you hear in a club nowadays. Tracks like Green Technique is me just jamming. That's old school Falty. It's within an inch of being a breakcore track. Half the album sounds jungle influenced, the other just manic!"
Would you be able to talk about where you're at with your next FaltyDL record?
Drew Lustman: "So much is in the air with that at the moment that I'd be curious to know myself. It definitely won't sound like any FaltyDL album I've made so far, so I need to have an epiphany. I'm touring crazy right now. Europe on the weekends and coming straight home during the week. Rinse repeat. For about two straight months. It's taxing.
"I'm coming loose at the seems and not quite sure what to do with that energy. I'm not sure I want to channel it into music. I think I want to climb a mountain or grow a really massive beard. Whichever is easier."
Dummy Mix 254 // Drew Lustman tracklist:
01. FaltyDL Live Set Intro '09
02. Drew Lustman Green Technique
03. Drew Lustman Watch A Man Die
04. AFX (Mortal 1)
05. Drew Lustman Skyle
06. John Tavener The Lamb
07. 4hero Universal Love
08. FaltyDL untitled 111vgr
09. Luke Vibert Stabs of Regret (FaltyDL remix)
10. A Guy Called Gerald Sunshine
11. Radiohead Bloom
12. Drew Lustman Hyena
13. Drew Lustman Angel Flesh
14. Drew Lustman Onyx (feat. Le1f)
15. Roy Ayers Lonesome Cowboy
16. Eugene McDaniels Freedom Death Dance
17. Harry Nilsson Everybody's Talkin'
18. John Barry Midnight Cowboy
Planet Mu released 'The Crystal Cowboy' on April 20th 2015 (buy).