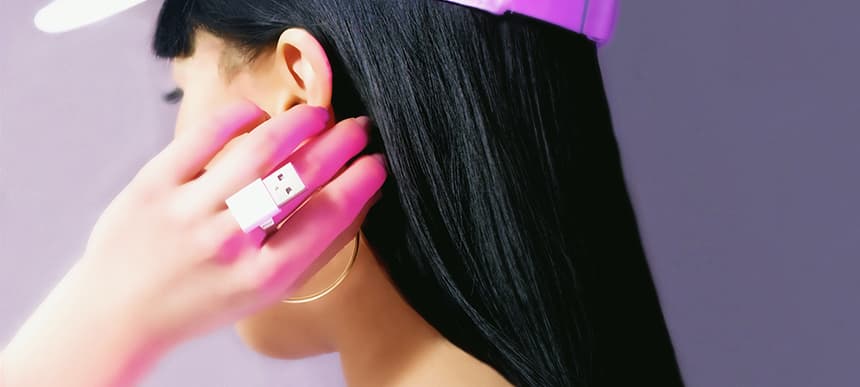 07.05.2015, Words by dummymag
Dummy Mix 256 // et aliae
London-based producer et aliae has seriously come a long way in a year. Her music, in essence, is a harmonious coupling of ambient soundwashes and sparse, punchy beats – introspective, bedroom-born atmospheres that feel beautifully dead-of-night. She's carved out a name for herself in the bustling throngs of online musicmakers – indeed, her clean-cut, abstract visual aesthetics speak of a certain stylistic leaning: firmly internet.
From her first glittering tracks of last year, including one called Baby for Ryan Hemsworth's Secret Songs, to her numerous remixes for artists including Kero Kero Bonito, et aliae has earned herself a sufficient number of admirers and associates. She actually appeared on her now label-home Cascine via a remix of Come Down Softly by then-future labelmates, Lemonade. Since then we've been sitting tight for an EP. Her latest, a single for Cascine called Only U, is a floating, shoegaze-flavoured pianoscape replete with heaven-sent vocal samples and ambient sonic watercolours, and dripping with luscious percussion.
Now we're happy to present a Dummy Mix straight from et aliae, an odyssey of beats-heavy music sprinkled with R&B-vibes, trap, lashings of bass, and a few K-Pop gems, too, taking us through the Korean rapping of Rubber Soul to Baauer to none other than Hilary Duff. We were also lucky enough to say hi and quiz et aliae via email.
I'd like to say that I really like your latest song. What was the thinking behind Only U?
et aliae: "I wanted to make a track that could impart a sense of peacefulness on the listener. I liked that people gave it a romantic connotation after it was released, I think that might be a better interpretation of the song than what I had intended when I made it."
And, of course, how did you first get into making music?
et aliae: "I started the project in the beginning 2014, just a few months after I was experimenting with Ableton and it kind of took off from there. I've been playing the piano since I was a kid so it felt like a logical step moving from playing other people's music to writing my own. The tools that are available now to the average 'bedroom producer' makes it so easy and fun to make music."
You're studying at Central Saint Martins, right? How do you think this environment affects not only your music stylistically but also its trajectory?
et aliae: "Central Saint Martins is definitely a place where you are given a lot of freedom to develop your own creative practice. In a way, I felt empowered by that mindset to expand my personal practice to include music. I don't think it has directly affected my style of production, rather it has influenced other aspects of the project (like how I've conceived et aliae's visual identity/'brand'/etc.)."
What things most inspire you to sit down and create a new track?
et aliae: "Mostly feelings…"
How would you say you've developed as an artist since you first put music out there for people to hear?
et aliae: "I'm always learning new production techniques as it allows for a wider range of creative expression. More than ever, I feel that with being perceived as a 'female producer' there is an unspoken pressure to prove my technical capabilities before I can even be taken seriously. So it has been a continuous learning process. But the one thing that hasn't changed is that I've never been much of a performer ― preparing for live sets feels like I'm practicing for a piano recital; both are equally terrifying."
What words of advice would you give a producer looking to garner interest in their music? Would you say that getting into the community of fellow music-makers helps?
et aliae: "Yes, definitely, it's so encouraging to be surrounded by people who understand and support the things you do. With the little experience I've had so far, I've learned that that in this day and age you create just about anything you want and you are almost always guaranteed an audience. Sometimes it's just about being at the right place at the right time. And remember to always be patient and humble."
Oh, and I love your mix. Can you talk us through it please?
et aliae: "Lately I found myself listening to music that I used to enjoy in the last decade, so the selection of tracks in this mix were driven partly by nostalgia. More and more I have a greater appreciation of the construction of pop music/personalities, and what's often overlooked is actually how great the production is on these tracks.
"I'm captivated by everything that's been happening in K-Pop, it feels like a parallel universe that I would have been fully immersed in if I was still living in Asia. Some of the best songs (I feel) were made between 2009-13, the ones that stood out to me most were those that slightly pushed the boundaries of generic/derivative styles. For example, Kick by f(x) always surprises me by how contemporary the composition and production sounds, even five years after its release. I think 2015 is going to be an exciting year for K-pop.
"The songs and artists in the mix come from a variety of backgrounds and genres… worlds that often exist very separately. My intention for bringing them together into this new context is to make the unfamiliar sound more familiar (and vice versa), and also to construct an alternative narrative that will allow others to understand and enjoy pop music in a new way."
Dummy Mix 256 // et aliae tracklist:
01. Chris Brown Ayo (feat. Tyga)
02. SISTAR Come Closer
03. Justin Bieber Swap It Out
04. Rubber Soul Lonely Friday (feat. Jinsil 진실 of Mad Soul Child)
05. JoJo This Time
06. G.I. Beatles (비틀즈)
07. Baauer One Touch VIP (feat. AlunaGeorge)
08. 2NE1 Clap Your Hands (박수쳐)
09. 4Minute Hot Issue (핫이슈)
10. Nicki Minaj & Trey Songz Touchin, Lovin (90s Nick Edit)
11. 4Minute Is It Poppin'?(물 좋아)
12. Vapordog TTYL
13. Hilary Duff With Love
14. Pia Mia What A Girl Wants (feat. Austin Mahone)
15. f(x) Kick
Cascine released Only U on March 3rd 2015 (buy).