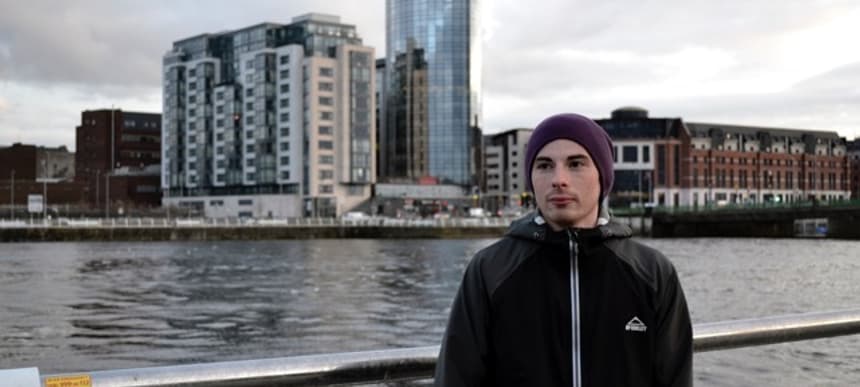 05.10.2015, Words by Natalie /
Dummy Mix 276 // Graeme S
Introducing Graeme S – a producer at the forefront of the Irish footwork scene who really likes San Pellegrino. Fresh off the back of a two track EP 'Jade Temple' featuring Toronto vocalist Faiza, the man at the helm of Irish label Hsüan Records is deeply fascinated by the symbiotic relationship between Chicago's footwork scene and jungle music. Splicing the two sounds together, he's also an adept and in demand remixer and beat juggler, with Teklife peer DJ Earl jumping on a rework of his twinking track Autofac.
When Graeme's not making beats, he's grafting hard on the label side, releasing all-rounders from key underground producers such as Keysound's Sully, Walton, Unknown To The Unknown's Eomac and Hackman. With support bubbling from established heavyweights like Addison Groove, Stray, Sam Binga plus airtime on on BBC Radio 1, BBC Radio 6, Solid Steel Radio Show, Boiler Room and Rinse FM you can expect to hear a lot more from Graeme S and Hsüan Records soon.
Kicking off with R&B babymakers before leaping up a few levels to showcase his cherished footwork and drum'n'bass crossover mutations, Graeme's Dummy mix results in a perfectly building slice of music that is guaranteed to dispel any change-of-the-season Monday blues. We caught up with Graeme below to find out a little more about his musical tastes, sparkling water and nachos.
Tell us something about yourself that no other music website knows…
Graeme S: "I really like San Pellegrino."
How did you end up getting into footwork – is it popular in Ireland?
Graeme S: "I discovered footwork through the Plant Mu compilation, 'Bangs & Works' back in 2011. In Ireland if you compared footwork to other genres it might not seem as popular but there is a decent following here and a lot of local DJ's play it. DJ Spinn and Rashad have been here numerous times and Traxman played here the other week."
I've noticed the parallels between footwork and drum'n'bass before too. How do you find they work together? Do you have any favourite tracks that are perfect examples of this 'crossover' in action?
Graeme S: "I think footwork has a rawness to it that's reminiscent of earlier jungle records. A lot of DJ's were pretty quick to start mixing the two styles together in their sets. When I heard Om Unit's re-contextualized edits of older jungle records it started making sense to me on a production level of how the two styles could be merged together."
Do you have any non musical inspirations or ways you spend your time outside of music?
Graeme S: "Not really, my life is terribly mundane, although I think both Serena Williams and Rick Stein are great. I'm reading Rick Stein's memoirs at the moment which is called Under a Mackerel Sky."
What's your favourite flavour of crisps? Tayto or Walkers?
Graeme S: "I think you've misspelt nachos."
What's coming next on your label?
Graeme S: "There is nothing concrete at the moment but I have started an album which will be out early next year and maybe a few other bits from other producers."
How did you end up working with Toronto vocalist Faiza?
Graeme S: "I got tired of using acapellas and wanted to collaborate more. I tried working with a number of singers in Ireland but it never worked out. After browsing through music on Bandcamp I came across Faiza's album, I really liked her writing and singing style and emailed her asking if she would like to collaborate. Faiza agreed and within a few weeks the two tracks were complete."
Tell us a little bit about this mix – when's the best time to listen?
Graeme S: "The mix isn't a typical club set from me. I started off on a sombre, mellow tone and tried to build it from there. I think it shows off the different sides of music at '160 bpm', whether it's footwork or D&B or a hybrid of both. It's pretty varied which is great when playing out as it gives you a large palette to choose from."
Any exclusives inside – or tracks you'd like to talk about?
Graeme S: "There's an unreleased track by me called Need U. The rest of the mix is compiled of tracks from producers I really like. "
What's coming next for you or famous last words?
Graeme S: "I'm going to put out more releases on the label, finish my album. I'm also one half of an afrobeat/electronic pop act called Lakerama with a fantastic singer called Senita. We released a short three-track EP in July and plan on exploring that sound further."
Graeme's 'Jade Temple' EP featuring Faiza is out now (buy / stream).