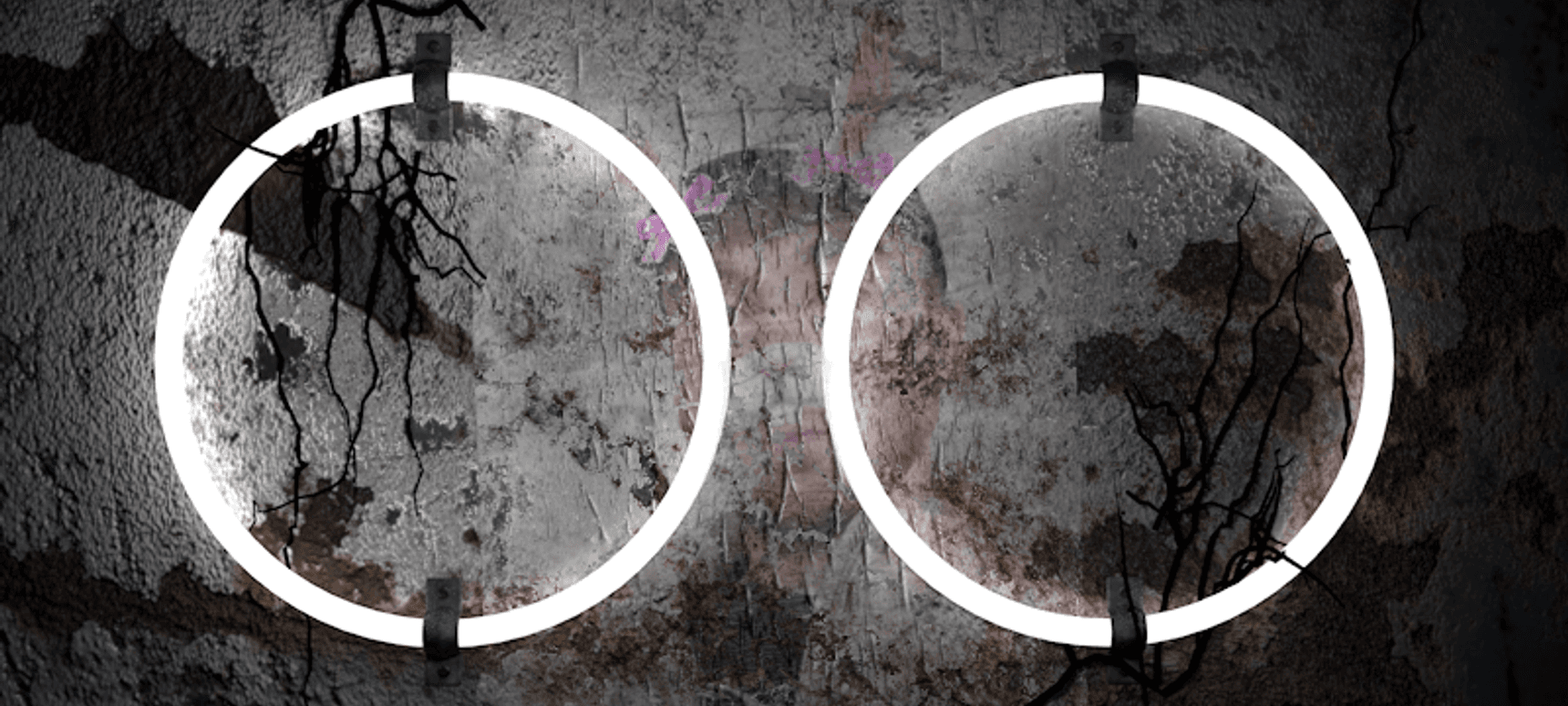 26.05.2016, Words by dummymag
Dummy Mix 331 // Mungo
Stepping up for his Dummy mix series debut is DJ and design don Leo Thomson, better known in the club as Mungo. Spending his days firing out shit hot designs and artwork for East London broadcasting platform Radar Radio, he's also proves he's a dab hand on the decks here with a weighty selection of club and hip hop/R&B inspired edits.
Not stopping there, he's also weaved in some of his own edits, remixes and his 'shubz' mash-ups. Then there's the cherry on the cake – Mungo re-envisioned our mix watermark as two glowing rings in what looks like a haunted cellar. It's emanating some sort of goth/industrial vibe, and we're pretty into it.
Listen to the mix below and read an interview with Mungo after the jump. You can also tune into the mix on Soundcloud here.
Yo Mungo, how has 2016 been for you so far?
Mungo: "BUSY. LONG."
Can you tell us a little more about the mix? was it recorded with a particular place, mood or vibe in mind?
Mungo: "Recently I've been trying out playing some different stuff. I wanted it to reflect that. My older mixes were always kinda uniform genre-wise, the focus was more on percussion which is important but I started to miss tracks with base-weight. It's slower as well. I work at Radar and I'd often stay late in the practise room with everyone, just getting lean and slowing down tracks to see what worked. This mix is influenced by those times a lot. I've been listening to a lot of hyphy and Bay Area stuff recently, also when it comes to editing tracks it's a sound I find myself being drawn to very naturally, so it's a stong influence throughout the mix."
How would you recommend people enjoy this mix?
Mungo: "Alone; It's not that social or functional. There's a lot of attention to detail though: every chop, track placement etc has been thought about slightly too much in an attempt to be perfect. It's not perfect, but hopefully the attention to detail makes it more satisfying to listen to or re-listen."
Any exclusives or percys in there?
Mungo: "TAZ RIDDIM. Tas Psaras does a lot of the filming for Radar, he's been there since it started in October 2014. He made a ikkle riddim especially for this! We'd been working late and I was practising this mix, he was next to me on his laptop with one headphone in. I had no idea at the time but he was making that beat, it took him like 10 minutes. It bangs everywhere I've played it so far."
If money were no object, what would be your dream outfit for the club?
Mungo: "I'd wear a hat."
Share a weird picture with us…
Mungo: "It hurts I can only send one."
Any last words, shout outs, or things on the horizon to tell us about?
Mungo: "I'm gonna be VJ'ing at the Tate Modern. Radar's doing an event in The Turbine Hall. I'll be on for an hour. I'm re-designing all the motion Iv'e done for Radar over the past year to be projection mapped across the height of the building. I'm going to try and make it all my own content, which is a really stupid thing to aim for because all my motion graphics cumulatively add up to about 2 minutes right now but it should be fine as long as I don't have weekends for a while. I'm bricking myself but excited.
Planning some EU + US tour dates for August. I'll be in Europe for the first half of the month and then I head to the States on the 18th for a couple weeks. Very gassed for that! Should be releasing all the deets in a few weeks.
Those are my babies for the next few months.
With regards to shout-outs: Out to Sweyn J on the drop a couple mins in. Thank you to Ikonika, SYYMSTRESS, Tas, Deamonds, E-CLIPSE, Imaabs, Celestial Trax, Lorenzo BITW, Gewzer, DJ Pitcheno and everyone else who sent tracks in for this.
Out to Akito as well, he's supported me so much over the last couple of years and never seems to expect anything in return. He's just a really selfless guy.
Out to Radar, they're featured to some extent in every answer. Everyone there has made me feel mad welcome and loved – Ollie, all the staff, the regulars who come through and piss about in the practise room. I appreciate you.
Out to Dummy!"
Dummy Mix 331 tracklist:
Chris Brown Ayo (MUNGO 'CONSUMED' Remix) [Unreleased]
Tatu All The Things You Said (Acapella)
NguzuNguzu x Beek x Traxamillion No Longer x Blow Ya Smoke x Gas Skrapes (MUNGO TRAK SHUBZ)
LOTIC X CUPCAKE HETEROVAGINA (Erika Kanye) [Unreleased]
DJC Capricorn [Night Slugs]
The Pack Girl Gotta Girl Too [Up All Night]
The Neptunes Holla Back Girl (Instrumental) [Interscope]
The Team Hyphy Juice (MUNGO Flip) [Unreleased]
Lorenzo BITW x JoJo [Unreleased]
Solja Boy Booty Got Swag (MUNGO Edit) [Unreleased]
E-CLIPSE Woo x Jerk [Unreleased]
Imaabs ft. Lia Nadja & Felicia Morales Extravío [Unreleased]
TAZ TAZ RIDDIM [Unreleased]
Pharrel x E40 Ass On Fire x Tell Me When To Go (MUNGO TRAK SHUBZ)
SYYMSTRESS SKRUBZ [?]
DJC CC101 [Night Slugs]
Ikonika N.A.G.P [Unreleased]
ANAKTA x J Balvin Necesitas Reggaeton [TRRUENO]
Robs & Duke Bring The Fire [Enchufada]
GEWZER Helados (MUNGO EDIT) [Unreleased]
Kali Mutsa Inglis [Unreleased]
DJ Pitch LiL Blowlan [Unreleased]
Celestial Trax Freak On A Leash [Unreleased]
FOXCORN II [Free Souncloud DL]
DJ DINO What What (Remix) [?]
Neon Voices (Imaabs Rework) [Unreleased]
ALEX DEAMONDS COOLIE DANCE EDIT [Unreleased]
Sicko Mobb 1 Digits (Prod. Ikon) [?]