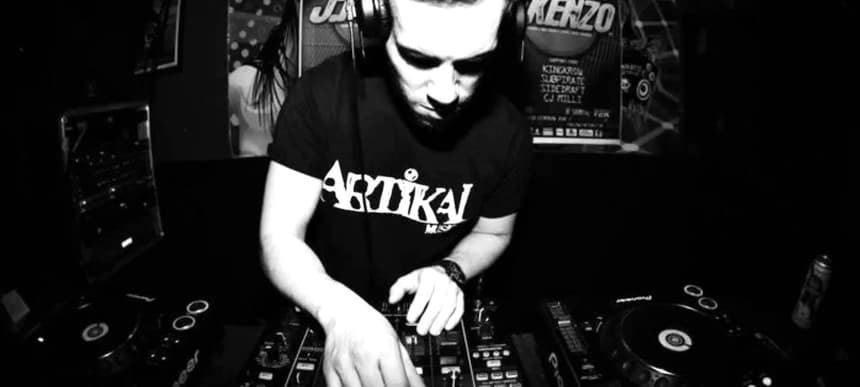 21.07.2016, Words by dummymag
Dummy Mix 444 // J:Kenzo
Since 2008 J:Kenzo, aka Jay Fairbrass, has been huge part of the UK's dub, jungle, and techno underground. Cutting his teeth on some of the original dubstep labels such as Tempa, Dub Police, Argon, and 2nd Drop – he continued to release his self-titled debut album on Tempa in late 2012, which moved away from the brash and steadily commercialised sound of dubstep at the time by blending together its trademark deep-reaching bass with stripped back beats, haunting keys, and smoky atmospherics.
He's since founded his own imprint Artikal Music UK, and featured on a split 12" release alongside Nomine on Tempa earlier this year, as well as remaining a regular fixture on Rinse FM. A huge fan of jungle, we got J:Kenzo on board for a throwback mix which infuses dark halftime beats with "straight up jungle", which harks back to the genre's glory days. In J:Kenzo's own words:
"This mix is made up of a selection of tracks that I have been playing in my sets over the last few months. A mixture of vibes from the darker halftime dancehall to straight up jungle. All the tracks are brand new productions but this mix has a reflective feel throwing back to the golden age of jungle music."
Dummy Mix 444 tracklist:
dBridge Trinty Ville [Cylon]
Ruffhouse & Clarity Aphasia (Redders & Sam Binga Remix) [Critical]
J:Kenzo Skatta VIP [Cosmic Bridge]
J:Kenzo Da Specialist [Dub]
Breakage Staggered Dub (Sam Binga Remix) [Critical]
Ivy Lab Fortuna [20/20]
Cimm Burn Toke [Dub]
Alibi The Hornet [V Recs]
J:Kenzo Magneto VIP (165 Juggle) [Dub]
Om Unit & Sam Binga Windmill Kick [Bunit]
Kid Lib & Percussive P Ragga Dis [Cool&Easy]
Specialist X Ultra-Boogie [Dubplate Championz]
Specialist X Searchin [Dubplate Championz]
Sully One Way [Dred Collective]
TMSV Over Out [Cosmic Bridge]
Specialist X Silent Silk [Dubplate Championz]
DJ Stretch Papa Lover (Theory Remix) [AKO]
Skitty Take Your Time [AKO]
Fracture Black Pearl [Exit]
J:Kenzo plays Outlook Festival, which takes place August 31st to September 4th, 2016 in Pula, Croatia (info).