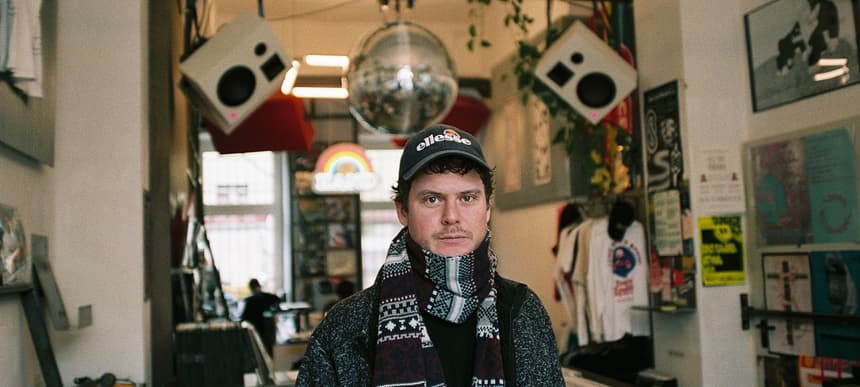 08.05.2019, Words by Felicity Martin
Dummy Mix 552 // Konx-Om-Pax
Heavy-duty rave textures and breaks from the Berlin-via-Glasgow multimedia artist...
Konx-Om-Pax's first LP in three years, 'Ways Of Seeing' is a refreshing switch-up of sounds. Having recently upped sticks from Glasgow to Berlin, Tom Schofield's album is almost a reaction against the dark, gritty noise emanating from the German capital – opting instead for warm electronica, recalling fellow Glaswegians Rustie and Hudson Mohawke (and first cut 'LA Melody' came from staying with Ross Birchard in LA).
The multimedia artist is returning to Planet Mu for the technicolour album, which is being billed as "a panacea to the darkness and disorientation all around in 2019," and takes in more accessible sounds taken from trap, techno and hip-hop.
That said, Konx-Om-Pax's Dummy Mix has both eyes firmly on the rave. A punishing hour-and-20 that slots bleeding-edge dancefloor freshness next to classic anthems, his mix tessellates fragments of techno next to stomping warehouse sounds. Opening with his Nightwave collaboration, 'I'm For Real', from the album, it quickly delves into both confrontational and euphoric soundscapes before crashing into some breakbeat madness towards the end.
Tracklist:
Konx-om-Pax – I'm For Real (ft. Nightwave)
David Goldberg – EMO Serialism
Skee Mask – Muk FM
Chevel – Harsh Times (Happa Remix)
Special Request – SP4NN3R3D
Clouds – Fantazia 2003
Skee Mask – Trakheadz
Barker – Cascade Effect
HATE – Cunning Love
Ratio – One Step Beyond
Prodigy – Everybody in the Place
Overmono – Quadraluv
тпсб – Are You Still Hurt
Text Chunk – Winter Dope
Sully – Digitalis
Hamilton Scalpel – Uprated Nite Zone PM
Istari Lasterfahrer – Extasy
Listen to the mix on Soundcloud.
Konx-Om-Pax's 'Ways Of Seeing' album is out June 14th 2019 via Planet Mu.