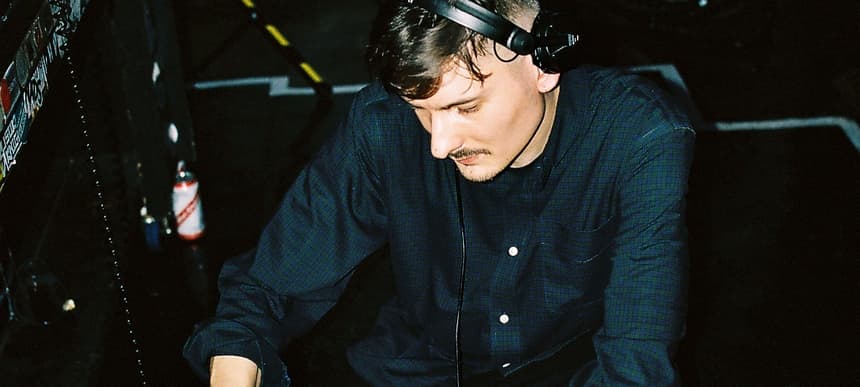 05.02.2020, Words by Felicity Martin
Dummy Mix 576 // Riz La Teef
The South London acetate hero blends up some freshly cut dubs...
If there's one thing Riz La Teef is known for, it's dubs. Continually cutting versions of his personal favourite tunes to acetate, the South London selector has established a rep for possessing some of the meanest cuts that you can actually hold. Not to be confused with the BBC news anchor, Riz's name is a household one on the underground circuit.
Holding down a beloved monthly residency on Balamii, plus guest appearances on various airwaves, he recently launched his own label. South London Press is dedicated to showcasing his favourite sounds – with the inaugural release by Y U QT, whose tracks you can hear in Riz's Dummy Mix below.
Saluting the rave via a sharp blend of dance music at its most UK-focused, Riz's mix was made exclusively on vinyl and acetate. "This mix is made up of a variety of tunes I've been feeling at the moment," he says. "And is what you can expect from me in a typical set. There's quite a lot of UKG then obviously some funky, grime and dubstep. Be sure to listen out for the DJ CRISPS tunes which are dropping on my label South London Press in the near future!"
Tracklist:
???? – ????
El-B – Express
Unknown Artist – Left and Right
K-Lone – MC
Cheeky Chappies – Still Rushing
DJ CRISPS – Next Step (forthcoming SLP 002)
???? – ???? (Dubplate)
Frankel & Harper – Trimmers (Instinct Remix)
Ghost – Boombox
Y U QT ft. Logan – Like Dat (Dubplate)
SW2 – Love Round South (El-B Remix)
???? – ???? (Dubplate)
Smokey Bubblin' B – Twisted Dub (Dubplate)
Tower Block Dreams – Take My Hand (Dubplate)
DJ Quest & Kalibre – Old Skool
???? – ???? (Dubplate)
Y U QT – I Believe (Ravey James) (Dubplate)
D Jason – London To Leeds
K1 – Hard Steppa
???? – ????
???? – ????
Kouslin ft. Logan – Bad (Holloway Remix) (Dubplate)
DJ CRISPS – Need It (forthcoming SLP 002)
???? – ???? (Dubplate)
Lamont ft. Snowy – Shots VIP (Dubplate)
J Beatz – Subwoofer
Y U QT – Dancehall Damager (Riko Dan Riz Spesh) (Dubplate)
Walton – PMTBM (Dubplate)
Skream – Flashback (Dubplate)
Teffa & Moss – Advance (Dubplate)
???? – ???? (Dubplate)
???? – ???? (Dubplate)
Moleskin – Pulskimo
MJK – Sticky Situation Edit (Rally Special) (Dubplate)
PK – Flow Sensei
???? – ???? (Dubplate)
Wiley – Nightbus Dubplate
Mala – Blue Notez
Listen to the mix on Soundcloud.
Stay up to date with the best dance music via our weekly-updated ELECTRONICS playlist.