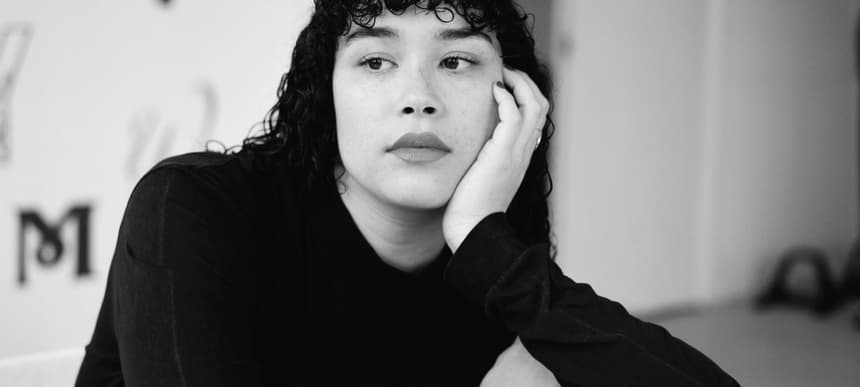 26.02.2020, Words by Felicity Martin
Dummy Mix 578 | Danielle
A power hour of all her current favourite club tracks, the NTS resident packs a punch in her mix...
Spending a decade behind a record store's desk can only mean you've amassed some serious knowledge, and Danielle Doobay's stint at Phonica – one of the world's most formidable dance music retailers – got her well immersed within the sounds she now pursues full time as a DJ. As Danielle, the music she spins is often deep, dark and packed with surprises, owing to a longtime love of labels like Hessle Audio, Hemlock and Tectonic that she grew up on in Bristol as well as the more angular sounds of techno, electro and house that she came to discover later.
Based in Bristol but frequently in London, Danielle is a resident on NTS and co-runs DJ workshops for womxn via her Mix Nights series that she founded in 2016, which has taught over 100 people to mix over the last three years. She's also a talented illustrator, designing posters for the likes of Livity Sound.
"I haven't had a mix out for a while so I wanted to do something a bit different this time and give people an insight into what I play in the club," Danielle says. "So here's a power hour featuring all my current favourite club tunes, recorded in one take. Hope you enjoy!" Volleying between acid, EBM-inflected cuts and the deeper reaches of house and techno, Danielle proves exactly why she's become such an important selector in the UK.
Tracklist:
Pugilist – Untitled
Bloody Mary & Cardopusher – Conformity Kills (Alternative Mix)
Voy-e – Vanisher
Walton – Abyss
DJ Swagger – Beta Phase
Current Obsession – Flipp It
Joonam – Dirt Nap
Jonbjorn – Tinni
Hodge – Silo
Blue Hour – Devotion (Rave Mix)
Source – Eclipse
No Spiritual Surrender – Ez Du Axola
P.Leone – Factory Free
Kreggo – The Return of Tekno Acid Beat
Otik – Whole Wide Worlds
Consulate – Serpentrising
Significant Other – Drum Therapy
214 – Figments
??? – ???