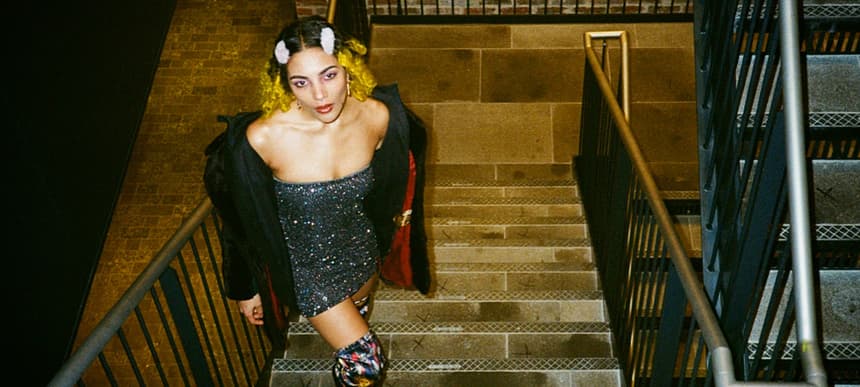 27.03.2020, Words by Felicity Martin
Dummy Mix 581 | Jetsss
It's the type of mix "I would have laser shoot-out on Mars to"
Ever since teaching herself to mix in her bedroom aged 15, DJ/producer Jetsss has come to be one of London's regarded selectors. A highly versatile DJ, she's come to be a mainstay on Rinse's airwaves as well as a staple on the London underground club scene (remember that?)
Last Friday, during Bandcamp's 24-hour fundraiser to support musicians during the coronavirus pandemic, Jetsss dropped 'Corona Care Pack +​+​+', a seven-track compilation of her own old and new edits, accompanied with the words 'Bun the Tories'. A girl after our own hearts.
Kicking off with a percussive stomper into an Azealia Banks edit, Jetsss's Dummy Mix dives into a bass-shooting blend of UK rap, club and more, with a sprinkling of her own remixes and tracks, plus some unreleased and forthcoming bits – and there's no denying her selections are on point.
"I've always been the type of person that has to switch up what I listen to out of boredom and I'm lucky enough to be sent mixture of music by hardworking artists too," she says. "This mix is the type of set I would DJ in a disco and/or have laser shoot-out on Mars to. I hope for everyone good health through this wild time. Balancing relaxing versus keeping busy I find helps for me."
Tracklist:
??? – ???
Azealia Banks ft Onyx – Salchicion
??? – ???
Ms Banks – Bad B Bop (Jetsss Supercharger Rmx)
Laska – Ctrl-Delete
TRIBALCZN – Marching (Forthcoming DRMTRK)
??? – ???
Swisha – Shake n Bounce ft Bassbear
??? – ???
Herritage – The Time We Spent Together
Fis-t – Night Hunter (LKD Edit)
DJ Smokey 666 – Ride 4 My Side
Jon E Cash – Forward
Illegal Shanghai – 333 333
Dalibor Kruz – Reak of Havok
Moments in Love (Joel Deep Edit)
Moscow Legend – Tek Dis
??? – Oddkut
G3 (Jososick x Jetsss Special) – Drum 1 (Devil Jin)
Ship Sket – Puppet
Patrick Brian – Wetlands
James Bangura – Running Fixture
Daffy – Bullitt
Cocky Balboa – Outage
Hossam Ramzey – Khusara Khusara (Mayor Edit)
Polo Lilli – Shake Ya Ass
Jetsss – Nassty Work ft Lozzy C
JLSXND7RS – Untitled Eski
DJ Ends – Raise it Up VIP
Negative – Spectre
GYA6 – Flat Corona
Textasy – Say My Name Rmx