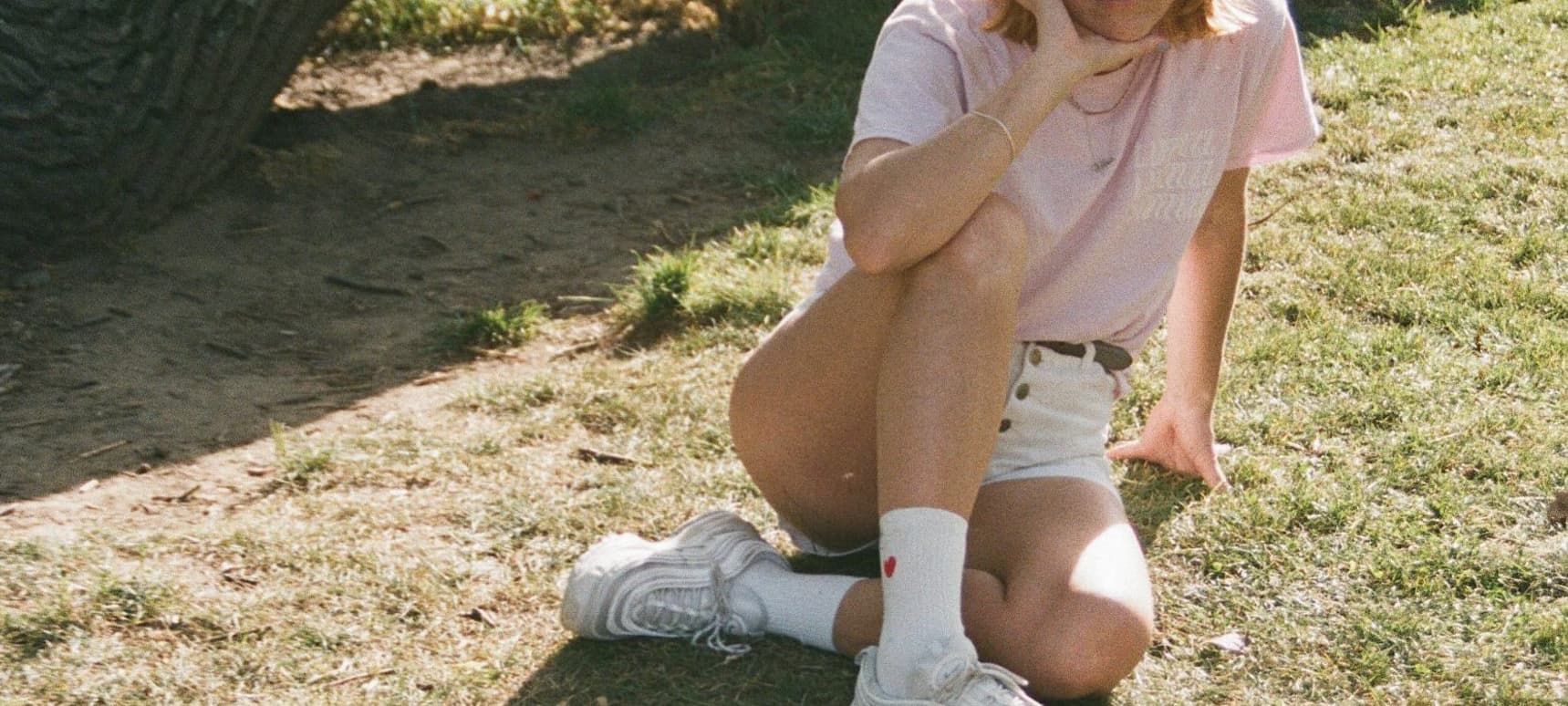 08.04.2020, Words by Felicity Martin
Dummy Mix 583 | ELLES
"A living room rave with a bit of staring out the window, dreaming about hugging your friends again..."
London producer ELLES makes music that's referential and complex, while also being extremely fun: something that is no mean feat. Something of a newcomer, the few releases she has put out are filled with playful energy, drawing influence from acid house, Italo disco, warehouse rave and beyond, pointing to an encyclopaedic dance music knowledge.
Last month she dropped her 'summers_of_love' EP via Violet's naive label, a record that wears its rude UK garage influences firmly on its sleeve, with hints of grime's pizzicato strings and house music's ecstatic piano chords, while ELLES' own impressive vocals punctuate the tracks. While more recently she graced the third instalment of Lobster Theremin's 'PLUR' digital compilation series with shuffly swanger '2nite'.
An exploratory, wide-ranging selection, ELLES' Dummy Mix flits between raw acid, breakbeat and – in a moment of perfection – the breathy vocals from Kylie Minogue favourite 'Slow', showing her versatility and ability to summon up dancefloor euphoria on command.
"The mix was recorded in the current solitude lots of us are getting to grips with, so it was hard not be influenced by that," ELLES told us. "I guess in the same way the climate breeds heightened peaks and troughs of emotion, it does a bit of that too – light and shade, buoyant optimism and moodier reflection with a murmur of nostalgia. A living room rave with a bit of staring out the window, dreaming about hugging your friends again. Some of those friends appear in here too as well as lots of fave labels, artists I super admire and a couple of sneaky cameos from eternal loves like PJ Harvey and Kylie."
Tracklist:
ELLES – alive (naivety)
Bella Boo – boyboy (Studio Barnhus)
Violet – Run Free (Love On The Rocks)
Ikonika – Your Body (Don't Be Afraid)
PJ Harvey – The Slow Drug (Island)
Quarantinas – Quarantina's Arc (Planet Euphoric)
Sephr – Hallucination Express (Dark Entries)
Fantastic Twins – Read My Palmer, Laura (I'm a Cliche)
Deep Tan – Constant Inconsistencies (Practise Music)
SHEE – The Undisputed World (clipp.art)
Local Group – Discredit To The Edit (Bawrut's Take A Break Remix) (Get Up Recordings)
Musique Chienne – Boîte à Goûter (Acid Waxa)
Jasmine Infiniti – Trash (BOUND)
Grammar of Movement – Plastic Games (Lobster Theremin)
Flora FM – Softest Moon (Exotic Robotics)
Shcuro – Is It Real (Dark Entries)
Kylie Minogue – Slow (Parlophone)
8ULENTINA – METAL CLIP (Club Chai)
Deena Abdelwahed – Zardet Sidi Bagra (InFine)
Yaeji – One More (object blue Remix) (self-released)
ELLES – end of the nite (naive)