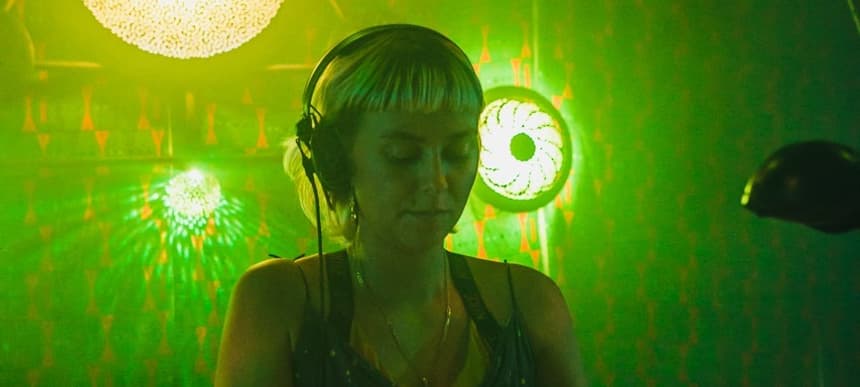 03.07.2020, Words by Felicity Martin
Dummy Mix 590 | iona
It's "the kind of stuff I'd love to be raving to in a field"
London-based selector iona (the lower caps is to stop people calling her "Lona") had a storied entry into the dance music world. As the tale goes, she worked in an underground bank vault counting cash before joining the staff of London's subterranean and now-defunct Dance Tunnel to do something not too dissimilar. It was there she performed her debut gig, as DJ Leisurewear, and has since become a staple on the underground circuit.
The regular Rinse spinner and Field Manuevers resident frequently guests on places like Noods Radio, Red Light Radio and more, and she's someone who – as you'll find out from her mix below – well and truly knows her way around a banger, pitting Brandy edits next to brain-melting house, acid and techno.
iona's mix is based around the concept of the festival season (RIP). "Having made a few chilled out lockdown mixes, I really wanted this one to be carefree and fun," she says. "Recording it was a bit of a release for me, it's packed with edits, breaks and bangers – the kind of stuff I'd love to be raving to in a field but instead I'm blasting at home to dance out pent-up energy."
Tracklist:
Hithouse – Jack to the Sound of the Underground
Hannah Holland feat. MAMA – Shake It Up (Bubba Remix)
Fake Blood – Mars (Herve Re-fix)
Cooly G – New Friend
Brandy – Full Moon (Mad Skillz Mix)
A.G – Emotionless (Club Kiss)
Mani Festo – Cheatin
Jasmine Infiniti – Be Ready
Local Group – Baby Talk
LSDXOXO – Rockstar69
YTP – Move Ya Body
Sound Corp – Dream Finder
Bootybuster – My Humps
Bored Lord – Smells Like Teen Spirit
Anz – Cheer Up Love
Jammin' Gerald – Pump That Shit Up
Childsplay – luv u nicki but ur beats r trash
Cuenique + Traxman – See What You Got