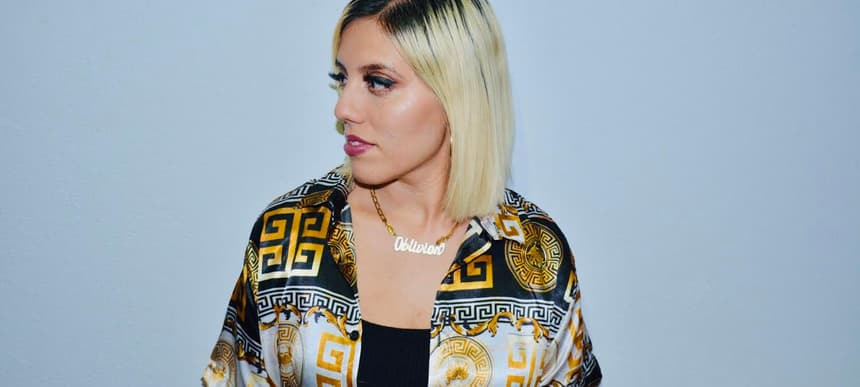 12.08.2020, Words by Felicity Martin
Dummy Mix 595 | Bianca Oblivion
"I wish you could enjoy this mix live on the dancefloor with me and all your friends and fellow ravers..."
Born and raised in LA, Bianca Oblivion is an artist of many talents. A producer, DJ, party-starter, radio host and more, she's fully active in the thriving Los Angeles club scene while transmitting to a global audience. Oblivion is a resident on NTS, where she presents the monthly Club Aerobics show which showcases the best new music in the region of grime, baile funk, rap, garage and beyond, always with a high energy level.
Championed early on in her career by Diplo before receiving praise from the likes of Toddla T and Teki Latex, Bianca Oblivion recently featured on the femme culture 'HeForShe' compilation, contributing the break-laden 'Drip', and regularly releases her own club tracks and edits.
Bianca Oblivion's Dummy Mix features super-fun latest single 'Bubble Pon Di Bed' via her Club Aerobics label, a track with something of an early Major Lazer feel to it, and ends with a club tool she made especially for this year's Notting Hill carnival (which sadly won't go ahead due to the pandemic): 'Hot Nuttah'. She dropped the Bobby Shmurda/UK Apache mashup for the last Bandcamp day, with all proceeds going towards JusticeLA, a grassroots coalition leading the campaign to stop incarceration in LA county.
"This mix is packed with some fresh heaters, new takes on old hits, and some of my own tunes," Bianca Oblivion says. "I've included tracks from some of my favourite artists at the moment pushing cross-genre sounds ranging from UKG, UK funky, Afrobeats, and grime, to baile funk, house and hip-hop. I have been pushing myself to work with these same genres in my own production, and aspire to capture that energy in this mix. I wish you could enjoy this mix live on the dancefloor with me and all your friends and fellow ravers, but I hope it translates just as well in your bedroom or walk in the park."
Tracklist:
Bianca Oblivion – Calling
Cadenza, M.I.A., GuiltyBeatz – Up Inna
Magugu & Famous Eno – Big Don
Zebra Katz – IN IN IN
Benga & Coki – Night (Florentino Refix)
Cardi B ft. Megan Thee Stallion – WAP (Saddest Angel Remix)
Koba LaD & Niska – RR 9.1 (Danga Edit)
Panjabi MC – Mundian To Bach Ke (Bader Afro Flip)
Dizzee Rascal – Stand Up Tall (Soulely Baile/UKG Edit)
Champion & Mina – XYLA
Leikeli47 – Bad Gyal Flex
MXTT HXLL & MAX9000 – Too Many Men
Radical One – KE LO KE GUAYNAA
Murder He Wrote – I Got U
Sango – Me De Amor (August Mae's UK Garage FLIP)
Sidhu Moose Wala x Mist x Steel Banglez x Stefflon Don – 47 (Champion Remix)
Bianca Oblivion – Bumbum Pra Cá
Kevin Kofii & Vitus Tribe – 151 (Edit)
SNØW ft. Serocee – Move & Breathe
Bianca Oblivion ft. XL Mad – Bubble Pon Di Bed
Fwonte – Tout se pa
November Rose – Lemons & Grimes
PEDRO – Wasted Tool
Gemmy – Bamboozled (Darkside)
Nouriginal, More Fire Crew – Oi [2020 Edit]
Bored Lord – Girl U Could Be Down 4
Dan Shake – Freak
QNOE – Peanut Butter Nelly
Shy FX x Bobby Shmurda – Hot Nuttah (Bianca Oblivion Edit)